I participated in an Influencer Activation on behalf of Influence Central for Playskool. I received product samples to facilitate my review and a promotional item to thank me for my participation.
I don't know how you feel, but for me, going out with my kids can be completely exhausting. I like to be busy and out and about, but doing it with kids is just hard.
I'm always forgetting to bring along something for them to play with or do to keep their little hands busy while I get our errands and shopping done. And even if I do remember to grab something, it's either too big and bulky to be useful or to small and simple to be entertaining.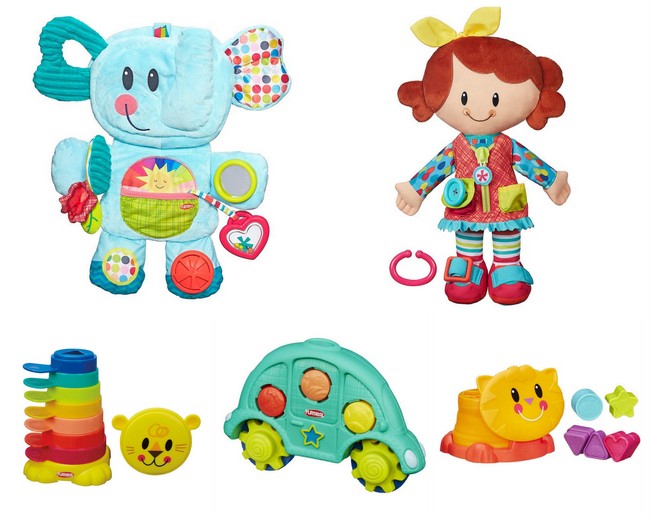 But the problem is solved! Playskool recently introduced a new line of lightweight, completely portable "On-the-Go" toys that are specifically designed to be helpful to moms while we're out and about:

1. Fold'N Go Elephant Toy
This lovable, floppy, sweet elephant can lay flat on the floor for tummy time or can be squished up and fit inside a purse to bring along in the car or on a trip to the pediatrician's.
It comes with plenty of sensory features including a rattle, a clicker, a squeaker, a mirror, a squeaker, a crinkly ear, and more.
My baby loves the soft fabric, the different textures, and that cute little heart. He loves to carry Elephant around by its heart. So sweet!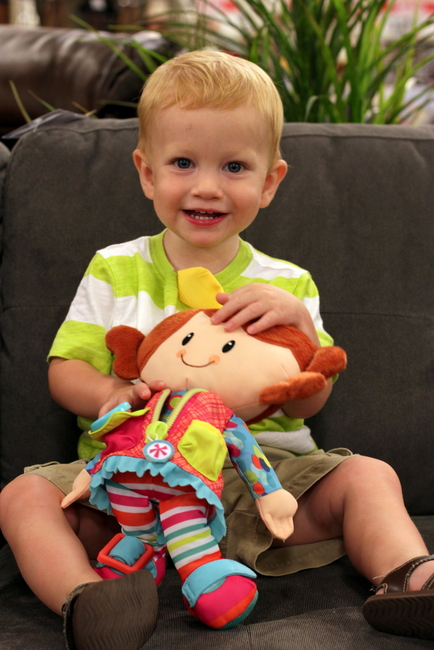 2. Dressy Kids – Bessy Doll
A baby girl is just what we needed in our house full of boys, and this little girl is perfect. She is soft, which I love. I do not like hard dolls – dolls should be soft and cuddly, and this one is. She also has all kinds of unique fasteners to help develop those fine motor skills and practice getting dressed with a zipper, a button, a buckle, a hook and loop fastener, and a tie.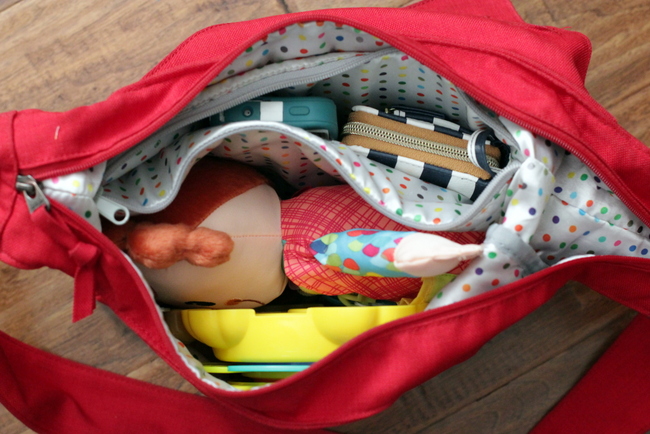 She fits just right in my purse, along with one other favorite On-the-Go toy: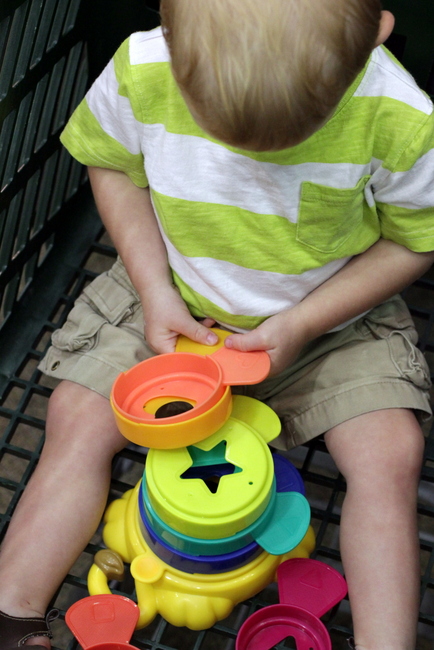 3. Stack'N Stow Cups
There are few things my Ike loves more than stacking so these cups are a huge hit with him. When the cups are all compacted and ready to be thrown in the purse, they have a little lion face lid that keeps them all in place. It's the cutest thing with all the colored handles sticking out like a mane, I adore it!
Each cup has an easy grasp handle and a shape cut out so we can learn shapes while we shop, but the best part about this toy for me is how small it is – I can fit it in my smallish purse with no problem at all. It's the perfect size for an on-the-go toy!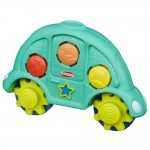 4. Roll 'N Gears Car
Cars and gears are always a hit and this little toy is a two-in-one! Baby can roll it along the floor on the moving wheels AND watch the passengers moving around inside.The gears can be removed and stacked for more hands on fun. Gears are so fun for my kids – they love to see how they can make them move and turn.

5. Pop Up Shape Sorter
As perfect and compact as these toys are for traveling and being out and about, they are also some of my kids favorite toys at home, especially the Pop Up shape sorter – like the stacking cups, this one also has an adorable little animal face. It condenses down to only about 1″ tall and the pieces all fit inside. When it's play or go time, the rubbery sides pop up and the shapes stack for mix and match play.
One of the things I think is most awesome about the world today is how inventive and solution oriented people and companies are – I love seeing all the problem solving going on in the marketplace, and Playskool has jumped in and solved this travel toy problem for us all.
*I-C will randomly select five winners from all program entries and will handle fulfillment of the winning prizes.
Playskool Audience Engagement Tool
CONTEST
Enter to win one of five Playskool Prize Packs! 
Contest opens on September 9, 2015 and closes

September 30, 2015

Enter by choosing a social media sharing option from the social media amplification tool