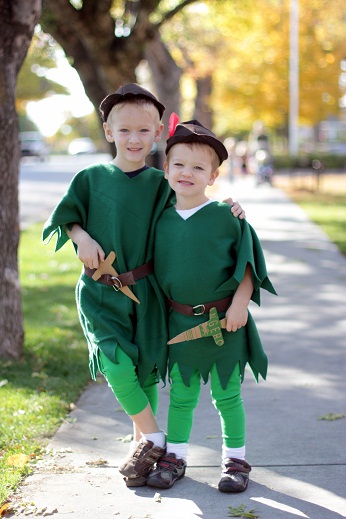 Elliot wanted to be Peter Pan for Halloween, and I originally thought maybe I could manage two Lost Boys costumes for Gus and Linus, but nope. Couldn't do it.
So we had two Peter Pans and Linus dressed up as a…baby.
I used this tutorial with some minor adjustments. I didn't cut the back of the shirt and put velcro, just left it as a pullover. Fewer steps, ya know? I made a pants pattern from a pair of Elliot's pajamas, and that went over so much better than I thought it would!
I used a green jersey knit for the pants, green fleece for the shirt, felt for the hat and belt, and cardboard for the daggers.
I got in big trouble for making the hat brown instead of green. Peter Pan's hat is definitely green, and the brown hat confused people into thinking maybe we had two Robin Hoods. Their costumes are so similar, I never knew!
But that tutorial is great and easy to follow, and this was an easy, manageable costume to make and the boys loved it!
How did Halloween go for you this year? Any great/easy costume ideas? I'm kind of loving costumes right now, for every day dress up. My boys love wearing their capes and Peter Pan costumes around. I think I'll try to make some more for Christmas this year and I need your ideas!