A while ago when I talked about scrapbooking with smaller pictures, I had some questions about Picasa and how to create a photo collage, so here is a little tutorial on how to do it! Click on each picture to view it larger and see in closer detail the parts I highlighted in red.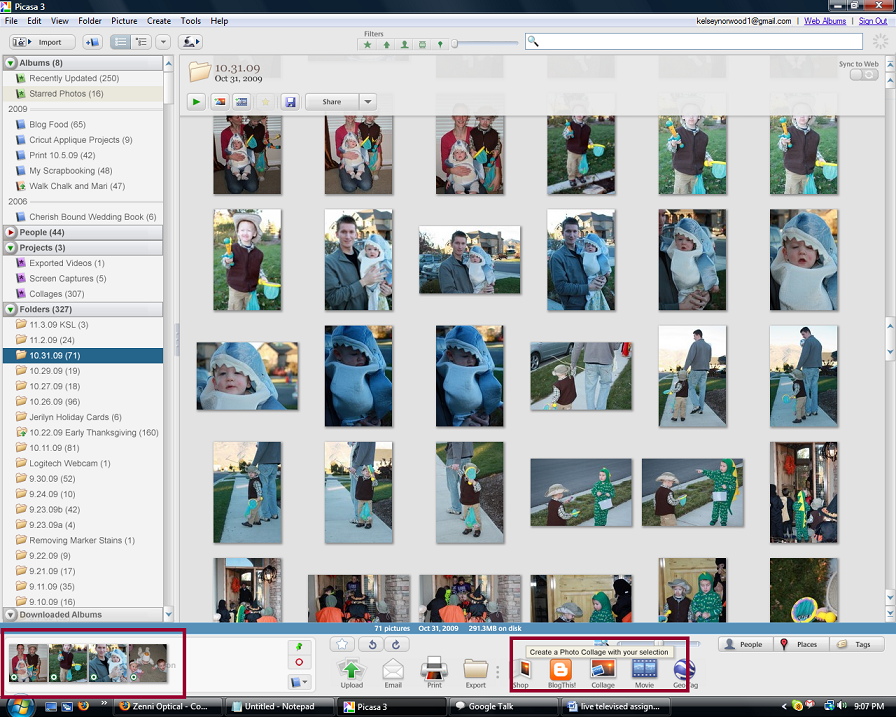 1. Select and hold the pictures you want to use in your collage in the photo tray. Click on the picture and then click the green lightning bolt looking button just to the right of the tray to hold those pictures there. (You can hold your mouse over each button and a little explanation will pop up, so if in doubt: hover.)
2. Click the "collage" button in the bottom menu.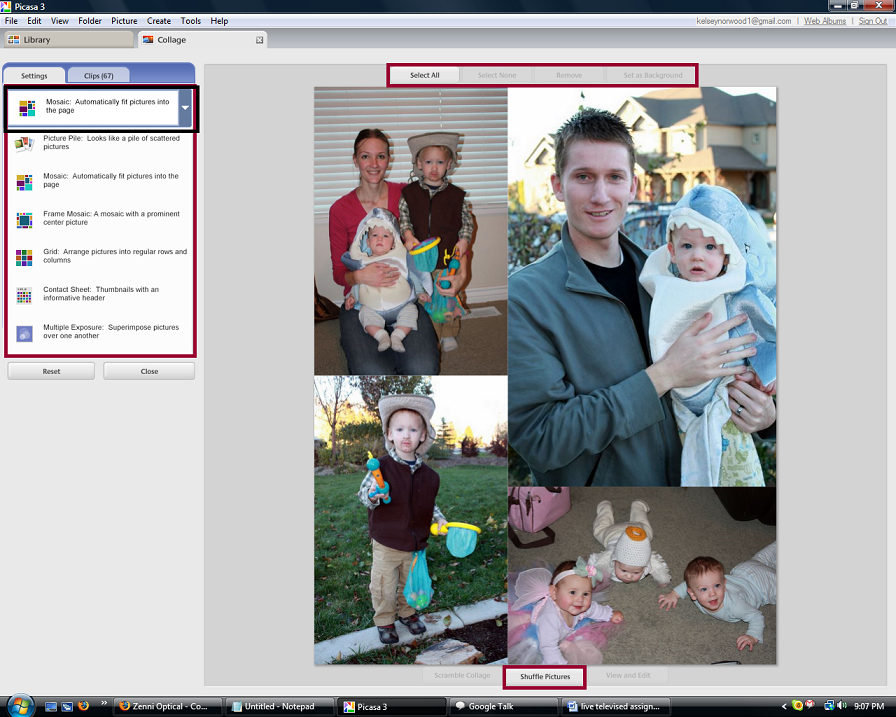 This is the Collage screen where you set things just how you want them.
The red box to the left is the drop down menu where you choose what kind of collage you want. You can do a mosaic, picture pile, frame mosaic, grid, contact sheet, or multiple exposures. This collage is a mosaic which gives you pictures of all different sizes.
The red box above the picture shows you some more options you have – selecting and removing pictures and setting a picture as a background.
And the bottom box shows you the button to push if you want to change the placement of the pictures in the collage.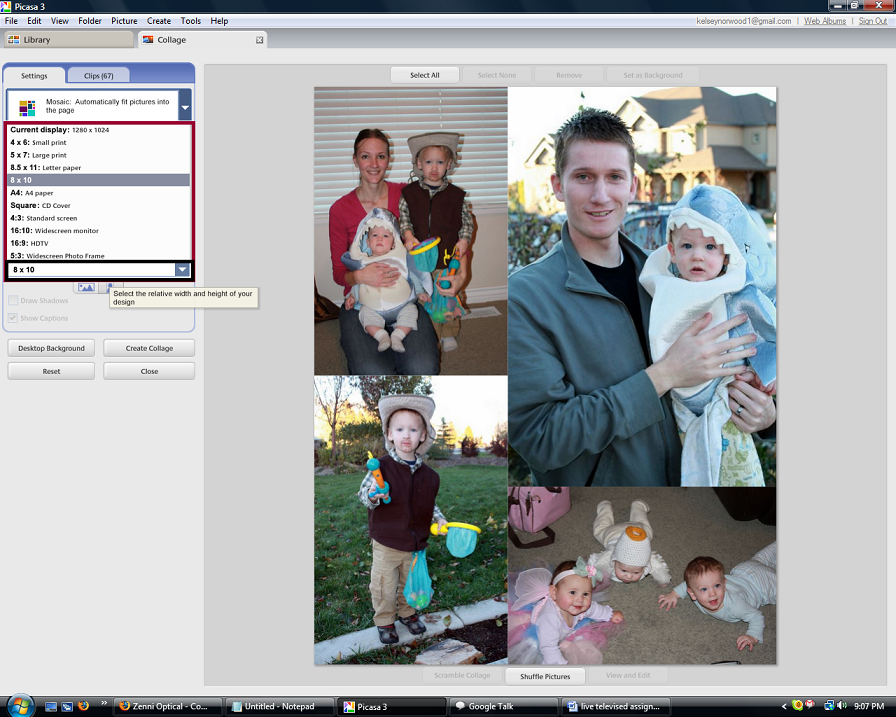 The red box in this picture shows the drop down menu for selecting the size of your. This is especially important if you'll be printing the collage. The option you select to have printed needs to be the same size as the collage you actually created.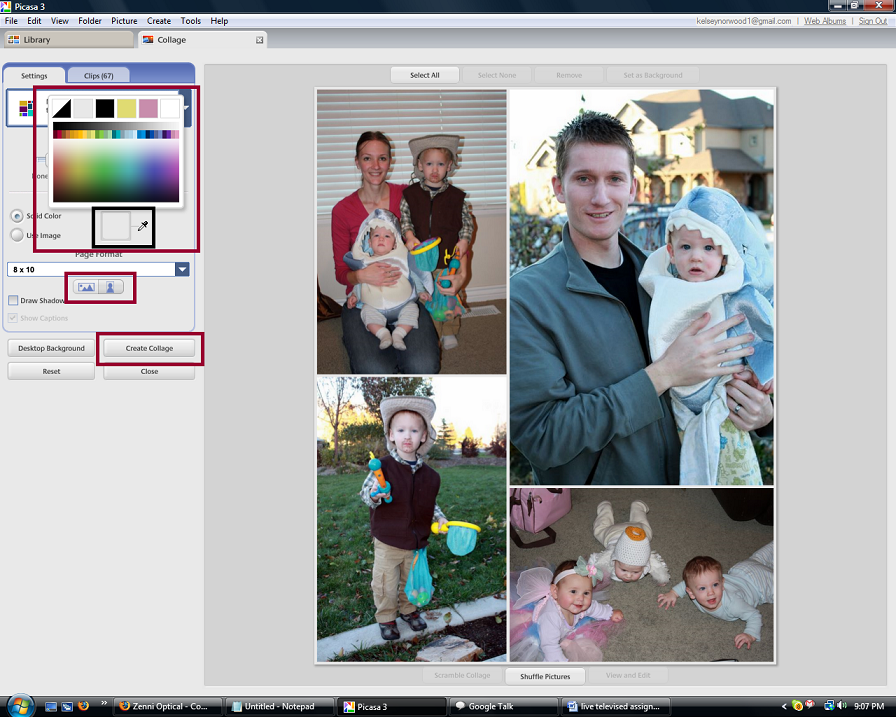 The top red box in this screen shot shows you how to change the color of the grid, if you want a grid. There's a little slider bar that lets you choose how thick to make the grid between the pictures, and hovering over the little paintbrush box below that lets you choose the color of the grid.
The next red box down is where you choose landscape or portrait.
And the last box is "Create Collage" – click this when you're all finished making changes to f finalize your collage.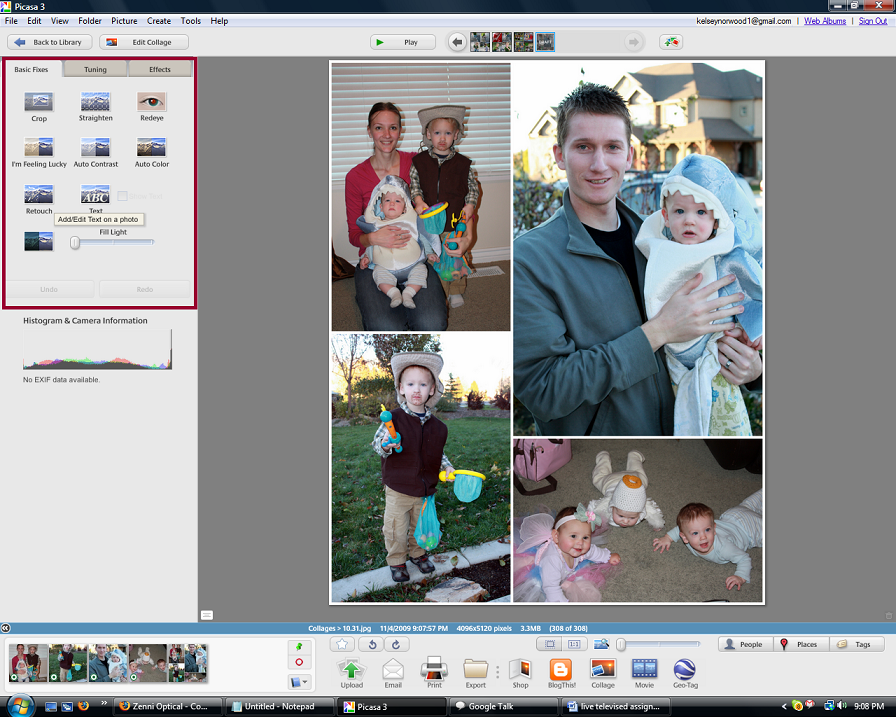 Once you've created your collage, you can edit it just like any other picture by selecting any of the options in the red box above.
Creating collages with Picasa is super easy and I love the versatility I gain by using them. Let me know if you have any questions. Cheerio!