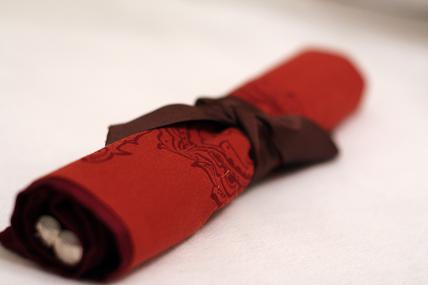 My craft room is in my basement where there is none natural light, so some of the photos are poor, but they'll at least help to clarify the instructions!
My newest acquired skill and hobby is knitting. I LOVE IT. So relaxing…And since I can't have my knitting needles strewn about, a case was in order. The best part about this knitting needle case is that it's made from a fabric placemat! So it was super cheap and fast and easy to make.
Materials
1 fabric placemat
matching thread and ribbon
3/8″ clear elastic
Instructions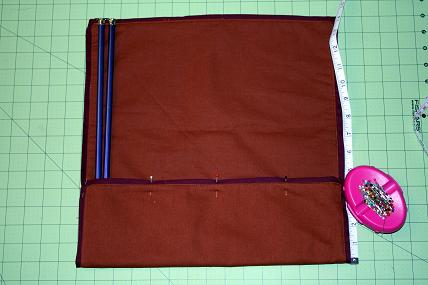 Step 1 Lay the placemat right side down and place your longest knitting needles (14″) so that the top of the needles is at the top of the placemat. Fold up the excess placemat so the total length is just long enough for your needles.
Step 2 Pin all across the top and sides.
Step 3 Sew the two short sides, wrong sides together, to create the pocket for your needles.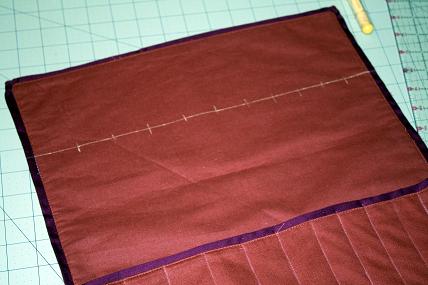 Step 4 Mark sewing lines 1″ – 1 3/8″ apart with chalk or a fabric pencil on the top of the pocket to create the slots for your needles.
Step 5 Draw a straight line across the width of the placemat, about 4″ – 5″ down from the top. With a ruler, make tick marks along that horizontal line to match up with the sewing lines on the pocket.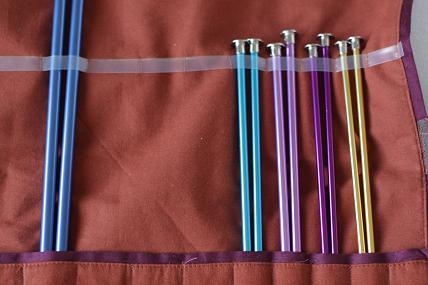 Step 6 Cut a length of 3/8″ clear elastic a few inches wider than the placemat. Pin down to one end and then pin at each of the tick marks you just made, stretching the elastic just a little bit. If you don't stretch the elastic, the knitting needles won't fit snugly. Sew the elastic down, keeping it stretched and back stitching at each end.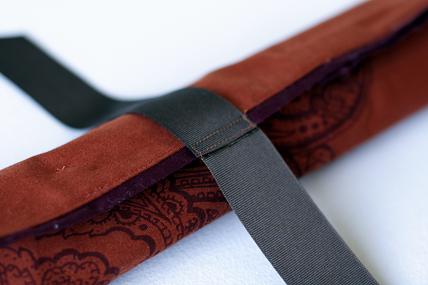 Step 7 Cut 2 pieces of ribbon about 12″ long each. Fold the ribbon under 1/4″ and pin one piece to the edge of the right side of the placemat (the one with the design or the top) and the other piece to the edge of the wrong side of the placemat (the side that is now equipped to hold your needles). The ribbon you pin to the right side (outside) should go toward the placemat and the ribbon you pin to the inside (needle holder) should go away from the placemat.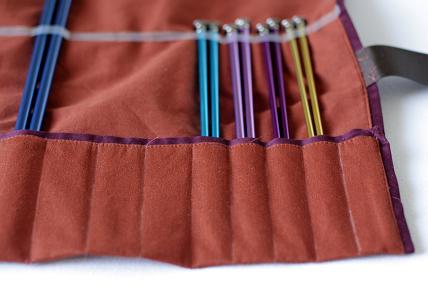 Fill with needles, roll up, tie, and you're ready to go!
I got the placemat on clearance at Target for $.98 and wasn't sure what I would do with it at the time, but it's the perfect size for a knitting needle case and so much easier than making that whole part from scratch.
Happy knitting!