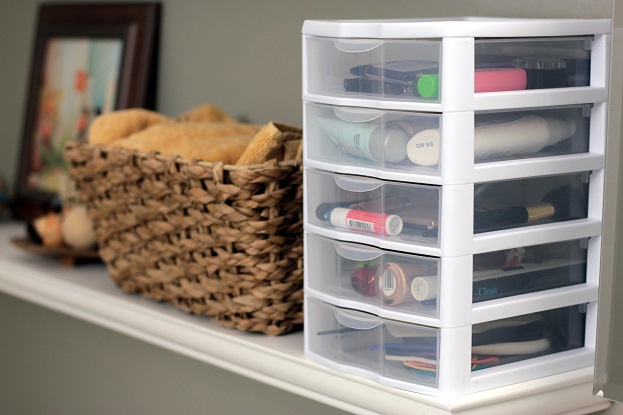 We painted our bathroom and did a little revamping, and I finally decided that having my makeup and hair accessories in little wicker baskets wasn't the neatest of solutions.
A Sterilite drawer organizer isn't the most beautiful solution, but it is much more organized and clean feeling, so I made the switch.
Only I didn't want all my goods visible from the front. It's not unsightly, but still. I wanted it out of sight.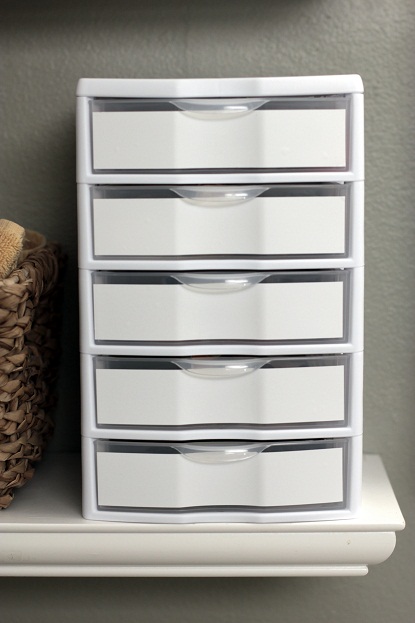 Much better!
Here's how to make your own Makeup Drawer Organizer with Vinyl Stickers to Cover Up Your Goodies. You'll need:
one drawer organizer (Sterilite, Walmart, $8.67ish but it has 5 drawers instead of 3, and I need ever one of them)
white vinyl (got mine at Roberts where they now sell it by the foot love that)
paper cutter
ruler
1. Measure the drawer front – if you get the Sterilite kind your vinyl pieces should be 1 3/8″ x 6 1/4″.
2. Cut 5 pieces of vinyl.
3. Adhere to the outside front of each drawer. I tried doing it on the inside first, don't know WHY or what I was thinking, on the outside is much easier and better.
I was about 2 seconds from making some labels with my label maker but decided against it. I like the very uniform white look and I'm not sure what I would label some of them – fingernail polish/razor/fingernail files? Seems a bit hefty.
So blank it is.
And I think I like it that way.
I bought another of the 3 drawer variety to set atop my dresser for my jewelry collection. I hang most of my earrings and necklaces from that wall mounted jewelry organizer I made a while ago, but the post earrings and bracelets were still problematic. Now everything is in a nice and neat little drawer and not covering the entire top of my dresser.
Too bad I gave a few of these drawer organizers to DI a few months ago in a fit of purging. I HATE rebuying something I just decided I didn't need…Oh well, it felt good at the time.