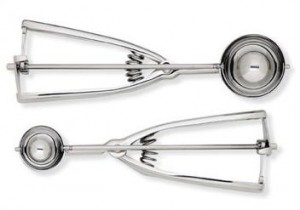 In case you're getting tired of all the scrapbooking/paper crafting business that's been going on lately, I thought I'd share with you two new ways I like to use my cookie scoop.
1. As a melon baller.
No need to have two tools when one will do the job. A small cookie scoop is perfect for eating kiwi. I've always hated peeling the skin off. Using a small cookie scoop is so much easier, and you can just drop the little curls right into your mouth!
2. For pull apart rolls.
My rolls used to be too dry because I added too much flour so I could handle it. My favorite roll to make is a pull apart roll, and using a small cookie scoop to form the little balls requires almost no extra flour. Just dip the whole scoop into the flour every once in a while and the stickiness is manageable.
I discovered this trick last time I made pull apart rolls, and they were my best yet. I'll post pictures next time I make them.
What kitchen (or other)  gadgets do you use in unconventional ways?