Other Kits: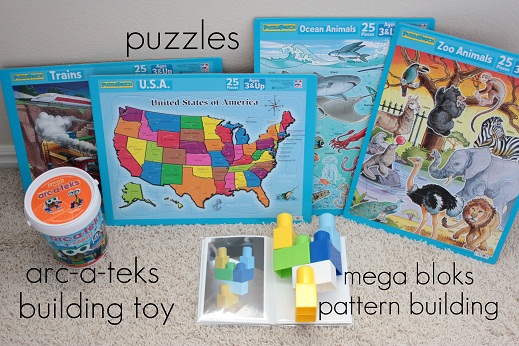 1. Patch Products 4-Pack Puzzles
The set includes
United States map
Trains
Ocean Animals and
Zoo Animals
The animals puzzles have each animal labeled, so these puzzles are great for learning new kinds of animals, reading, and all the other great skills puzzles put to use. The puzzles are very sturdy and made with a thick cardboard that will withstand years of kid use. Each puzzle has 25 pieces – perfect for 3 and 5 year olds! (Gus needed help at first but after a few times he has them down!)
SKILLS: hand/eye coordination, reading, animal recognition, geography
2. Arc-a-Teks building toy
This little toy is so much fun for the kids – each bucket comes with a variety of interesting pieces and a little booklet with instructions on how to make two different creatures. Elliot loves this bucket – building the creature according to the booklet is challenging for him and so much fun!
SKILLS: directions, dexterity, creativity
3. Mega Bloks Pattern Building
I gathered some of our jumbo blocks, built some simple structures, took pictures, printed the pictures, and slipped them into a cheap $1 photo book from Walmart. The boys LOVE following the patterns and also creating their own structures.
SKILLS: directions, dexterity, creativity