Other Kits:
I have two more Quiet Time kit ideas for you this week! These two kits both include products from Alex Toys, one of our favorite toy makers! Here's the kit: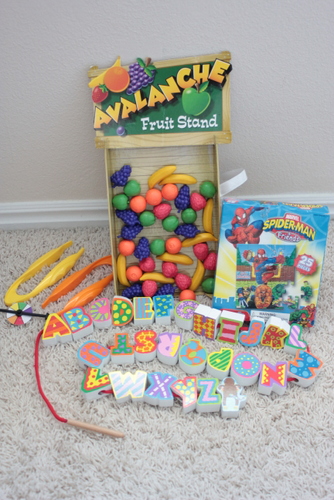 1. Alphabet Stringing Set (Alex Toys)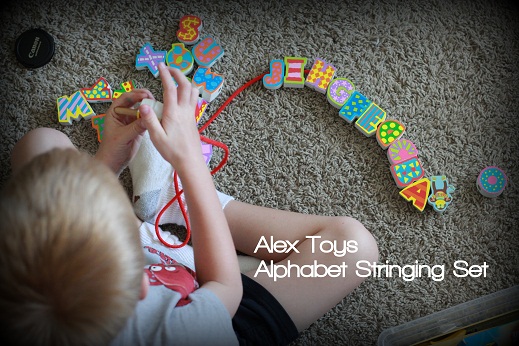 Alex Toys has several different themed Stringing Sets – farm, cars, and now alphabet! We love this toy for quiet time because Elliot is learning to read and he loves to spell simple words and practice his letters. Both Gus and Elliot love to spell their names best of all.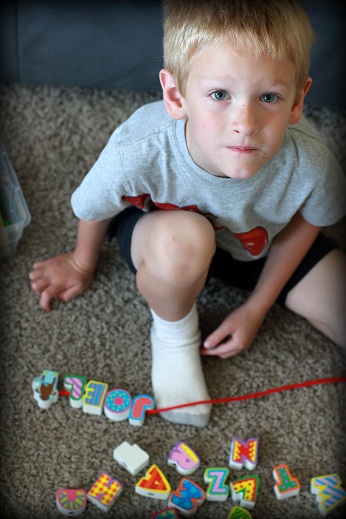 The string is the best I've seen yet – it has a small wooden dowel on the end so the string fits very easily into each of the holes and it's much easier for little hands to manipulate. It also makes a great lasso…
The set comes with all 26 letters in the alphabet made from sturdy wood and brightly painted in lots of colors and patterns, a wooden needle on the end of a cotton string, and a monkey block stopper at the end.
SKILLS: fine motor, letter recognition, pre-reading, spelling
2. 25 piece puzzle
Puzzles are one of the best quiet time activities, and I've made sure we have lots of variety by shopping at yard sales and thrift stores. I found this puzzle for a few quarters at a thrift store and it's super heroes so the boys love it.
I recommend giving your child puzzles that will be difficult for him – challenge him! He'll learn quickly and master bigger and more complicated puzzles and it will be so good for his little brain!
3. Avalanche Fruit Stand Game
This is a game we've had for a while, and the boys were tired of it so I put it in one of the Quiet Time kits – they don't see it all the time and can only play with it during Quiet Time so it has regained its appeal.
In this game you spin a color wheel and then grab a piece of fruit of that color from the little fruit stand with the jumbo tweezers.
SKILLS: fine motor skills, color recognition, patterns, counting
{this product was provided to Vanilla Joy for review purposes}