The next time we buy a house, I'm going to pay a LOT more attention to the kitchen. As it stands in our townhome, I have a very small kitchen and NO PANTRY. Boo hoo, right?!
As a result, I have to be very creative with my cupboard space. Mostly it's just a hideous mess because I have waay too many kitchen toys, but how could I part with any of them? Alas, I cannot.
I digress.
One of the overflowing areas of my life and kitchen is my recipe collection. Holy cow because I love collecting recipes, I just didn't manage them very well.
So I put something together recently and I think it's pretty fabulous.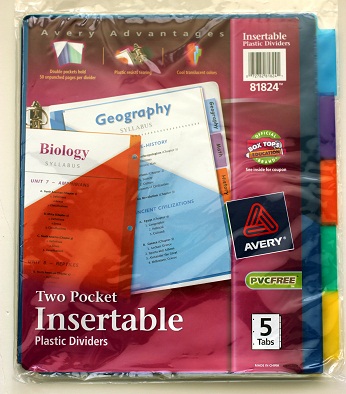 First, these are the best dividers ever. Forget the cheap paper kind, these are lots more expensive, but totally worth it ($2.88 for 5 at Walmart). They're plastic with pockets on the front and back, which is perfect for everything but especially for a recipe book because I can "temporarily" file my new recipes in the pockets until I get around to putting them in the sheet protectors.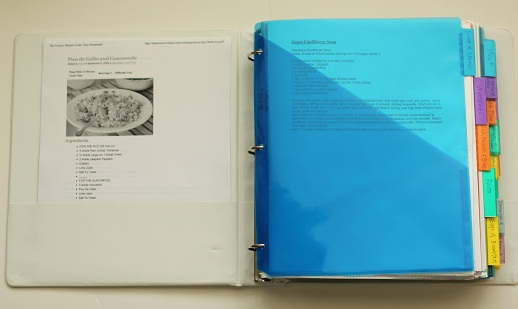 The hardest part to organizing recipes is figuring out the categories, right?
I combined the categories from my two favorite cookbooks, The America's Test Kitchen Family Cookbook and The America's Test Kitchen Baking Book and here's what I came up with:
Dressings & Sauces
Appetizers
Salads & Sandwiches
Soups & Stews
Vegetables
Rice, Grains, & Beans
Pasta
Eggs & Breakfast
Meat
Slow Cooker/Pressure Cooker
Bread & Pizza
Quick Breads & Muffins
Cookies
Brownies & Bars
Cake
Pie
Fruit Desserts
Drinks
Preserving
Freezer Meals
Food Storage
Kids in the Kitchen
That pretty much covers it. That's a ton of categories and lots of dividers, but I can find everything easily with these categories and this previously monstrous collection is now organized and useful. I love it.
I use a 2″ white notebook and put each recipe in a sheet protector to keep it clean from spills and messes and most importantly, this is a system I can keep up with.
And there you have it. Nothing fancy or designerish, but it's one little corner of my kitchen that is less chaotic and my brain feels a little less cloudy too…
How do you organize your recipe collection?