Once we decided to educate our children at home I knew there were some supplies we'd need. At the top of the list was a scanner. I find it easiest and most cost effective to purchase a consumable work book, scan the pages, and print off two copies for our two school-aged children. (This is totally legit – every curriculum I've come across allows photocopying for children within a family and thank goodness for that!)
I wanted a scanner that was small, portable, preferably wireless, compatible with multiple devices, and could scan high quality color pages. I found all my criteria in the Doxie Go.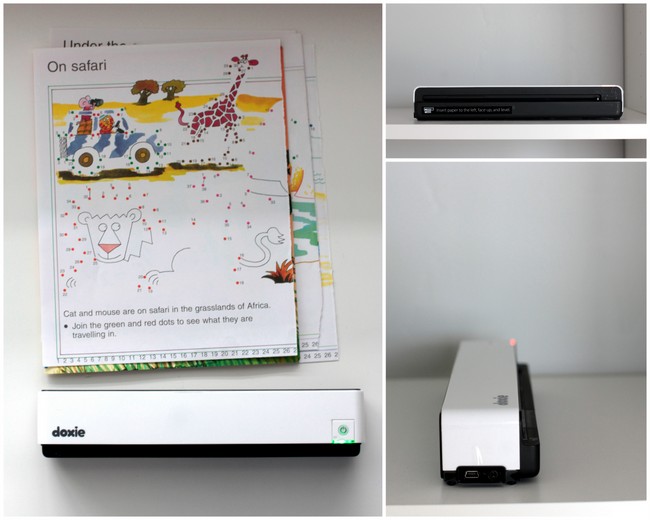 It's TINY weighing in at less than 1 pound and measuring 10.5″ x 1.7″ x 2.2″. TINY. 
It's wireless, as you can see. That's my favorite feature because it means I can do my scanning wherever it's most convenient. Sometimes our office is the best place but sometimes it's too full of kids and papers for my brain to think straight. And cords are generally a pain, so it's nice to not have to mess with them. It scans paper, photos, and receipts anywhere – no computer required. 
It has internal memory. That's another very convenient feature – it means I can press the power button and start scanning even if I have no idea where my SD card is. Or I can scan to a USB or SD card if I want. I like having the option to do either. The built in memory holds up to 450 pages or 1800 photos.
It has its own Doxie 2.0 companion software to syncs scans, create multi-page searchable PDFs, and send scans to local apps and the cloud.
It recharges via USB or wall power and has an optional Worldwide Power Adapter just in case and the battery, when fully charged, gives you about 100 scans.
It's fast – I can scan 5-8 seconds per page depending on the resolution, which can be adjusted. I can scan at 300 or 600 dpi color.
I can select my favorite output format:  PDF, JPEG, PNG; Color, or black and white.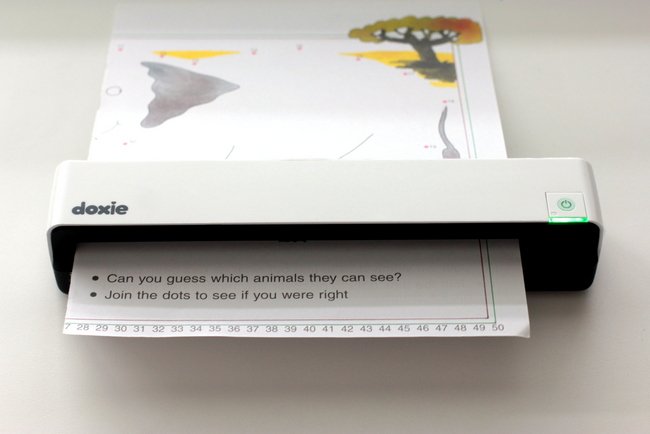 Using it requires almost no instructions – it's so easy, anyone can figure it out. It's intuitive, streamlined, and so simple but it does come with a double sided reference card just in case. Here's what you get in the box:
Doxie® Go rechargeable paper scanner
Doxie companion software for Mac + PC
Quick Start Guide
USB sync/charge cable
Photo scanning sleeve
Calibration sheet
Cleaning tool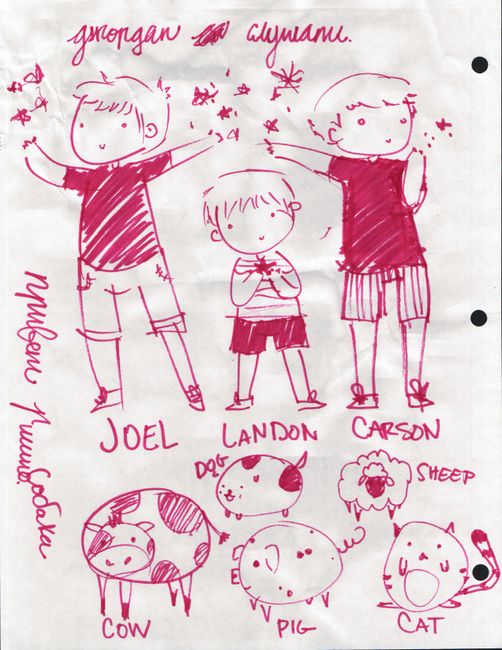 I've been scanning lots of boring stuff – workbook pages, etc. but this little sample is way more fun. It had already gotten pretty wrinkled, (and possibly slightly wet at some point) so that's not Doxie's fault. My sister-in-law drew this for my kids and I LOVE it and want to keep it forever. That piece of paper won't last, but this scan will.
After I scanned it I just had to plug it into my computer which automatically recognized the new device and downloaded the internal software. I was able to open it right away in Picasa (my photo/scan editing program of choice) and post it here.
I would probably never have gotten around to actually scanning something like this with a traditional scanner – too much trouble. Using my Doxie is so easy, I can scan on demand, one page or 50.
School's almost back in full swing and with it all the papers and permission slips – grab yourself a Doxie Go to handle all your paper problems. Scan and toss, that's my new mantra.
{Today's review is sponsored by Doxie – I received a product sample to facilitate this review.}