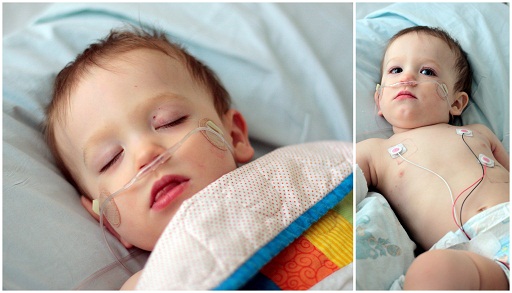 At 9 months old, Gus got RSV and nearly died. I was a mother who knew about RSV but didn't understand how serious it could be or what I could do to prevent it. Now I know, and I want you to know too.
November 17th is RSV prevention and Preemie Awareness Day and to do my part to help spread awareness, here is some information about RSV I wish I had known sooner:
Information from RSVProtection.com
RSV Quick Facts:
RSV is the leading cause of infant hospitalization, responsible for more than 125,000 hospitalizations and up to 500 infant deaths each year.
RSV occurs in epidemics each fall through spring. The CDC has defined "RSV season" as beginning in November and lasting through March for most parts of North America.
Certain regions have longer RSV seasons than others, with the season beginning as early as July (e.g., Florida) or ending in April.
Despite its prevalence, one-third of mothers have never heard of RSV.
Prevention is Key:
There is no treatment for RSV, so it's important for parents to take the following preventive steps to help protect their child:
Wash hands, toys, bedding, and play areas frequently
Ensure you, your family, and any visitors in your home wash their hands or use hand sanitizer
Avoid large crowds and people who may be sick
Never let anyone smoke near your baby
Speak with your child's doctor if you believe he or she may be at high risk for RSV, as a preventive therapy may be available
This winter with my third baby, I am much more diligent about hand washing for everyone in our family. I am a firm believer that hand washing does wonders for stopping the spread of sickness.
Most importantly, Be Aware of Symptoms:
Persistent coughing or wheezing
Rapid, difficult, or gasping breaths
Blue color on the lips, mouth, or under the fingernails
High fever
Extreme fatigue
Difficulty feeding
My son's face was blue, he was completely listless (wouldn't wake up to eat, wasn't moving), and he was barely breathing. We took him to the pediatrician who checked his oxygen and said he was fine. We went home and an hour later took him to the emergency room. I learned that sometimes my own instincts are much more reliable than a doctor's.
My son's case of RSV was complicated by a case of pneumonia and asthma. If you suspect that your child has asthma, be ultra diligent when your child is sick because RSV and colds can be much more serious for these children.
And above all – if your child is sick, KEEP HIM HOME. Keep your germs to yourself and protect the other infants and children in your community.
Please check out RSVPrevention.com to learn more about RSV in infants and special needs of preterm infants.
Here's hoping we have a safe and healthy winter!
"I wrote this review while participating in a blog tour by Mom Central Consulting on behalf of MedImmune and received a promotional item to thank me for taking the time to participate."