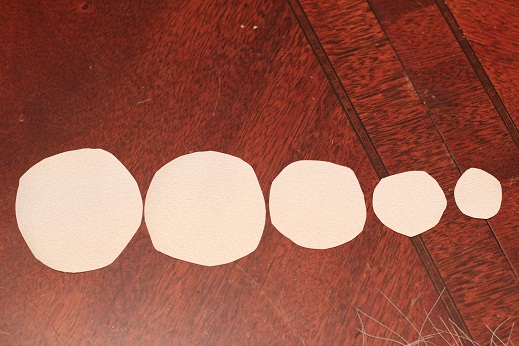 I wasn't really a girly-girl when I was little, but as a mother of girls, I'm all about girly-ing them up. And one of my favorite accessories for my 2 girls are flowers for their long hair. I've done some felt flowers and flower clips with artificial silk flowers, but hadn't tried these satin ones yet…I think they look like peonies. I read a few blog tutorials but still had a question: what kind of satin, exactly, should one use?
I went to Jo-ann and bought 1/8 of a yard of the only two kinds I found: satin and crepe-back satin. I wish I had thought of doing this during Prom season when they were all on sale! Anyway, I bought satin in about 10 different colors to match every outfit my girls own of course. And I would guess that out of that 1/8 of a yard one could make 10 or 12 of these peonies. Even if the fabric isn't on sale, that's 10 or 12 flowers for ONE DOLLAR. You cannot beat that.
INSTRUCTIONS
1. Cut 4 to 5 circles in decreasing size – notice they are NOT perfect. I didn't trace or measure a circle, I just started cutting, and the imperfections in the circles just give more curl and shape to the flowers. This is the crepe-back satin by the way.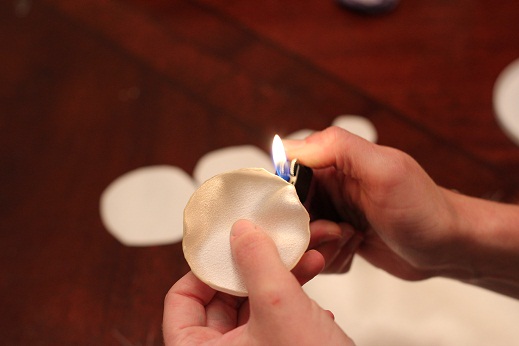 2. Burn the edges of the satin circles (starting with the largest first) using a lighter or candle. After awhile, the little wheel on the lighter got really hot, so next time I think I'll use a candle – a pretty-smelling one to overpower the noxious fumes emitted by the satin melting. Gag.
I found that the edge of the satin curled up more if I held the flame against the underside of the circle instead of just at the very edge of the satin…maybe a 1/4 inch in.
Melt and turn, melt and turn. Don't breathe deeply…until all your circles are done.
Nest them inside one another as you go in case you have one that's a little too big and needs to be trimmed and melted again.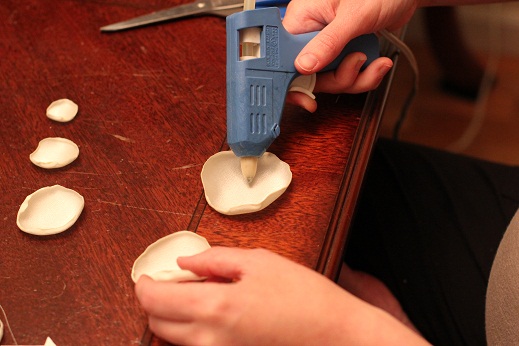 3. When all the edges of your circles are sufficiently melted and curled, begin assembling the flower using a small dot of hot glue in the center.
Start with the largest and press on the next smallest size, flattening out the glob of hot glue so you don't get a mound in the middle when you're done.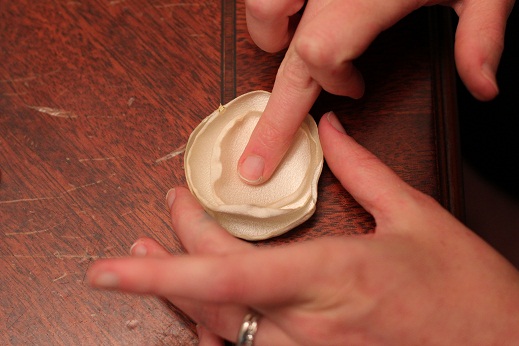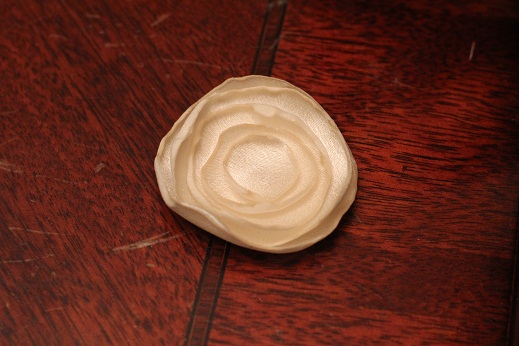 Isn't that beautiful?! I'm so in love with this flower. I'm already having visions of it paired with the sweet new cream colored tiered dresses I got for the girls.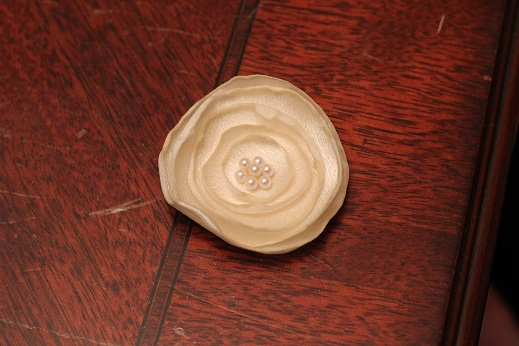 4. Add the center of the flower. I used little pearl beads. Squirt a glob of hot glue in the middle of your flower and carefully position your beads in the arrangement you want. I also tried this with size 8 seed beads and just dumped them on the hot glue (top purple flower). I found that both kinds of satin I used worked great. The purple is just a regular satin I found next to the bridal satin. I don't think I would use bridal satin though because it's super thick and twice as expensive.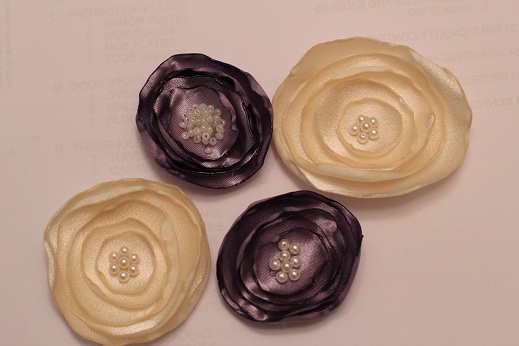 I love how each flower turned out a little differently.
5. Choose whether to glue an alligator clip (for hair clips and headband attachments) on the back or a safety pin (for a lapel or dress flower or purse decoration).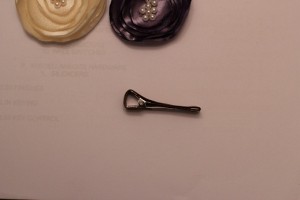 6. If you choose hair clips, hot glue ribbon around the clip so it covers the spring (to prevent hair getting caught in there), but not the bottom prong. I do like to glue the ribbon inside the roof of the alligator's mouth also.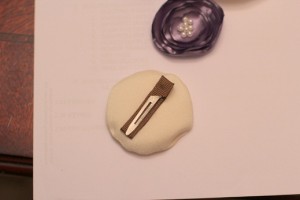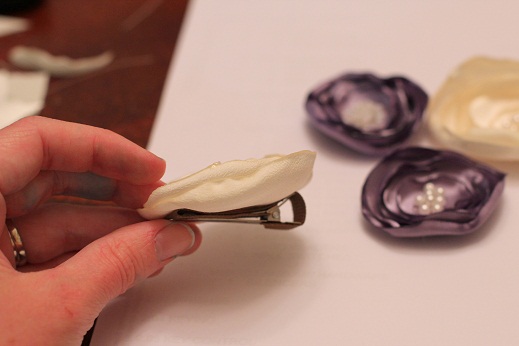 So that's what it looks like when it's done! Ignore my blue-tinged fingers – I did these flowers right after helping some teenage girls do tie-dye. Anyway, you can knock out a bunch of these at once, but seriously, the fumes are pretty noxious so do it in a well-ventilated area. I actually started coughing in the middle of doing just these four and had to stop.
Two colors down, eight to go!! Perhaps these sweet little peonies would be good graduation goodies for all those graduating seniors you know!