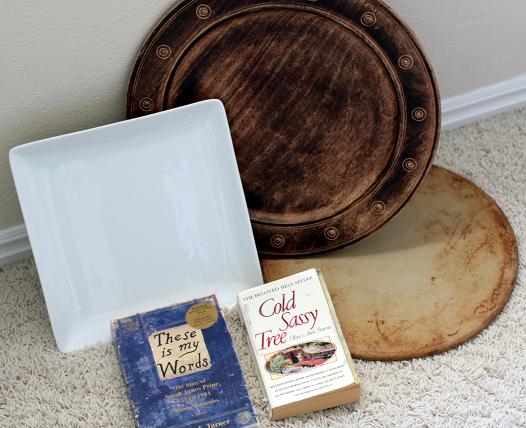 I went out last Saturday to see what I could find at some local yard sales and came home with some fantastic steals! I found my new favorite book, These is My Words, brand new for $.50 and an old favorite, Cold Sassy Tree, was thrown in with some other stuff so it was pretty much free! I got the two serving plates for $.25 each and the pizza stone for $2. This is what keeps me going back for more!
Here are some helpful yard sale tips I live by:
Look on craigslist (or KSL if you live in Utah) or local print classifieds to find advertised sales and map a route.
Notice where yard sale signs tend to collect  and stop there on your way out. There are a few corners I know I'll find a handful of signs for yard sales that I didn't find on KSL.
Be the first person there!
Go with a mental list  – you'll be amazed how much you can find that you were actually looking for.
Carry a list specifics: shoe and clothing sizes you need, books you're missing in a series, knitting needle sizes you don't have, etc
Ask for prices on individual items as you shop instead of waiting until you're ready to pay. REASON: those two serving plates I found were $.25 each. If she hadn't told me first, I would have offered more because I assumed she would ask more. When you're all finished, offer a flat amount for everything – "Would you take $3 for everything?" Most people don't want to appear super cheap so they usually won't dicker with you over a couple of dollars and they're glad to see their junk go.
Be nice! If they still ask more than you're willing to pay, say thanks anyway and politely put the items back. And don't be embarrassed to put stuff back. You should definitely have second hand price points and stick to them.
Go back at the end of the sale to pick through the left overs. People are usually willing to give stuff away or sell it for really cheap.
Don't be discouraged if you don't find anything – there's always next Saturday!
I can't wait until Saturday!