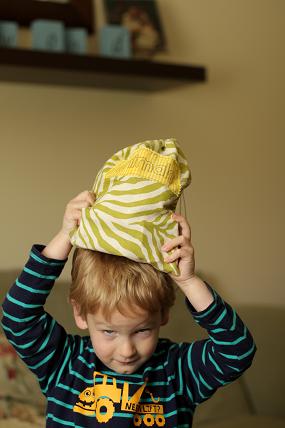 I am hatching a plan to keep all of our toys more organized: drawstring bags.
I made this first one for animals, and Elliot is doing a good job keeping his animal toys put away in this bag. It's also a handy little thing to grab as we're walking out the door if he HAS to bring toys.
I don't think I really to write instructions on how to make a drawstring bag, it's pretty much the easiest thing you could sew except for the casing. I hate casings. So here are some tips I learned from doing it wrong on this bag:
do the buttonhole first
sew the side seams
then do the casing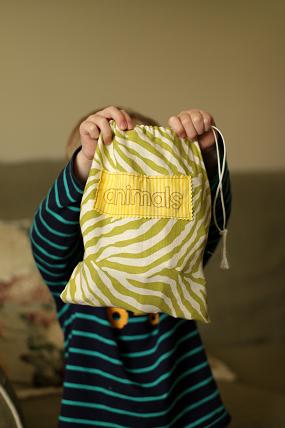 I also made a fabric label so I know what's in the bag. I'm going to make a whole set for all our different toys (cars, kitchen toys, tools, etc.) and have hooks on the wall to hang them all from.
For this bag, I put Heat'N'Bond on the back of a small scrap of fabric and used my Cricut and the Cricut markers to write the word on the fabric, cut the whole thing out with pinking shears and sewed it to the front of my bag. These markers ARE NOT color fast, so if you use this method, don't get it wet.
I'd like something a little more durable, so I bought some colorfast fabric transfer sheets. I don't know if that will work with the Cricut markers, but I will do some experimenting and share the results.
I hope this helps us keep our toys more organized! How do you organize your toys???