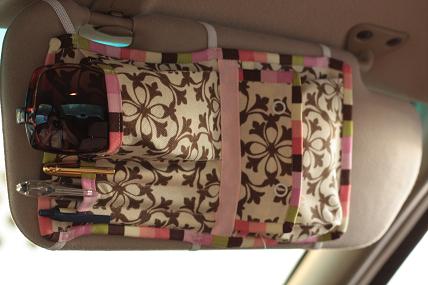 I got the idea for this project in Sew & Stow by Betty Oppenheimer (same book with the after-swim wrap and 29 other fabulous home organization projects) and it's really helping me clean up the clutter in my car.
The instructions in the book are great because Oppenheimer gives standard measurements and then a formula for how to figure out measurements for a custom organizer.
If you want to give it a go on your own, here are some basic instructions.
Materials
1/4 yard home decor weight fabric
10″ ribbon
1 yard elastic, 1/2″ wide
2 yards bias tape
snaps/velcro/button
1. Using home decor weight fabric, cut 2 rectangles about the size of your visor.
2. Cut 2 pockets, both with extra width for pleats , about 1″ total extra wider than your rectangle. If you want the bottom pocket to have a flap, cut a piece a little less than the width of the rectangle and twice as tall as the finished height. (This is where the book is great for the formula.)
3. Cut enough bias tape to go around the perimeter of the organizer and for the tops of the pockets. 2 yards will be plenty.
4. Attach bias tape to tops of both pockets. Fold flap fabric in half and sew around the 3 raw edges to make binding easier. Attach bias tape to 3 edges.
5. Attach closure on the pocket flap – velcro, snaps, button, whatever you prefer.
6. Press pocket pleats in place and pin both pockets and pocket flap to backing.
7. Sew around the perimeter of the organizer,  catching the pocket edges and the ribbon to hide the raw edge on the pocket flap and the upper pocket in the seam.
8. Attach bias tape all the way around to finish.
I forgot to take pictures as I was working mine up, so please let me know if you have questions!