The winners are Robin and Allison C. I've sent you an email – get back to me with your addresses ASAP please! Congrats!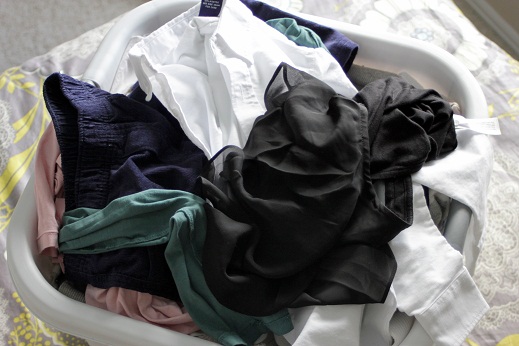 Laundry has really been a struggle since #3 arrived – there's more laundry, so that's harder, and our days are just more hectic and crazy! Sorting laundry has become a thing of the past with Shout Color Catcher because, well, not sorting is faster than sorting, and if we don't have sort anyone can do laundry (including Gus and Elliot)!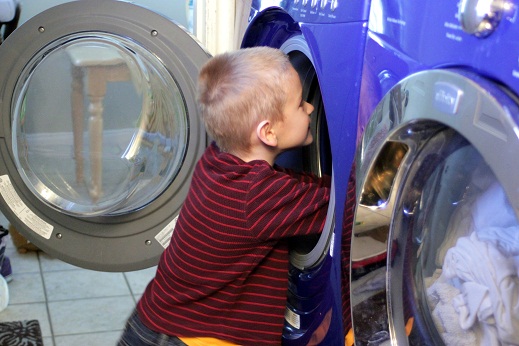 Using Shout Color Catcher with Oxi means I can save time by not sorting and that my kids can help by loading the washer all by themselves.
Finding age appropriate chores for 2 and 4 year olds can be tough, but laundry is something they can now totally do and it actually helps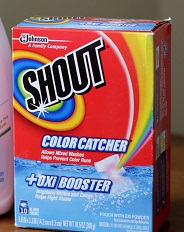 me! (Because sometimes having toddlers "help" around the house really isn't all that helpful…)
What you get in a box of Shout Color Catcher with Oxi is 10 pouches of Oxi Boost powder containing active stain removers to brighten white sand take out stains. And that's not all…
Sheets lock up loose dyes found in the wash water to prevent dyes from running or bleeding onto other clothes.
Sheets change color as they absorb any loose dyes.
Saves time by reducing the need for sorting.
Saves money by reducing the need for
half-size loads.
Safe for all colorfast washables.
Works in all water temperatures.
Shout is now offering downloadable coupons on their Facebook page for Shout Free and Color Catcher with Oxi!
I've been using Shout Color Catcher with Oxi for a few weeks now and I can definitely tell a difference in how bright my whites are. This product is saving me time (because my kids can help) and money (because I can wash mixed but full loads).
Thanks to Shout for helping make my laundry days a little less dreaded…I ought to go throw another load in right now…
Happy laundering!
GIVEAWAY
I wrote this review while participating in a campaign by Mom Central Consulting on behalf of Shout and received a product sample to facilitate my review and a promotional item to thank me for taking the time to participate.