WINNERS
The SHOUT winners are Amy Pugmire and Michelle. Congrats!
With three little boys ages 4 and under, we do a lot of laundry. A lot of laundry.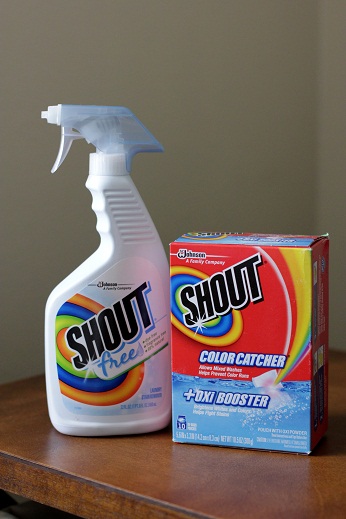 SHOUT has been my go-to stain fighter for years, and I'm always pleased with how quick and easy it is to use AND how well it removes stains.
SHOUT FREE SPRAY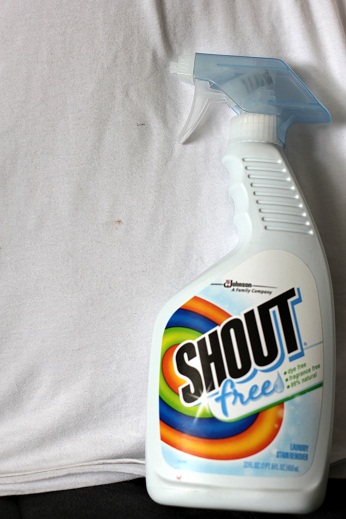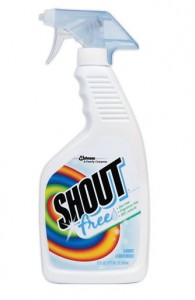 Thursdays are my laundry day and since we spill and make messes every day of the week I usually spray stained spots with SHOUT and leave the garment to soak until I'm ready to throw it in the wash. I spray the spot, scrub a bit, let it soak, and most of the time when I pull the "Shouted" garments from the washer, all spots are gone.
I don't have time to scrub and fuss over every stain. SHOUT is exactly what I need – a solution that works and that takes two squirts.
I also love the SHOUT Advanced Ultra Gel Brush – I love how the container has a brush so you can squirt and scrub at the same time. I use both of these products almost daily.
SHOUT free is dye free, fragrance free, and 99% natural which means it's safe for skin of all ages and sensitivities. It contains plant-based, biodegradable cleansers and no ammonia, bleach, phosphorus, or dyes. SHOUT works best when used on fresh stains.
SHOUT COLOR CATCHER WITH OXI BOOSTER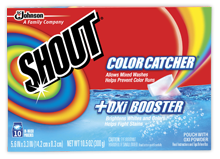 My other laundry woe is whites. I don't know if it's our water or what, but we have dingy whites. It's almost as embarrassing a problem as body odor or food in your teeth…dingy whites are the worst!
SHOUT Color Catcher with Oxi Booster brightens white and colors and helps fight stains, AND it allows you to wash whites and colors together! Using these little pouches means NO MORE COLOR SORTING! It also means laundry doesn't take nearly as long as it used to…
Here are some more fun laundry facts about Color Catcher with Oxi Booster:
Sheets lock up loose dyes found in the wash water to prevent dyes from running or bleeding onto other clothes.
Sheets change color as they absorb any loose dyes.
Saves time by reducing the need for sorting.
Saves money by reducing the need for
half-size loads.
Oxi Booster powder contains active stain removers to brighten whites and tackle tough stains like grass, dirt, blood and coffee.
Safe for all colorfast washables.
Works in all water temperatures.
SHOUT is currently offering downloadable coupons on their Facebook page for Shout Free and Color Catcher with Oxi Booster AND two lucky winners will each receive a bottle of Shout Free! Read below for giveaway details.
GIVEAWAY
Two readers will each receive a bottle of Shout Free
Enter contest by leaving a comment here before Tuesday, December 3.
Earn one extra entry by following Shout on Facebook
I wrote this review while participating in a campaign by Mom Central Consulting on behalf of Shout and received a product sample to facilitate my review and a promotional item to thank me for taking the time to participate.