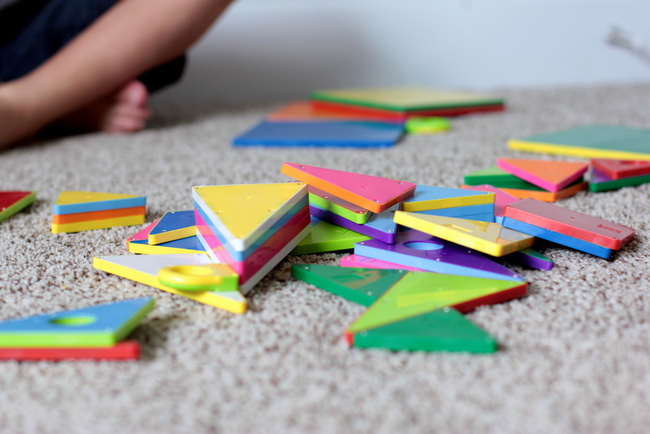 Over the years we have reviewed some pretty fun toys and we're at it again for a big Back-to-School Smart Toys Series!
This year I have a third and first grader and I wanted to find some smart toys to help us improve spatial awareness and dimension familiarity, learn shapes, experiment with principles of "engineering," and basic math sense and creativity.
I found a few toys that fit my list of qualities perfectly. Introducing…
2015 SMART TOY #1: MAGNA TILES!
Magna Tiles are "The Original 3D Magnetic Building Tile". They are plastic, geometrically shaped pieces that use magnets to stick together – the magnetism is along the edges of each piece AND the entire surface as well so they can connect at any point with another piece.
Each tile has two colors – one on each side. We love the extra color possibilities this introduces!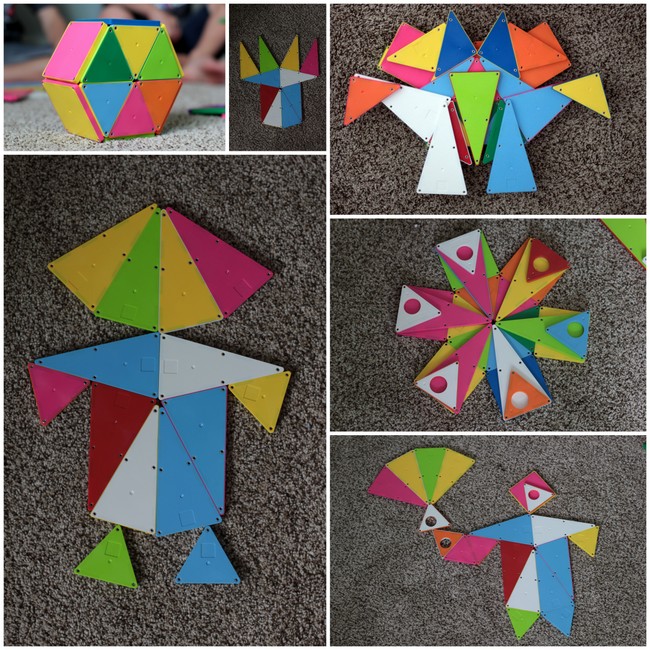 We had the pleasure of reviewing 2 sets:
As you can see from our creations above, the possibilities are endless! My kids have mostly come up with flat designs and we are working on thinking more 3 dimensionally with the Magna Tiles, which is a little trickier but such good mental exercise for them!
My boys play with the Magna Tiles for an entire afternoon, building and rebuilding such creative designs, it blows me away!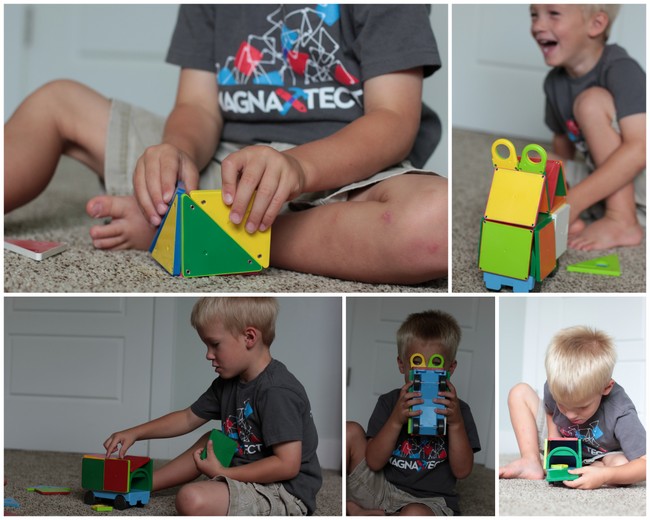 The Solid Colors Deluxe Set is a fabulous basic set with some really fun extra pieces. It includes:
12  Small Squares
3  Large Squares
9  Equilateral Triangles
10  Right Triangles
6  Isosceles Triangles
1  Wheeled Chassis
2  Imagination Pieces
2  Equilateral Triangles – Hole Punched
1  Arch
1  Square Door Frame
1  Magnetic Hinged Door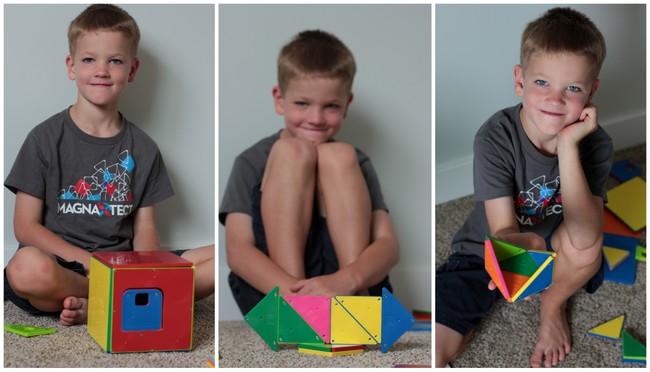 The GS Set features 2 new triangles and includes a booklet called Magna-Tiles® Play + Math. This set includes:
3  Large Squares
10  Small Squares
4  Equilateral Triangles
4  Right Triangles
4  Isosceles Triangles
4  GS 30-60-90 Triangles
4  GS 45-45-90 Triangles
We love the different kinds of triangles in this set as they introduce a whole new range of creative possibilities! This set also has hole-punched triangles which are easier for little hands to pick up and work on those fine-motor skills.
There are over a dozen different Magna Tile sets and every one of them would make an excellent birthday, Christmas, or Back-to-School gift! There are clear or opaque tiles, solid or two-tone colors, hole-punched or solid surface, and even a clear and colorless set for a more sophisticated and streamlined finished quality.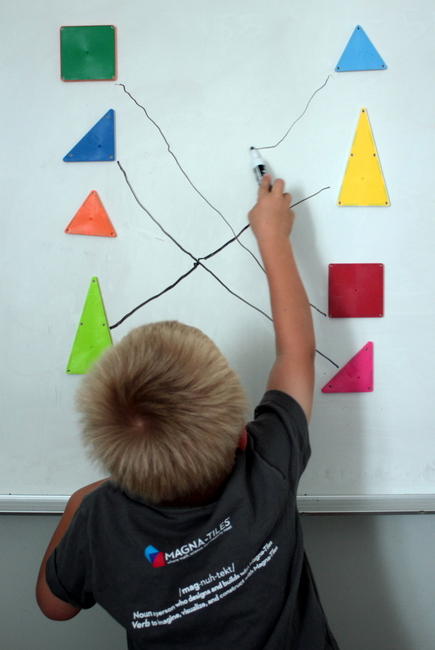 Linus is going on 4 and he's been wanting to "do school" like his older brothers. I mostly think of fun games for us to play and we had a grand time one afternoon playing some shape games.
For this one, I put two of each shape on a white board (they are magnetic, so they stick to a magnetic white board!) and had him draw a line to the matches. First we talked about how all three sided shapes are called TRIANGLES and worked on identifying triangles. Then we talked about how there are three 3-sided shapes but they are all slightly different from each other. We didn't get into the different names, an awareness of the difference is good for now.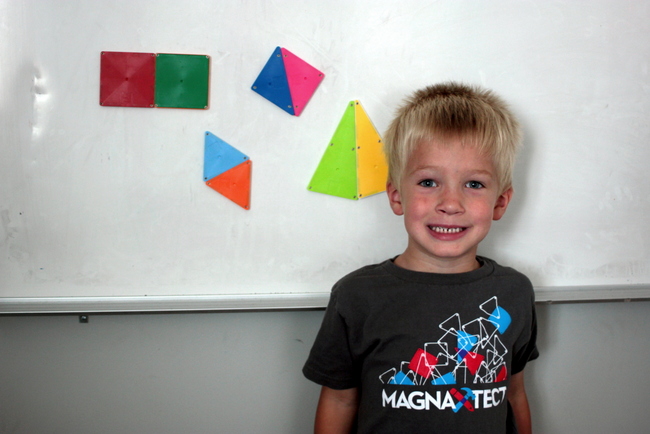 Then I mixed up all the same pieces and had him match them to each other. He wanted to be in every picture, he loves smiling for the camera!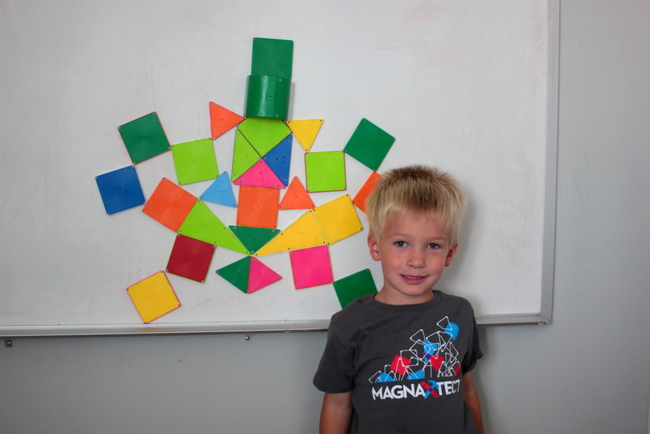 I told him to create his own design using whatever pieces he wanted to on the white board. He really liked using them on the white board, his designs stayed put and he could make something really big! He likes symmetry, I've noticed in all his artwork and building creations, he likes things to be symmetrical. I wonder what that says about him???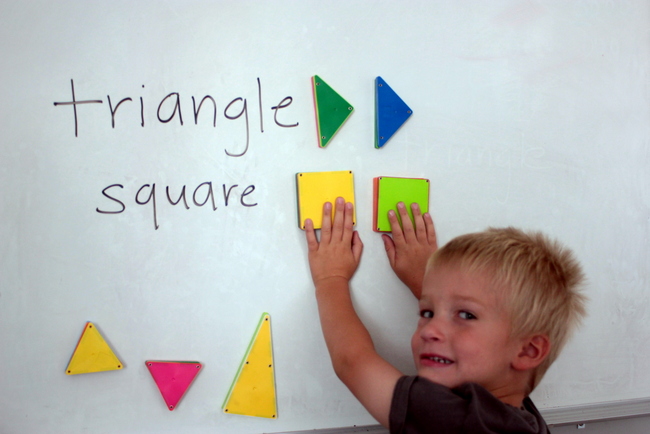 He doesn't read yet, but I wrote the shape words on the board and had him put the shapes there. He does know most of his letters so he could recognize that the T word was probably triangle and the S word, square.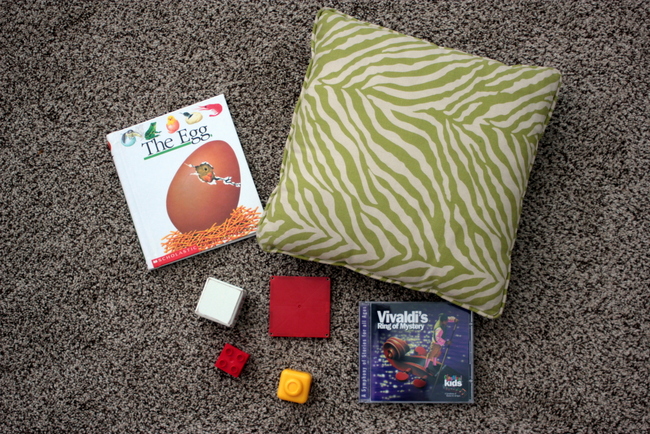 And last of all, I had him hunt for other objects in our house the same shape as his Magna Tile. He found some really good squares lying around!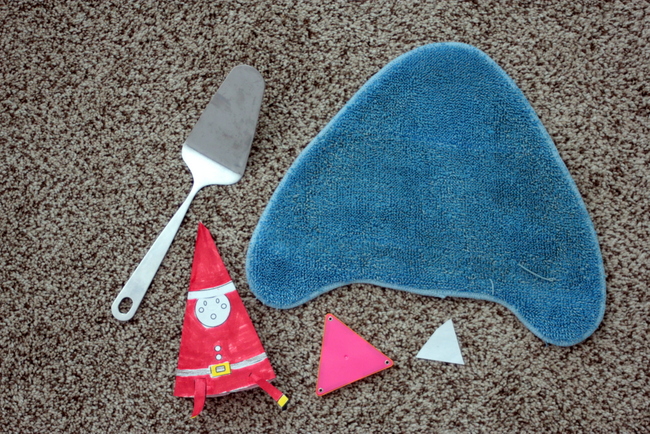 Triangles were much more difficult. His brother helped him by cutting out a paper triangle for him. We did manage to find a few!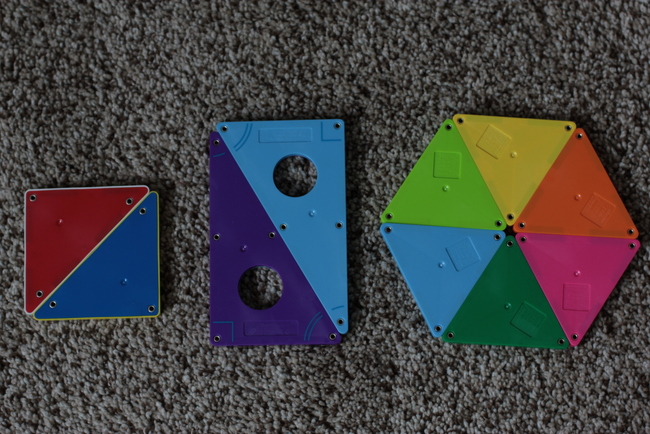 With my older boys we talked about how sometimes shapes work together to make other shapes: two equilateral triangles make a square, two right triangles make a rectangle,  and six equilateral triangles make a hexagon! Math is amazing!
There is SO MUCH FUN and learning to be had with Magna Tiles – they are a SMART KIDS TOY for sure!
Keep up with the latest and greatest from Magna Tiles on Facebook and Twitter, and check out Magna Tiles on Amazon.
{I received this product free of charge to facilitate this review.}