I love smart toys.
There are so many toys, most of them probably, that are just junk. They are noisy, obnoxious, flimsy, don't teach kids anything, and ultimately don't get played with after the first 15 minutes. I hate those toys.
So I set out to find a small selection of Smart Toys to share with all of you.
And SMART TOY #1 is quite possibly one of the best toys I've ever seen. It was introduced to us by my famous brother in law, Joel Ackerman, a fellow smart toy lover.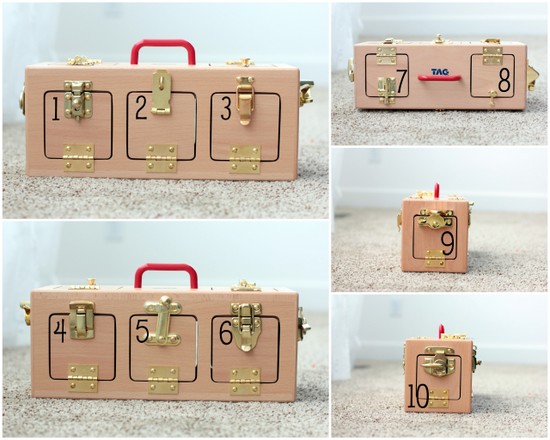 It's the Lock Box Memory Game made by Tag Toys and it has 10 different locking mechanisms that open 10 tiny doors, and opening and closing never gets old.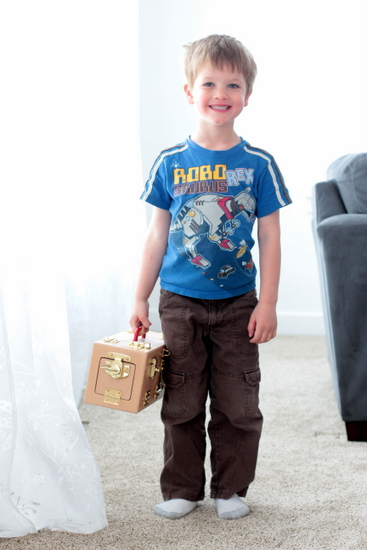 It's a medium sized (15″ x 7″ x 7″), lightweight, very solidly constructed wooden box with a handy little red rubber handle for carrying, and my boys love to stuff it full of toys and carry it around like Clark Kent's brief case.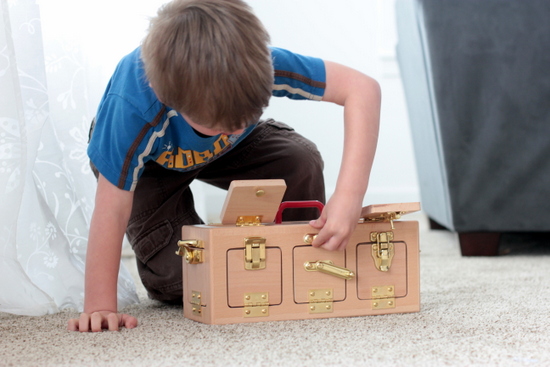 My boys each have their favorite latches and doors.
There are usually several little boys huddled around the lock box at any given time. Little Gus got a special treat today to have it all to himself for a few minutes. We do sometimes have to set the timer and take very official, regulated turns, but mostly they play well together and it entertains them for hours.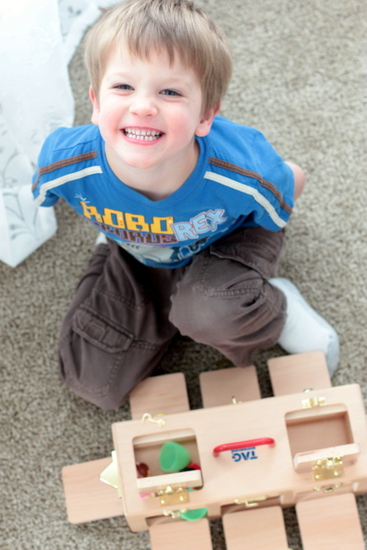 The Lock Box Memory Game is a great Smart Toy because it
develops hand control, muscle strength, and finger dexterity
improves memory skills
encourages a sense of order
entertains young children for long periods
The 10 doors open to 3 separate compartments and it really is the perfect size and shape to hide all kinds of favorite treasures that can then be accessed through several different doors.
This is a toy I look forward to having in our family for generations – I love wooden toys the very best because I know they will last that long and be enjoyed for years and years by lots and lots of children.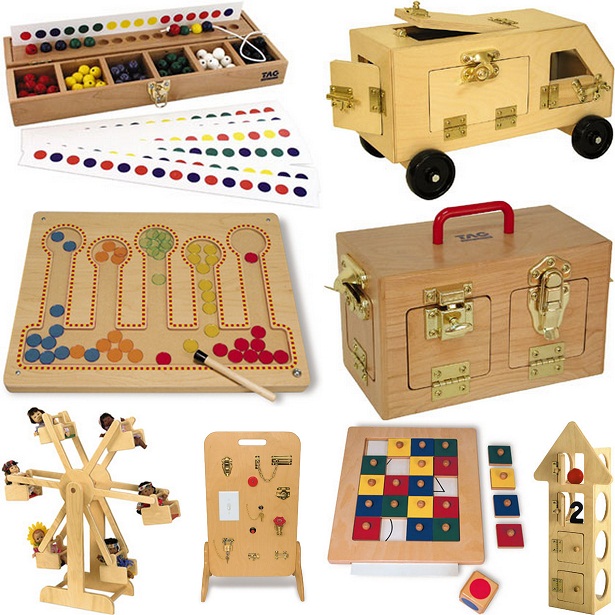 Besides the Lock Box, Tag Toys has dozens of other smart wooden toys for kids of all ages and abilities. I want them all!
I've got lots more Smart Toys lined up to share so stay tuned!
{Vanilla Joy received a product sample to facilitate this review.}