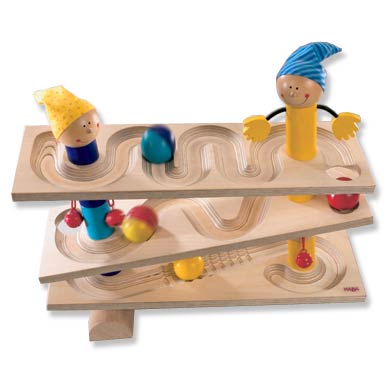 I'm always on the lookout for unique toys and children's products, and I found one I absolutely love. The Rock and Roll Ball Track by HABA is a great child's gift idea. It's a bit pricey, but it will last through as many children as you're up to having. It's made from solid wood, comes with 4 multi-colored wooden balls, and has lots of unique bumps and noise makers for the balls to run into on their way down.
This is a great toy for boys especially; at least mine loves it. My son, like most kids, gets tired of toys really fast. He has to be able to make the toy do something boyish, like crash into something or move parts around or push buttons.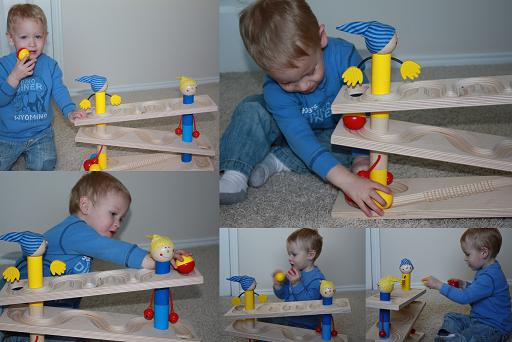 The Rock and Roll Ball Track fulfills all of my son's stringent requirements. It makes noise (but not annoying noise, natural sounding noise…it's really quite nice…). It has balls that can be used for other things like throwing or rolling down stairs. It does something interesting that is fun to watch. And no matter how many times he does it, it's still fun!
This toy is great developmentally as well because of the different sounds, textures, and colors. It involves several of a child's senses, which really helps them to feel like they are experiencing the toy rather than just playing with it. And it's a neighborhood favorite, for sure. All the kids love it, and it's no wonder. It's a well made, natural, classic toy that will last forever and entertain my children for years to come!

A second great gift idea comes from Stitcheroos (formerly known as Personality Plus Boutique), a website I came by via a local art and gift show.
My favorite thing from her shop is her personalized embroidered towels (and the squeaky shoes).
When I saw these towels, I decided I wanted all of my kids to have one in their own assigned color and with their name on it. My first son has a green towel and my next son will be getting a blue one. Eventually we can have a whole wall full of towel racks in bright, personalized colors!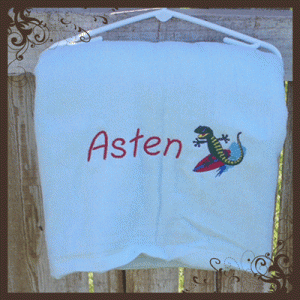 Besides the personalized towels, Stitcheroos has lots of other great items. Kids love to see their names on things, and Stitcheroos does very high quality embroidery work. If you have a birthday coming up, browse her shop – I'm sure you will find the perfect birthday gift!