**Click here for a favorite quilt basting method update**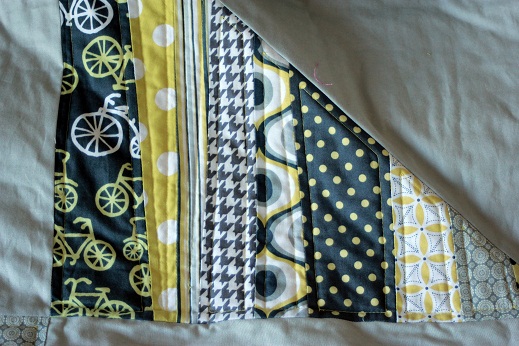 I decided to try machine quilting my Citron Gray quilt – so far I have quilted inside each of the wonky pieces just following the seam lines, and I love how it turned out. I used a walking foot and it wasn't too difficult or awkward to handle.
For the other half, the solid gray triangles, I'm going to do either circles or stipple or maybe a tulip stipple design. I purchased some quilting stencils just yesterday on Amazon and am waiting quite impatiently for them to arrive. I hope they're going to solve all my free motion quilting problems like I think they will…I'm just too darn uptight to try to just wing a free motion quilting design, at least on this quilt. I want it to be perfect. So hopefully the stencils will prove fabulous.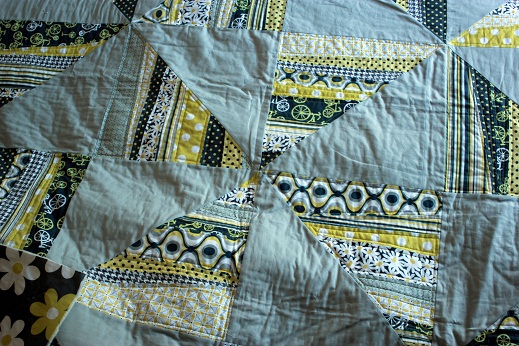 Want to know something that has already proven fabulous?
Spray basting.
So easy, no blood, just a little stinky. And that's only because I used the Krylon Easy Tack repositionable adhesive spray instead of the official fabric basting spray (JT 505 is what has been recommended to me). It's what I had…and it's way cheaper.
I taped the backing to my tile floor, sprayed, laid the batting over the top, sprayed that, and laid the quilt top down. Voila. Basted. Whabam.
It would have been much easier with help though…positioning the layers is definitely a two person job.
It looks a little wrinkly. It is, but that's probably because I didn't get all the wrinkles out when I laid it down. Like I said…two person job.
I don't know that I'll ever pin baste again.
What's your preferred basting method???