Guest post by Jennifer from The Literate Mother.
Every year about this time, I start to feel a small wave of panic settle in. Knowing that summer is just around the corner is exciting, but daunting. I am almost as relieved as my kids are to be done with reports, projects, homework and the strict schedule that a busy family demands during the school year. But the break from school comes with its own set of challenges, the largest of which, for me, involves, "Mom, what can I do? I'm bored."
Over the years I have found that my best defense against summer boredom is a carefully thought out, age-appropriate reading list. With so many books available, it is difficult to choose the best literature for children and young adults, but over the last two years some other mothers and I have been working on a project to help parents do just that.
At www.TheLiterateMother.org, we rate the content of youth and young adult literature on a scale of 0-5 in the four categories of language, violence, sexual content and adult themes. Armed with this information, parents can steer their young readers toward appropriate literature and also discuss any sensitive material they may encounter. When you know what your children are reading, you have a perfect starting point for all kinds of conversations about books and their applications to life.
Below are some of our recent favorites to help you get started on your family's summer reading list.
Percy Jackson and The Olympians Series by Rick Riordan (Grades 4-9)
Percy Jackson, son of the Greek god Poseidon, battles mythical monsters, angry gods and a rising evil to restore peace to Mount Olympus and the western world.
There is some violence in all of the books, including sword fighting, battles, and the destruction of mythical monsters. The violence is not graphic, but you may want to be careful with sensitive readers. Percy and the other "half-bloods" are each created from a union between a Greek god and a mortal. Curious kids may have some questions about how that happens. My 8, 10 and 13-year olds have all read the entire series and love it.
When You Reach Me by Rebecca Stead (Grades 4-9, Newbery Medal Winner 2010)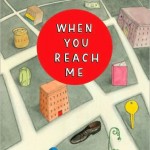 Miranda and Sal have always been best friends, but one day he walks out of her life for no apparent reason. Then she begins receiving a series of notes that seem to predict the future, but how does everything fit together?
When You Reach Me contains some profanity (about 10 instances) and swearing ("hell" used a handful of times), one innocent kiss, and a minimal amount of violence. This worthy Newbery winner is a treat, so be sure to read it along with your kids.
The Book Thief by Markus Zusak (Grades 11 – adult)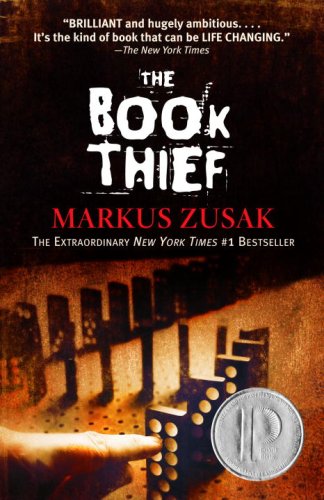 This is truly a remarkable book. Zusak has an amazing ability to bring his characters into your heart and keep them there. His writing is fluid and unerringly descriptive, bringing war time Germany vividly to life. The story follows 9-year old Liesel as she lives through WWII and all of its horrors. Strong and brave, she learns to love words and their power.  While this is an amazing book, it contains considerable language, violence and adult themes. It is definitely only for the mature teen.
Visit www.TheLiterateMother.org to read the full reviews for the preceding books and for many more reading ideas.
Here's to a summer full of memories and wonderful books.