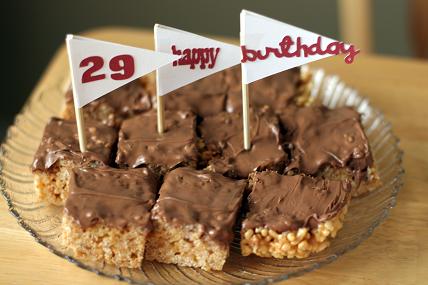 Combining food with crafts is the perfect project, especially when the food involves chocolate and peanut butter and a birthday!
I made these Scotcheroos for a birthday surprise for my husband in February and topped them off with some easy birthday flags. Using card stock triangles, die cut shapes, and some skewers build some flags and stick them in the top of your treat.
I saved them too because I can always peel off the number and put the appropriate one on there for the next birthday or person.
How do you like to surprise your family on their birthdays???
Scotcheroos
Boil 1 c. sugar and 1 c. corn syrup. Remove from heat.
Add 1 c. peanut butter. Stir.
Add 6 c. Rice Crispies cereal.
Pour and press into greased 9×13 pan.
Melt 2 c. chocolate chips in microwave (do in 30 second intervals, stirring in between). Spread melted chocolate mixture over Rice Crispies mixture.
Allow to cool until chocolate has hardened.