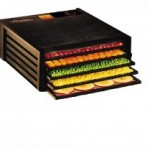 And the winner is Jodie! She said, "Please can this be the time I win? Lol! I have been wanting this ever since I graduated BYU. I really want this!"
Send an email to kelsey[at]vanillajoy[dot]com to claim your prize. Congrats!
THE PRIZE
One Vanilla Joy reader will win a 5-tray Excalibur Dehydrator! ($190)
MY REVIEW
If I had to make a list of my top 10 favorite review products last year, the 9 tray Excalibur Dehydrator would absolutely make the list and there's one big reason why:
My kids LOVE dried fruit (particularly apples) and fruit leather MORE THAN CANDY. I realize that dehydrated fruit loses some of its nutritional value, BUT STILL! It's fruit and the sugars are natural and it's 5 billion times better than anything sweet I could buy at the store.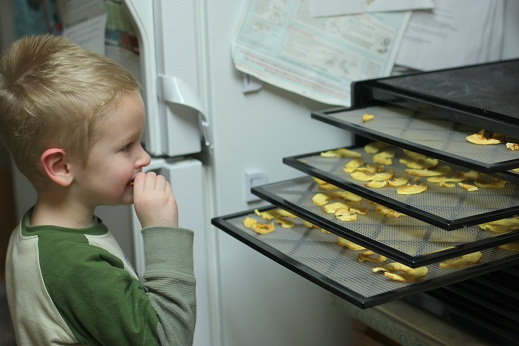 As you can see from this picture, the apples within snitching distance are mostly gone BEFORE THEY'RE EVEN FINISHED DRYING. Elliot snuck his little Tummy Tub stool in the kitchen and devoured a bunch of apples and several inches of fruit leather, and you know what? Fine with me! (He didn't eat all those apples by himself…Gus and I helped…they're just SO GOOD.)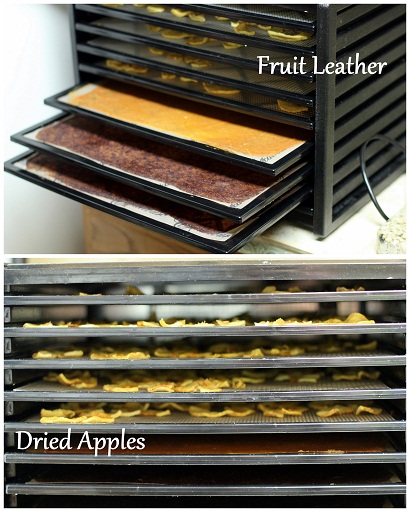 Even more than the dried fruit, we love making fruit leather. My two boys will consume an entire tray of fruit leather (that I roll in saran wrap and take with us to the store for a shopping snack) in no time. This dehydrator dries so evenly and beautifully that the finished product is always delicious.
Fruit leather is a great and EASY way to use up fruit. I core an apple and throw the entire thing, skin and all, into my Cuisinart PowerEdge 700 blender. A handful of apples with some banana, spinach, mango, or whatever else you have in the fridge turns into a delicious fruit leather 6-8 hours later.
Fruit leather is a great every day AND travel snack and is yummy enough to be classified as a treat…
There are lots of dehydrators out there. So why Excalibur?
I asked around at the Self Reliance Expo I attended last October, and all the serious dehydrators recommended it. Some of them had several and have at least one going all the time. They last forever and dry a ton of food at a time (the 9 tray dehydrator has 15 square feet of tray space).
The 600 watt fan is a whopping 7″ and it has an adjustable thermostat that ranges from 85 to 145 degrees. It's quiet and doesn't heat up my kitchen at all. The soft humming sound is actually rather soothing, and the aroma of drying fruit in my house all day is one of my favorite things.
Most other dehydrators have smaller fans and much less wattage which just means dehydrating your food will take longer. Excalibur is the Bosch of dehydrators.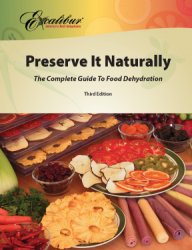 If you're interested in learning more about dehydrating foods, I would recommend Preserve it Naturally.
This book has tons of information about how to dry in different climates, recipes using dried foods, a section that lists each fruit and vegetable and talks about how well it dehydrates and how long it takes in different climates, how to dehydrate meats, and so much more.
I wasn't sure how to tell when a fruit was fully dehydrated, and this book gives great information about all that and more.
I also really like the blog Dehydrate2Store.com. She has a great tips page with lots of helpful information.
Having a dehydrator opens up the possibilities for all that summer produce and is just one more way to get everyone in the family eating more fruits and vegetables.
I just made some fruit leather and it's already all gone, so we'll be making more this week!
Thanks to Excalibur Dehydrators for sponsoring this giveaway!
GIVEAWAY RULES
Visit ExcaliburDehydrator.com
Make a comment on this post telling me your favorite dehydrator product or why you'd like to win before midnight Sunday, January 30.
A winner will be selected and announced in a new post on Monday.
Only one comment per person unless you earn extra entries.
Giveaway open only to residents of the continental United States…sorry.
Winners must email me to claim their prize within 5 days.
EARN EXTRA ENTRIES
You may earn 1 extra entry each for doing the following (make a separate comment for each thing you do):
Become a Facebook Fan of Excalibur
Facebook about the contest with a link back here
Subscribe to my feed
Sign up for my newsletter
Add my button to your sidebar
Comment on any non-contest post (must contribute to the conversation)
GOOD LUCK and THANKS!
{This product was provided to Vanilla Joy for review purposes.}