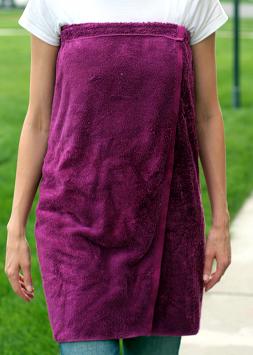 Someone sent me a white spa towel wrap a few months ago and I loved it so much for after showering, I had to make one for swimming. With two kids and approximately 30 pounds of gear to carry on my person wherever we go, I just don't have hands to keep my towel up after swimming.
I saw this project in Sew & Stow by Betty Oppenheimer, and seeing the basic instructions written out with a full color picture of the finished product gave me courage and motivation to whip one up myself.
Here's what you'll need:
Supplies & Materials:
Project completion time: 1 hour

1 towel – beach or bath (Target's Room Essentials towels are my favorite)
1″ wide elastic – 20-24″ long
1″ wide velcro – 10″ long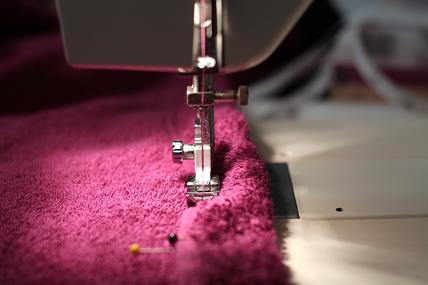 Along one long edge, mark 10″ in from each end. Between those two marks, fold the long edge over 1 1/2″ and pin. Sew down along the non-terry cloth border of the towel.
Since the edge is already finished you don't need to fold under, and since the towel is thick anyway, you want as few layers as possible.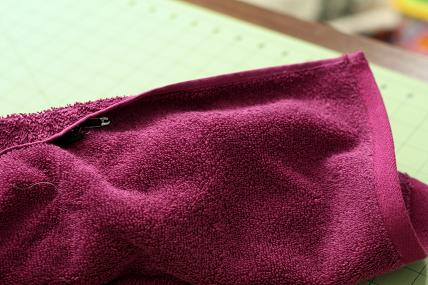 Take a high bust measurement on yourself  by holding a tape measure right up under your armpits and on the flat part of your chest above your "chest" (boobs). My measurement is 34 and I used about 20″ of elastic, so add another inch of elastic for every 2 inches around. That ought to work, yes?
Attach a safety pin to the elastic and thread through the casing. Be careful not to pull it all the way through, you need elastic sticking out both ends of the casing.
Line up the edges of the elastic to the ends of your stitching lines and sew down to the towel in a square with an X in the middle.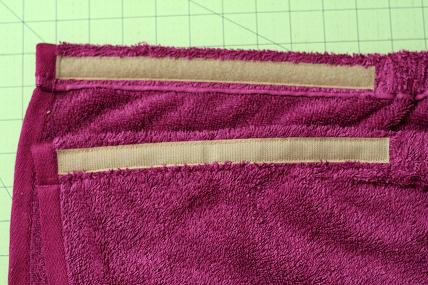 The last step is to sew the velcro to the 10″ on either side of the casing. One half of the velcro will go on the wrong side of the towel and the other half will go on the right side. When it's all finished and you fold the towel in half, both sides of the Velcro should be on top. Just double check before you sew and you'll be fine.
It's so nice to have two hands free without losing my towel – Happy wrapping!