Good bibs are hard to come by, are they not? We had one old one that was perfect – vinyl and big, easy to clean and didn't get moldy. But Gus has ripped it to shreds. I couldn't find any bib in a store worth buying, so when I saw an adorable tablecloth at Target, this project came to me.
Materials and Supplies for a Tablecloth Bib
vinyl tablecloth
1/2″ double fold bias tape (about 3 yards)
lots of pins
bib pattern
set of snap fasteners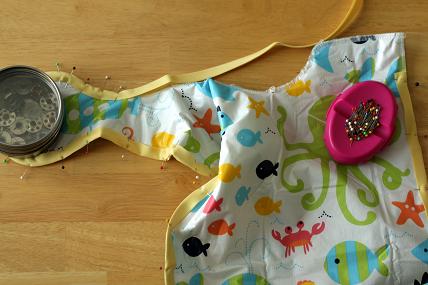 I traced our old bib onto two file folders taped together because I loved the shape so much. I wish I knew how to get my pattern online so I could share it with you. Anyone know how to do that?
Cut two pieces, a front and a back, and make sure to flip the pattern over before you cut the second one.
**Vinyl shows pin marks, so I traced the pattern onto the back of the tablecloth with a pen rather than pinning the pattern to the tablecloth to cut around.
Pin the bias tape all around the edges of the bib. When you get to the neck, stretch it out so it's as straight as possible (as shown in the picture). Also stretch the bias tape as you go around the curves to minimize tucks.
On store bought bias tape, one side is a smidge longer than the other, so edgestitch the bias tape to the bib with the short side up.
**I tried serging the two pieces together first, which did not work at all. The vinyl didn't feed through very well and the sharp curve of the neck meant that my blade was cutting off fabric and not sewing the layers together behind it. Bias tape is a much better option and it looks nicer too.
Attach the snap fasteners according to the package instructions.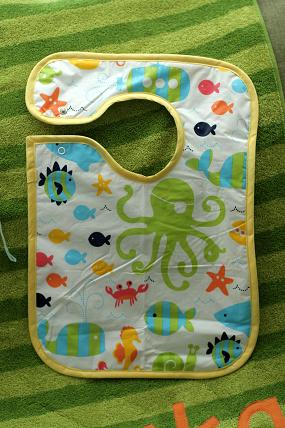 I love when I have an idea that turns out even better than I had imagined! Making my own table cloth bib solves all the problems I was having with bibs – this one is so cute and will be easy to clean. And if it does get ruined quickly, I have an entire tablecloth to make some more!