Our family is young and I'm wanting to start some fun family traditions, especially for Thanksgiving and Christmas. The thankful turkey is a tradition we 're starting brand new this year!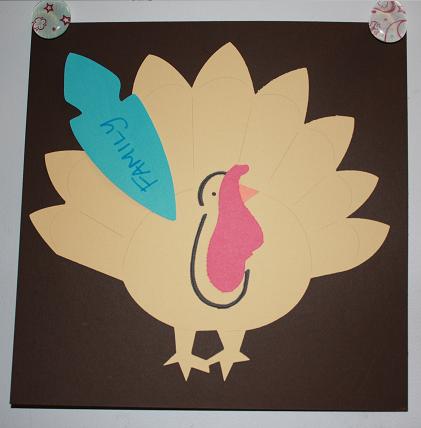 Starting the Monday of the week before Thanksgiving, we're going to write down something we're thankful for on a feather and add one each day until Thanksgiving.
I cut out the turkey with my Cricut Expressions using the My Community and Paper Doll Dress up cartridges. If you don't have a Cricut, you can print a turkey here or here.
Another tradition I'd like to start when our kids are a little older is to challenge each person to make a list of things they're thankful for that will reach from floor to ceiling (on a receipt roll).  Everyone who can do it gets a special treat or prize!
What are some of your favorite Thanksgiving traditions?