The floor coverings in our current home are predominantly carpet and even though we have a no food, no shoe on the carpet rule, our carpet still gets pretty dusty and dirty.
I love a good vacuum and was thrilled with the chance to try out the new Panasonic Jetforce Vacuum MC-UL427. I honestly didn't expect it to be any better/different than my current vacuum but I was wrong!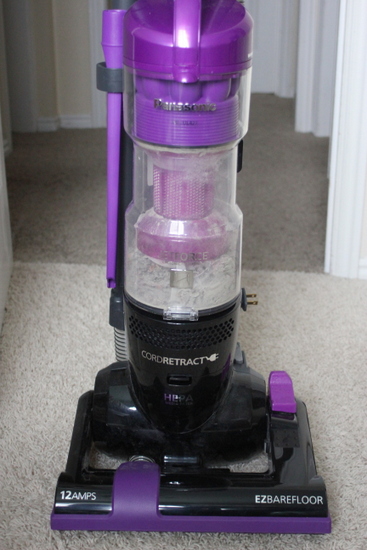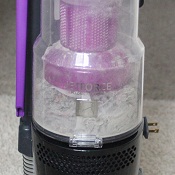 First of all, this one is bagless which I love more than I thought I would. I love being able to easily empty it without having to purchase and throw away vacuum bags and I especially love being able to see all the gunk inside.
Recently, because our house is for sale, I've been vacuuming much more regularly. As I got this vacuum all set up, I vacuumed my whole house and I had several rooms to go when I needed to empty the gunk chamber – apparently my old vacuum wasn't doing a very good job. Just look at what it collected!!! I had no idea my carpet was this dirty!
I love seeing all this stuff in the little chamber and know that it's no longer on my carpet. I know exactly when I need to empty it so this vacuum can always perform at top sucking speed and emptying it is so easy!
The suction is impressive – the hour glass design of the dust container separates the dust and air via centrifugal force allowing for no loss of suction. The shape of the dust cup forces bulky gunk to the bottom and keeps it from clogging the filter.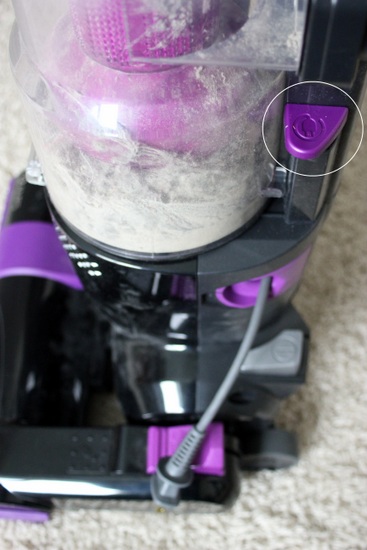 Another favorite feature is the 24′ automatic cord reel. I didn't realize how much I despise winding and unwinding the vacuum cord until I didn't have to do it! The automatic cord reel utilizes the exterior space on this vacuum more efficiently too – there is more space for the hose and attachments and that awful cord is out of sight and tucked away.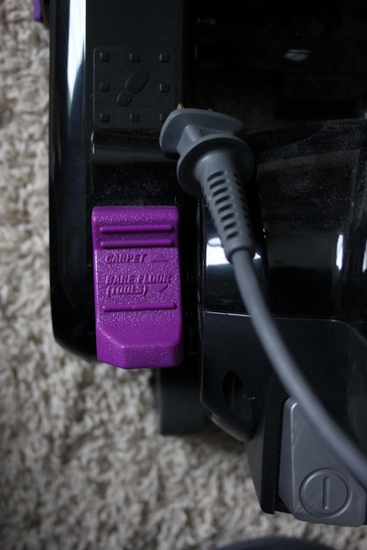 There is a convenient switch right at foot-level to go from carpet to bare floor/tools height AND it switches back and forth easily. Forget a broom, with the switch turned to Bare Floor and the agitator turned off, I can clean all my hard surfaces much more quickly with this vacuum!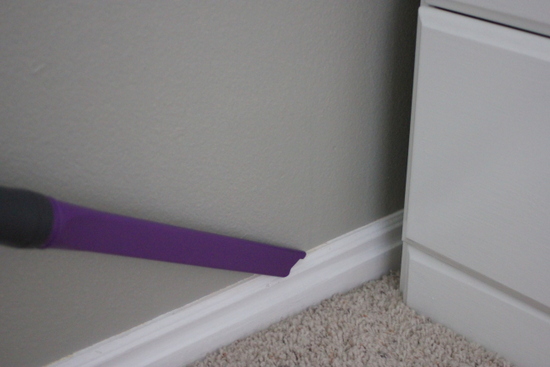 There's also a HEPA filter to capture the smallest particles (i.e. allergens, pollutants, irritants) and the vacuum comes with a stretch hose, wand, dusting brush, and crevice tool to clean all those hard-to-reach places. I love using the wand to clean my baseboards, all around dressers, doors, and chairs, cobwebs, light fixtures…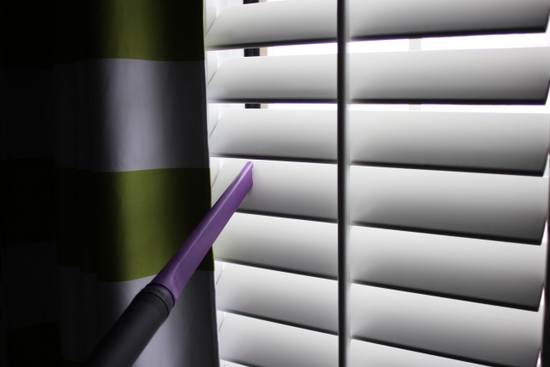 …and our shutters. This vacuum sucks so hard, these shutters were so easy to clean quickly with the long hose and wand. They are cleaner than they've been in months and it was so easy!
With a powerful motor, on-board attachment storage, easy to empty dirt cup, wide base for more efficient cleaning, long self-reeling cord, and lightweight build (under 15 pounds) this is a vacuum I love to use. And it's purple.
What do you look for in a vacuum? Are you ready to chuck yours and give this one a try???
I participated in a campaign on behalf of Mom Central Consulting for Panasonic. I received a product to facilitate my review.