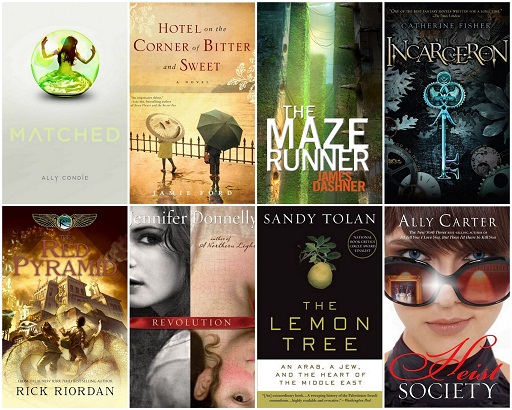 Here's what's on my list to read this year:
Hotel on the Corner of Bitter and Sweet by Jamie Ford
The Lemon Tree by Sandy Tolan
The Maze Runner by James Dashner (YAFic)
The Red Pyramid by Rick Riordan (YAFic)
Chains & Forge by Laurie Halse Anderson (YAFic)
Heist Society by Ally Carter (YAFic)
Matched by Ally Condie (YAFic)
Revolution by Jennifer Donnelly (YAFic)
Incarceron by Catherine Fisher (YAFic)
The Agency: A Spy in the House by Y.S. Lee (YAFic)
The Old Man and the Sea by Ernest Hemingway
So Brave, Young, and Handsome by Leif Enger
The Strange Case of Origami Yoda by Tom Angleberger
These are the ones I am anxious to read soon. Lots of YA Fiction – I can tell this is a year I'm going to need books for entertainment and escape… I'm going to try to fit some non-fiction smarty pants stuff in sometime, but I'm not sure what yet.
What's on your list?