We are a game family – always have been and once we started having kids we decided we were going to be a technology free family, at least as far as phone/tablet games and other gaming systems go.
Fast forward 10 years and we have four busy boys. With no screen time to keep them busy, we find other things to do and our favorite thing is games!
We play games a lot. The boys play with each other, by themselves, we play as a family, every which way you can play games, we play them. And now that our kids are getting a little older, we're starting to get to play some really fun ones. We've tried out a bunch of new games recently and we have 10 new favorites to share.
Presenting, in no particular order, our TOP 10 GAMES EVERY FAMILY SHOULD OWN AND PLAY OFTEN!
1. Sleeping Queens (Gamewright Games)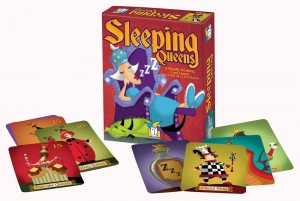 Card games are always great – they're usually simple and very portable, no small pieces to swallow or lose, colorful, durable, and this one is all of these things PLUS super fun.
Sleeping Queens was created by a 6 year old girl so my kids totally get it and it has some really fun quirky rules like: If you get the Rose Queen, you get to pick a second queen. And you can't have both the Cat Queen and the Dog Queen (cause they would fight too much, of course).

Basically there are king, queen, power, and number cards. The goal is to collects as many queens as possible or get to 40 points first (each queen is worth a different number of points). There are cards to steal or put queens to sleep and other cards to wake the queens up or save them from being stolen.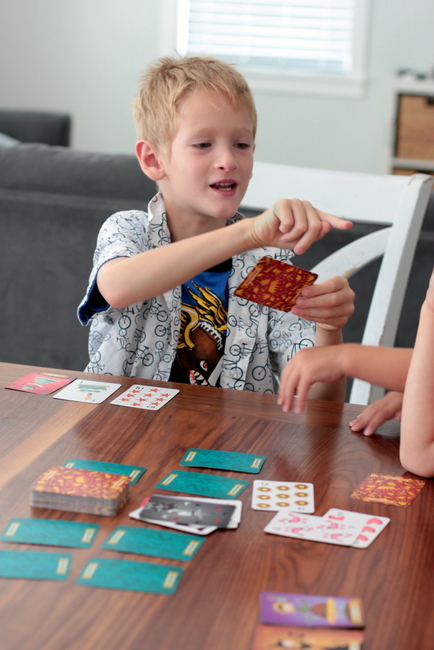 And every turn you discard number cards – if you have number cards that create a number sentence, you can discard all of them! Like if I had a 2 and 3 and 5, I could discard all 3 and draw 3 new cards. It's great for math practice!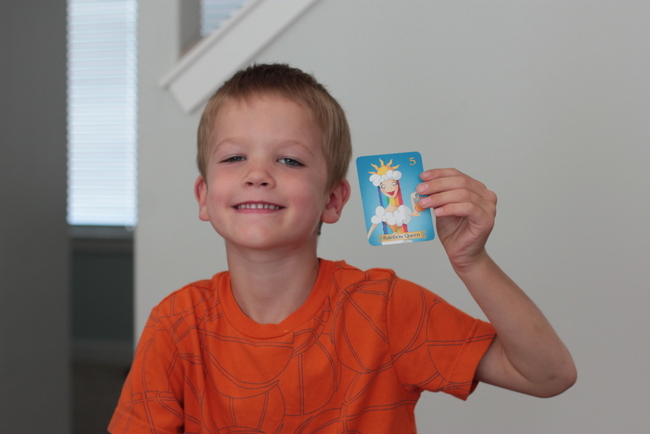 My boys wake up early and come down and play this game in the mornings before school, they love it. And it's totally fun for my husband and I to play with them. There's usually at least a little bit of "friendly competition" behavior, so it's always exciting!
This one costs $9.96 on Amazon (like almost all of the Gamewright card games – so inexpensive for such a great game!)
Check out the rest of the Top 10 Family Games
{We received this game free of charge to facilitate this review.}