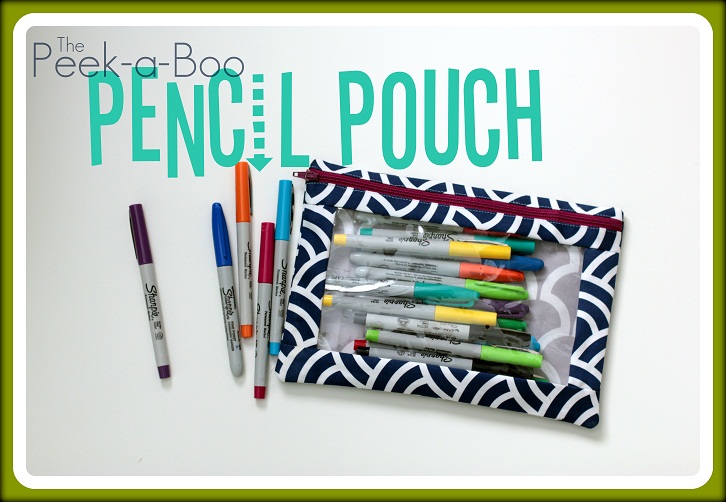 Pencil pouches are just great, useful for so many things besides pencils. I use them for traveling, organizing sewing and knitting tools, toys, and lots more.
They're pretty inexpensive to buy but so boring.
With a few scraps of fabric and some vinyl, you can make something to suit your personality.
Here's what you'll need and how to put it together:
SUPPLIES
scrap fabric (I used Michael Miller BEKKO – Billow in slate and Swell in navy, home dec weight works really nicely for this project)
scrap vinyl – gauge doesn't matter
1 – 12-14″ zipper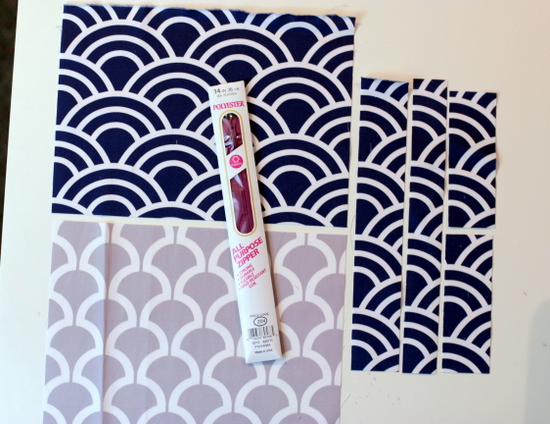 From vinyl:
From exterior fabric (NAVY above. Unfortunately, not all pieces are pictured above. I forgot a few!):

Cut 1 – 1.75″ x 10.75″
Cut 2 – 1.75″ x 5″
Cut 1 – 1.25″ x 10.75″
Cut 1 – 1″ x 10.75″
Cut 1 – 7.5″ x 10.75″

From interior accent fabric (SLATE above):
Sew the two 1.75″ x 5″ pieces to the 5″ edges of the vinyl rectangle. Fold them out and press carefully – don't touch the vinyl with the iron!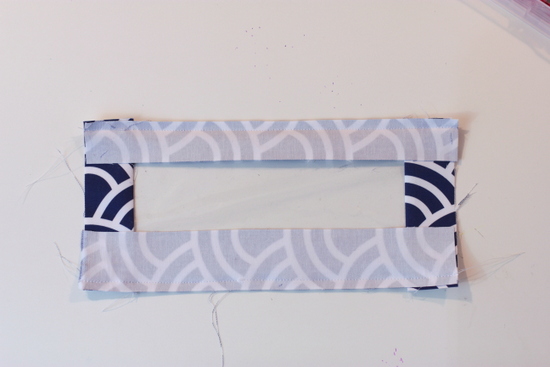 Sew the 1.75″ x 10.75″ piece to the bottom edge and the 1.25″ x 10.75″ piece to the top edge. Fold out and press carefully.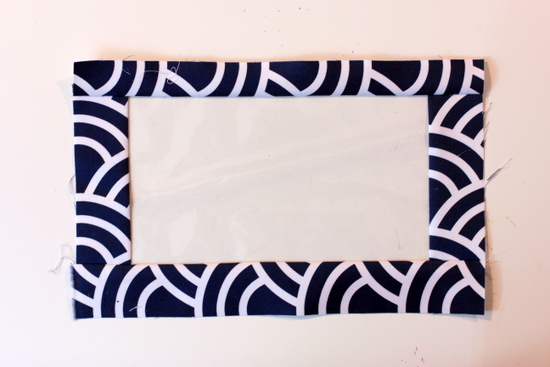 This is what you should have by now.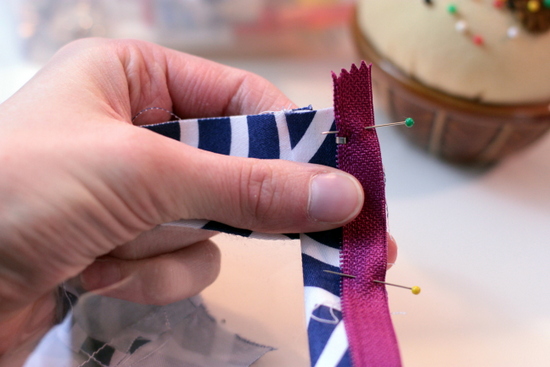 Unzip the zipper all the way. Pin right sides together with the zipper teeth facing down toward the vinyl, to the top edge of the pencil pouch (the 1.25″ wide side). Scoot the zipper over so the zipper stop is 3/8″ from the edge of the fabric.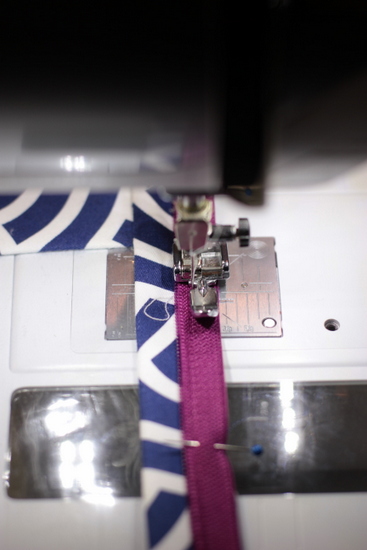 Using a zipper foot, sew with the right edge of the foot running along the raw edge of the fabric/zipper with the needle on the side closest to the zipper teeth.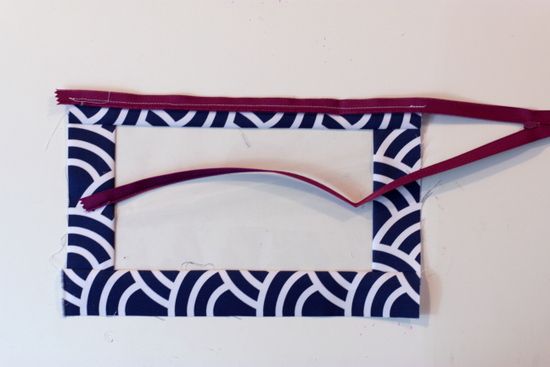 Like so.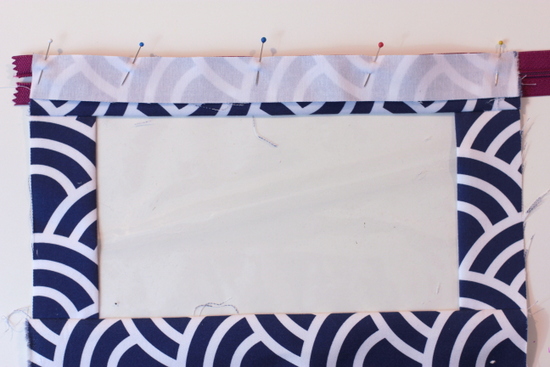 Close the zipper and fold it back so the right sides of both the fabric and the zipper are facing up (in the finished position.
Lay the 1″ piece right sides together on the other half of the zipper tape, pin, unzip the zipper all the way, and sew just like before.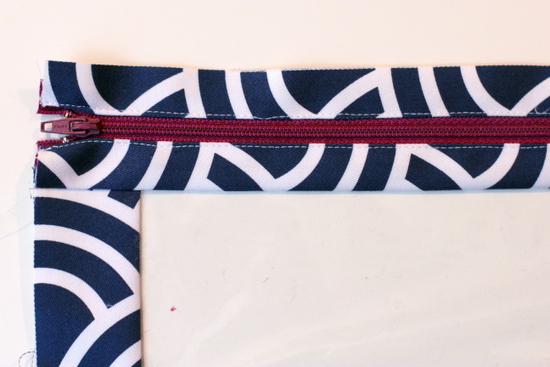 Top stitch the edge of the fabric on both sides of the zipper to hold the seam allowances down underneath. Trim off any zipper tape that goes beyond the fabric on both ends.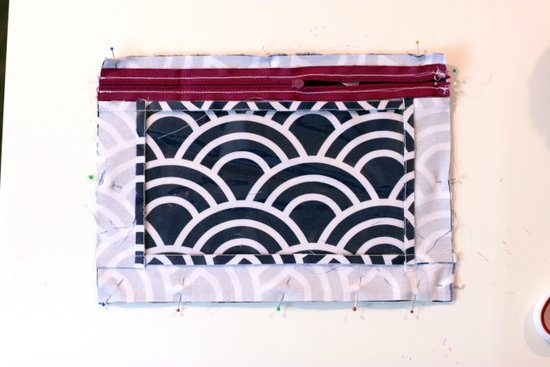 On the table layer your fabric: interior accent piece – right side down, exterior piece – right side up, front piece with the zipper – right side down.
Unzip the zipper halfway.
Sew all the way around with a 1/4″ seam.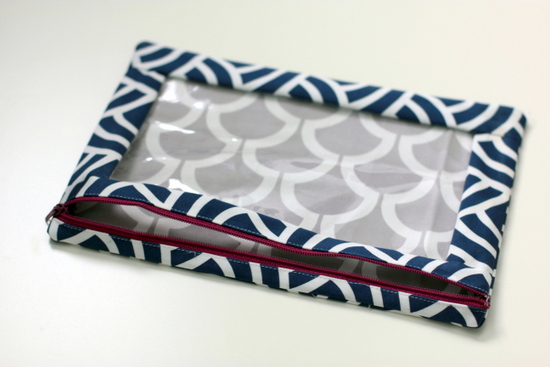 Trim corners and turn through the zipper opening.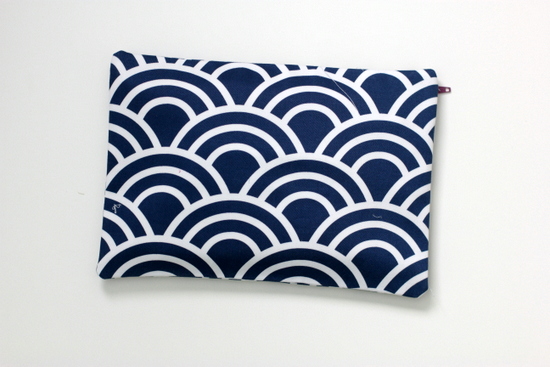 Isn't it lovely?!?
In 30 minutes, you can make one too! No more boring Wal-Mart pencil pouches for either of us!