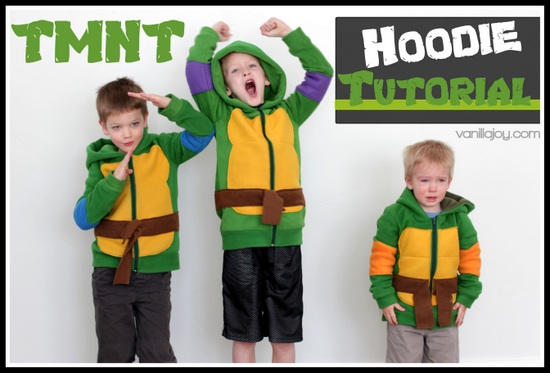 One must use creativity in sewing for boys, and these were a very fun and well received Christmas presents a few months ago. Turtle hoodies!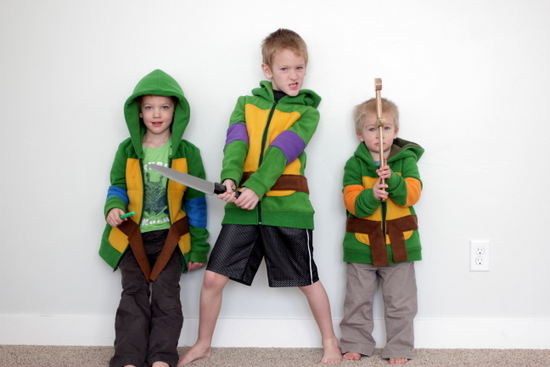 We've been wearing them all around town and getting lots of stares and comments. I take stares as a compliment.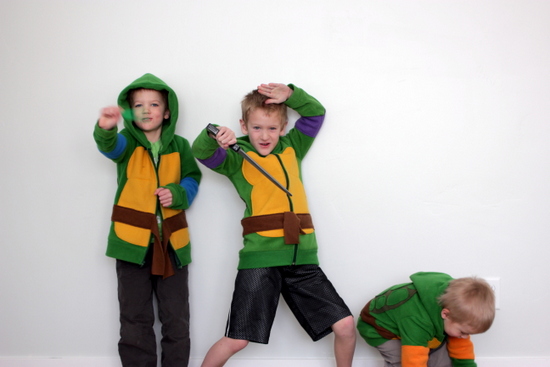 Our 4th baby is due in 4 weeks, another boy, so Raphael will be joining the force before the year is out.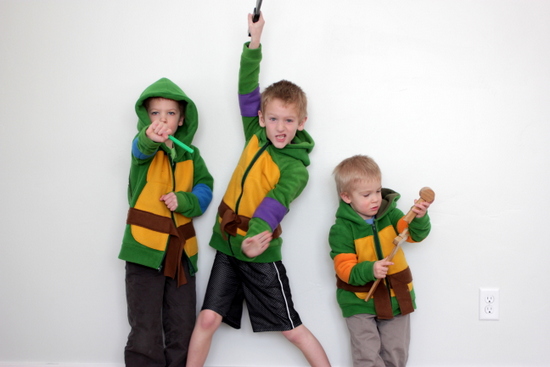 We know ninja turtles don't fight each other but…they're boys. They can't help it.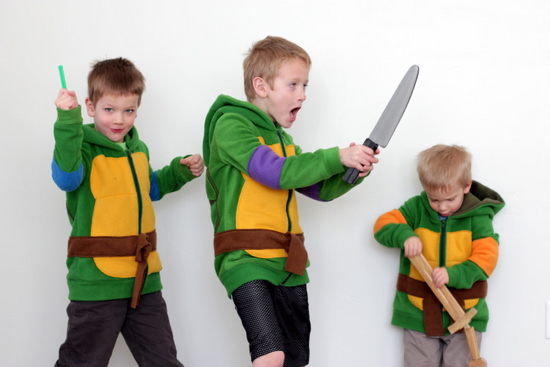 Making these would have been SO MUCH EASIER if I could have found green hoodies to embellish, but it was not to be.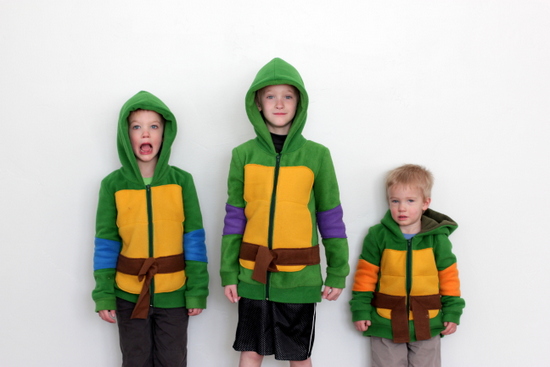 So I made the whole ensemble from scratch.
Here's how!
NINJA TURTLE HOODIE TUTORIAL (Intermediate Skill Level)
1. Purchase a green hoodie or McCalls pattern M6782
I made a combination of views C and D, and the pattern requires intermediate sewing skills with a zipper and set in sleeves. But fleece is pretty forgiving and inexpensive so if you think your skills are close, give it a try!
2. Print off my TMNT Hoodie Pattern which includes all the embellishment pieces you'll need to add to an existing hoodie or one you've made. If you're making the hoodie, add the embellishment pieces from my pattern BEFORE you sew the sweatshirt together.
FOR THE PATTERN: It's all ready to cut out and use except the chest piece pattern on pages 1 and 2 – you'll have to match up the dotted lines and rectangles and tape it together.
CHEST PIECE: Fits sweatshirt sizes 6, 7, and 8
ALL OTHER PIECES: One size should fit all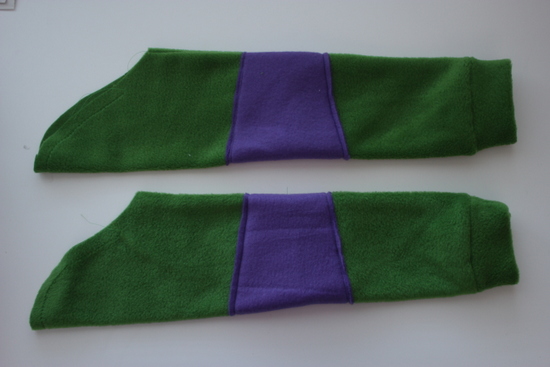 This is the Elbow Band – sew it to the sleeve BEFORE you sew the sleeve into a tube. Then finish making the sleeve as usual.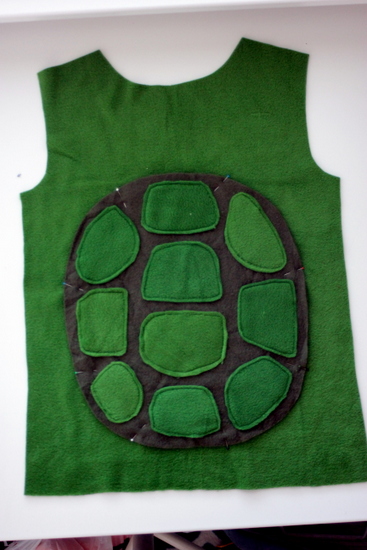 Sew the Shell Pieces to the Shell Outline by edge stitching them each in the order shown on the pattern. Then sew the entire Shell Outline to the jacket back.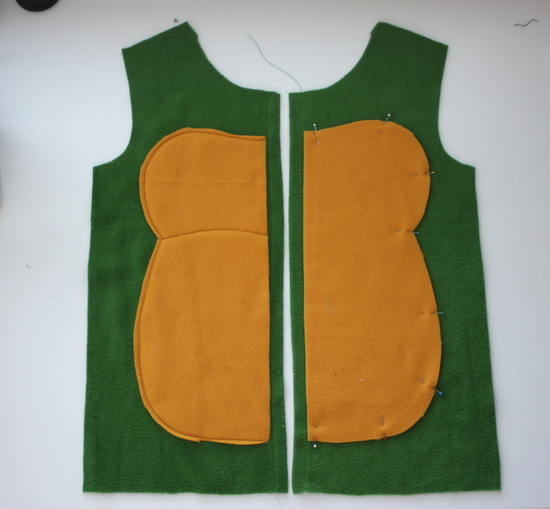 Sew the Chest Piece to both the left and right front pieces, leaving 5/8″ down the center for the zipper.
You'll sew around the chest piece and then across the top in a curved kind of line to make it look more like a turtle shell.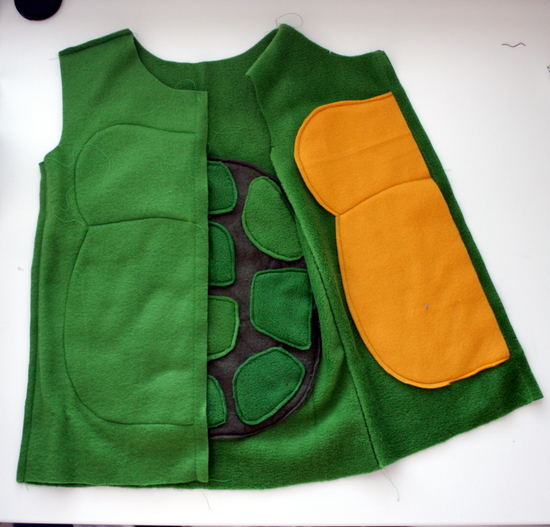 Now you can finish putting the jacket together.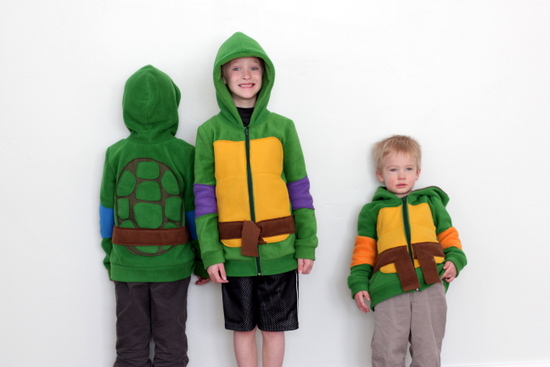 That's it! My boys LOVE these hoodies so much, they wear them day and night.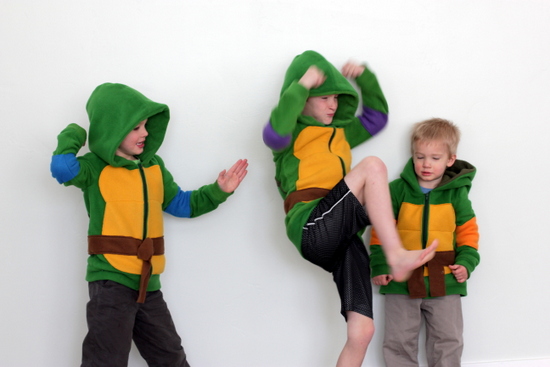 And we'd love to see more ninja turtle friends running around town!
**Because this is an intermediate level project, I have assumed a certain skill and knowledge level. If you have basic questions about sewing a jacket, check the pattern instructions or other tutorials.