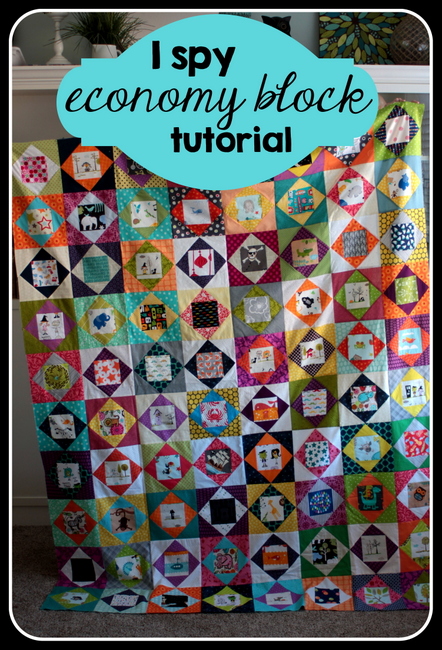 I've had a few things getting in the way of my craft time.
Baby #4 (he doesn't have a blog alias yet, coming up with his real name was hard enough…) and
Homeschooling
But I started to go a little crazy…again…and decided I needed to make something. I thought an I Spy quilt would take forever, but it really wasn't too bad. Lots of cutting and choosing fabrics, but the actual sewing part was a breeze.
finished quilt dimensions: approximately 70″ x 86″
unfinished block dimensions: 8.625″ x 8.625″
You can make your quilt as big as you want, this is lap size for us. We're big people around here!
For each block you need
1 – 4.25″ square
2 – 3.75″ squares (cut on the diagonal = 4 triangles)
2 – 5″ squares (cut on the diagonal = 4 triangles)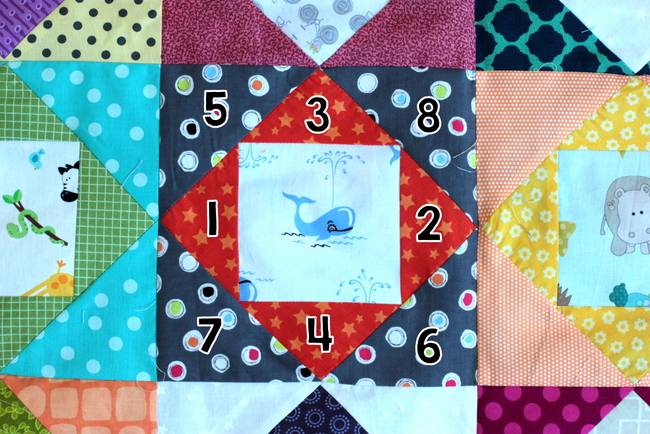 I'm terrible at tutorials lately, so in a hurry to get my project done I forget to take pictures. But I think this will work.
Start with the center  block and sew two triangle pieces on to opposite edges (#s 1 and 2 in the picture). Press and finish the inside border with pieces #3 and 4. Press again. Then you'll sew on #s 5 and 6, press, #s 7 and 8, press. Finished!
Chain piece as much as possible! I did my blocks in about 3 groups of 25ish.
***One last tip – when you're ready to start sewing blocks together I highly recommend this method to get the points to match up just right:
With two blocks right sides together stick a pin in the very point of the corner of both blocks. Adjust the blocks on top of each other until the pin sticks up exactly straight up and down. Pin the block together in the center and then on the ends. This was such an easy way to get all my points to line up just so.
This was probably one of the funnest quilts I've ever made – I'm ready for another one!