This was a fun project and a little craft that would make a great gift for your jewelry loving friends and family members. For those of you who are daring and ready for a crafty challenge, here you go!
How to Make a Jewelry Organizer
Supplies:
an unfinished wooden frame
fabric – you'll need a piece that is several inches wider than your frame on all sides
plastic canvas – you'll need a piece as big as your frame's opening
cup hooks
fabric scissors
Mod Podge
a paint brush
a bone folder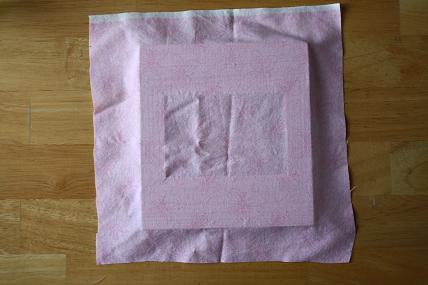 Remove the glass and backing from the frame opening and lay your fabric out, right side down, on the table. Using ModPodge, quickly glue the whole surface of the frame and lay it down on the wrong side of the fabric. Flip it over and rub the fabric down with a bone folder, smoothing out all creases and wrinkles.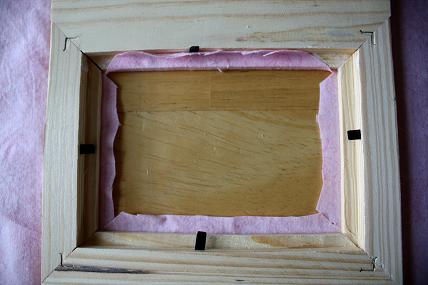 Cut a small rectangle out of the center of your frame. Then make diagonal cuts into each of the 4 corners, about 1/16″ away from the frame. Then trim down the fabric along the sides of the frame to be just long enough to cover the inside edges of the frame.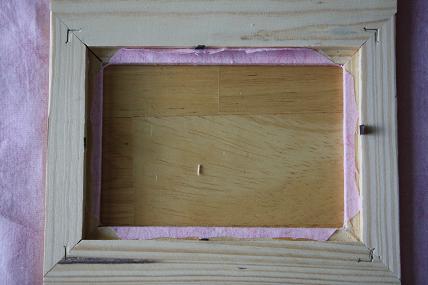 Glue the fabric to the frame.
Cutting exactly into the corners in the last step is important because that allows you to glue the fabric down around the corner without being able to see the wood from the front.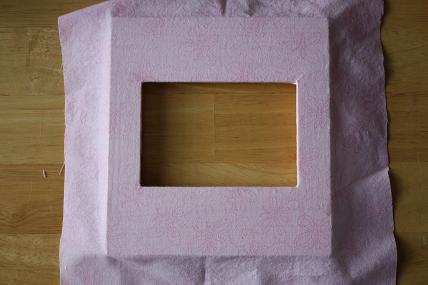 Now I've glued the fabric to the front and inside edges of the frame.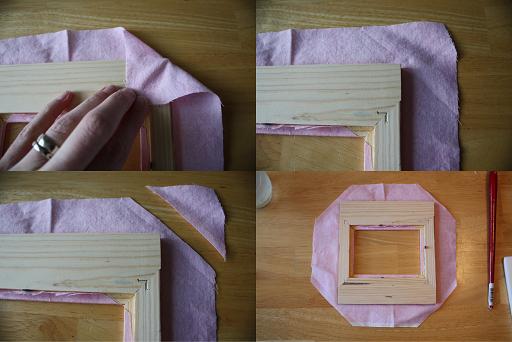 The last step is to prepare the fabric to glue to the outside edges of the frame.
Fold the corner of the fabric at a 45 degree angle, as shown in the top left picture, and rub your finger along the fold to make a temporary crease, as shown in the top right picture.
Cut about 1/4″ away from the crease (bottom left picture).
Do that to all 4 corners (bottom right picture).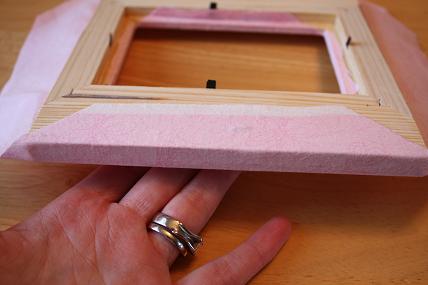 Choose a side to start with and glue the fabric down to the outside edge first and then to the back of the frame.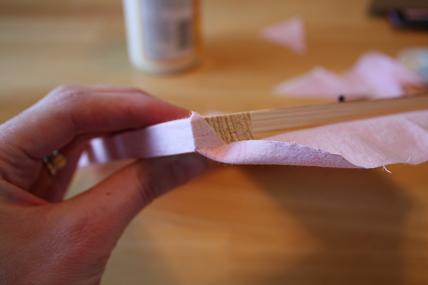 Fold the corners in and glue down.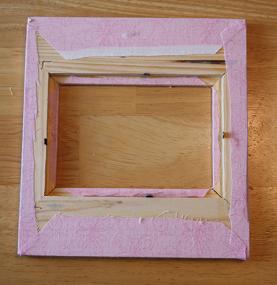 Glue the fabric down to each edge until you're finished.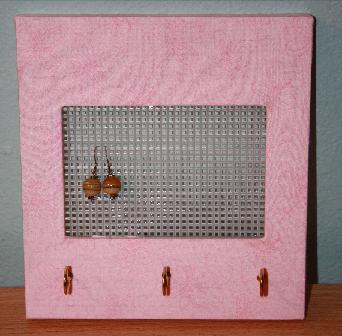 Cut a piece of plastic canvas to fit the opening, and drill holes along one edge and screw in cup hooks for hanging necklaces, etc.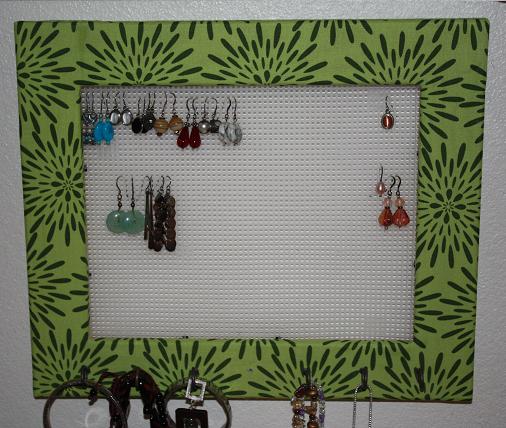 Here's another one I made for myself from an 8×10 frame.
Making one of these jewelry organizers takes about 30 minutes and is a very inexpensive project to do for yourself or as a gift. GOOD LUCK!