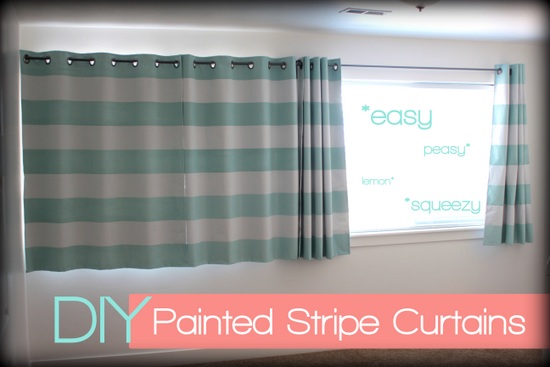 My son's new bedroom has two huge windows. The whole wall is window, which I love.
But buying curtains to cover that much window? Yeesh.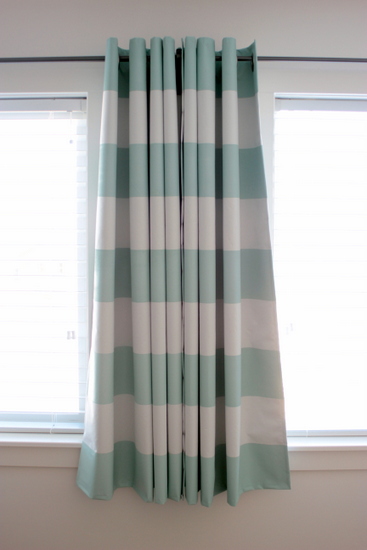 So for just under $70 I made 4 panels (54″ x 54″). I could have purchased curtains for less than this but they wouldn't have been the exact color to match his room and they wouldn't have been as blacky black out either. He sleeps sooo good in this room.
Getting the stripes straight was super easy. Here's what you'll need and how to do it:
SUPPLIES
black out fabric (I love this stuff – it paints really well and it makes a child's room really dark)

paint – I used Sherwin Williams Watery, satin finish
small paint roller and tray
green Frog Tape  – 1.41″
6.5″ wide x 24″ long rotary ruler
air/water erasable fabric marking pen – I use Pilot Frixion pens
grommets – 1 package per panel
INSTRUCTIONS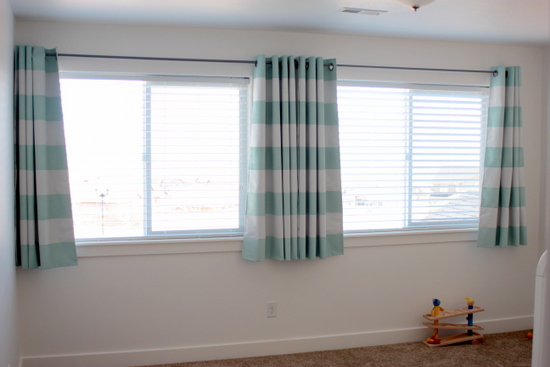 Calculate approximately how long you want each curtain panel to be and buy at least 1 extra yard (total, not per panel) of the black out fabric.

Mark the stripes on the fabric using the rotary ruler as the guide – draw lines all the way across the width of the fabric and 6.5″ apart vertically (or whatever the width of your rotary ruler).
Mark the 1st line at least 3″ down from the top.
Mark the entire length of the fabric BEFORE cutting it into panels, we're painting before we cut!
Apply the Frog Tape along the marked lines – if you're doing every other stripe white, make sure you put the tape on the correct side of the lines to get just every other stripe painted.
Cut the curtain panels now, leaving 1.5″ of white above the first and below the last painted stripe for hemming.
Hem the top and bottom – fold over 3/4″ and then another 3/4″ so the top of the first painted stripe is now the very top of the curtain panel.  (Same for the bottom, the last painted stripe is the very bottom with no white showing below.) Sew at 5/8″.
Hem the sides – fold over just once 3/4″ and sew at 5/8″.
Using the template included in the grommet package, mark and cut holes for the grommets and snap them into place.
Hang and enjoy!
It's definitely a little more work than buying already striped fabric, but I would lined the pre-striped fabric with black out fabric, so it was worth it to me.
And stripes in any color you want, that's reason enough right there.
Enjoy!