Click here to see my finished Scrappy Log Cabin QAYG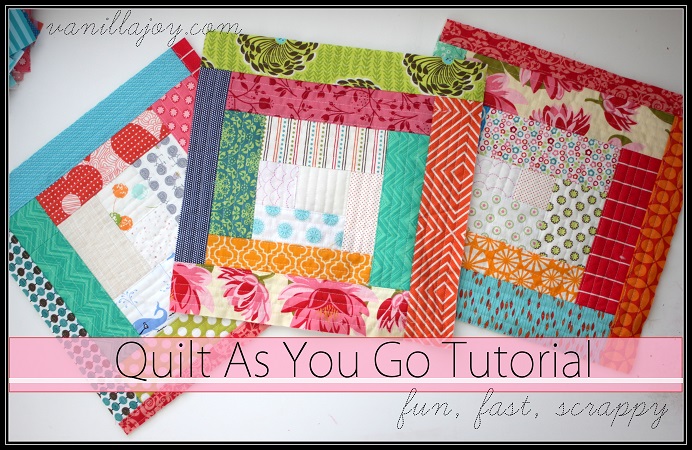 I've been accumulating scraps for long enough that I have enough to make several quilts…I'm starting my scrap elimination program with a scrappy log cabin quilt and I'm trying the QAYG (quilt as you go) method since this quilt is going to be about 98 x 112 – HUGE! I'm hoping it will be big enough for our king sized bed, but I might like it for our queen guest bed better so…we'll see…
QAYG is really fun and a scrappy quilt is even more fun cause it's no stress, just grab and sew.
Here's how I'm going about this quilt:
____________________________________________
1. Prepare your fabrics – cut 1.5″ – 3.5″ strips from low volume and bright, colorful fabrics equally. You'll need a lot of both.
2. Wind a bunch of bobbins, you'll go through them fast!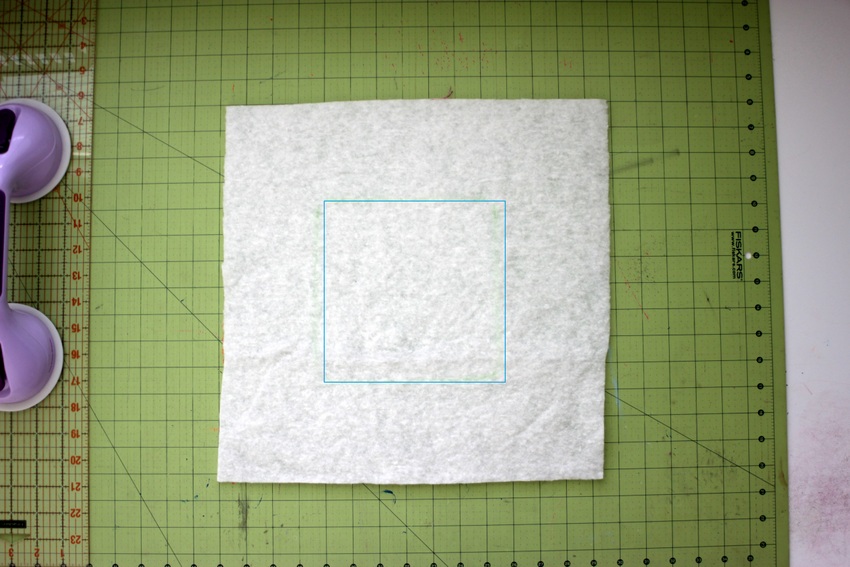 2. Cut 56 – 14.5″ squares of batting and draw a 6.5″ square in the center. I eyeballed mine, it doesn't have to be exact. And I used the first Crayola marker I found, so you don't need any kind of fancy marking pen, just so you can see it.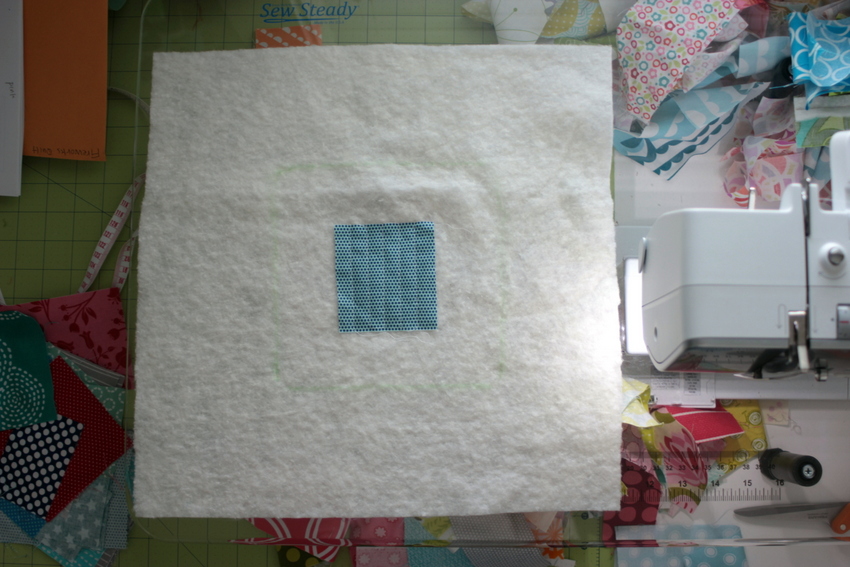 3. Now for the fun part!
Start with the colored fabric – place a square in the center of the 6.5″ square drawn onto the batting and quilt it down to the batting. I did straight lines about 1/2″ apart at a stitch length of 5.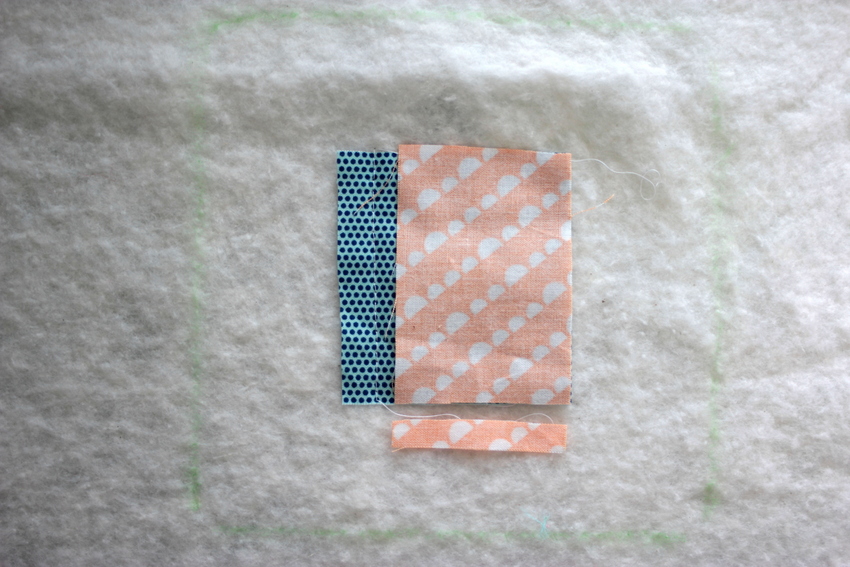 4. Grab another scrap, line it up and cut off the extra,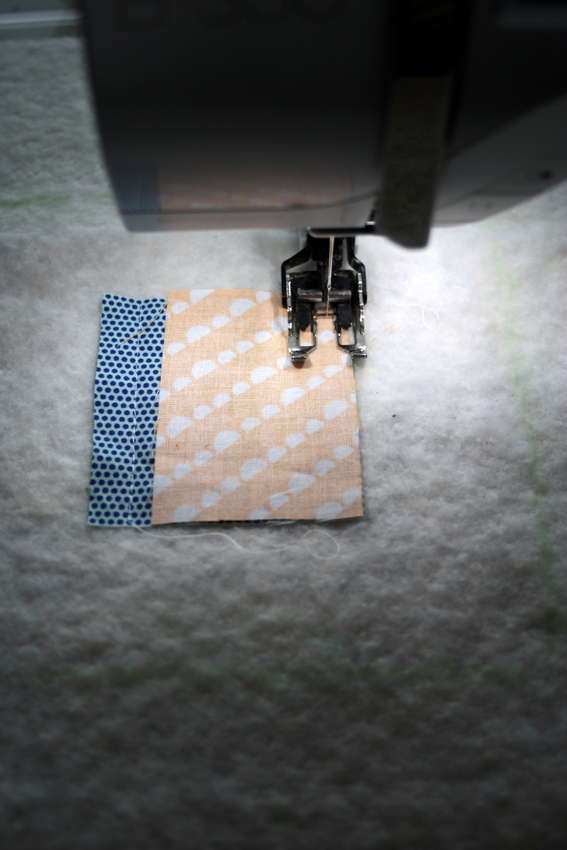 reduce stitch length and sew a 1/4″ seam.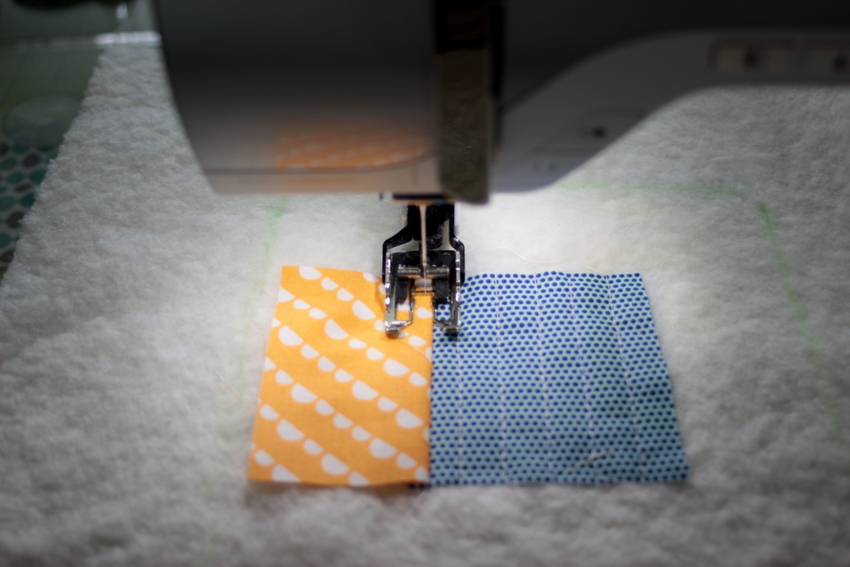 5. Fold the second piece back, smooth it out, and quilt it down to the batting.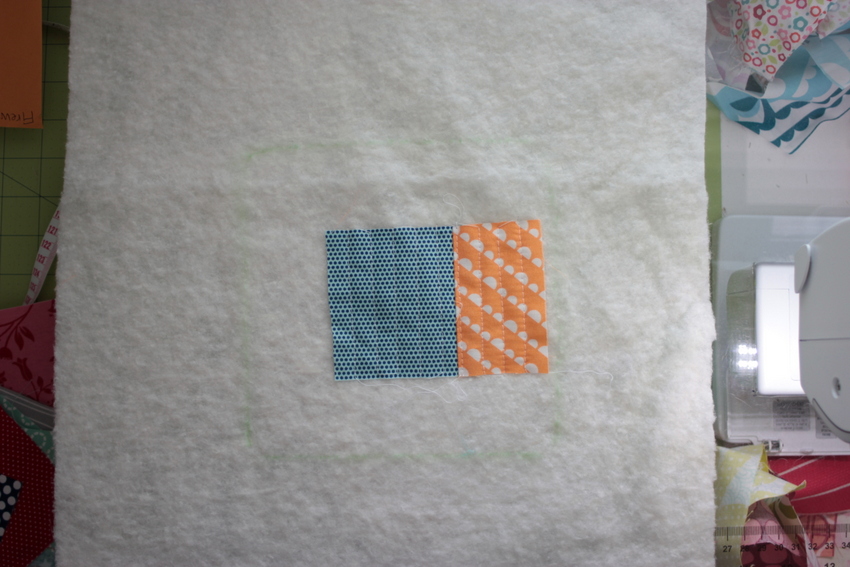 Keep quilting!
This method uses A LOT of thread and I've used two needles and I'm only half way finished.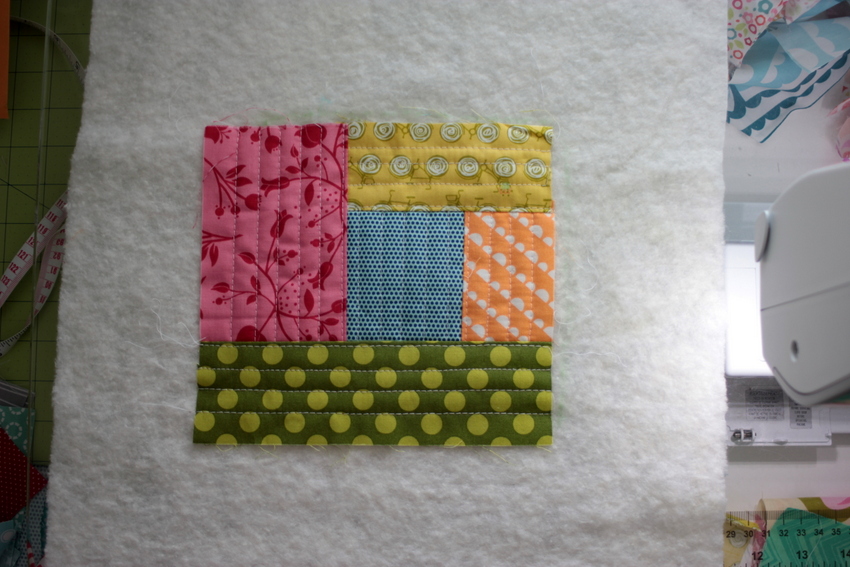 Keep adding colored fabrics until you've filled up that 6.5″ square.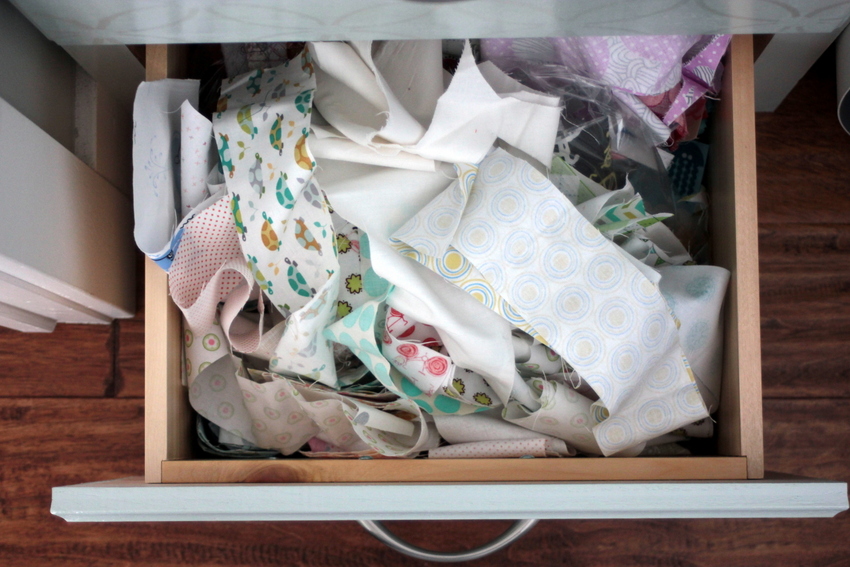 6. Pull out the low volume fabrics and finish the block with them.

I LOVE it!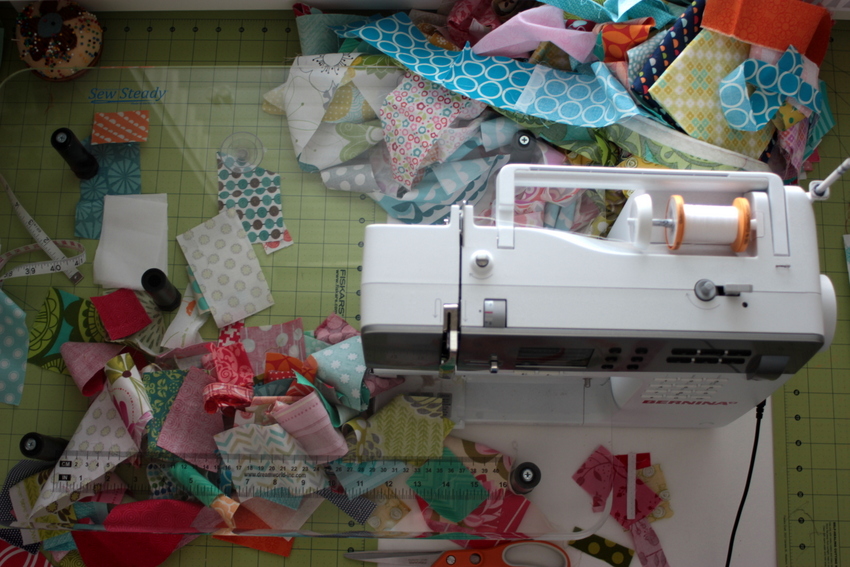 I even love the colorful mess of tiny scraps I'm left with. Aaaahhh, fabric…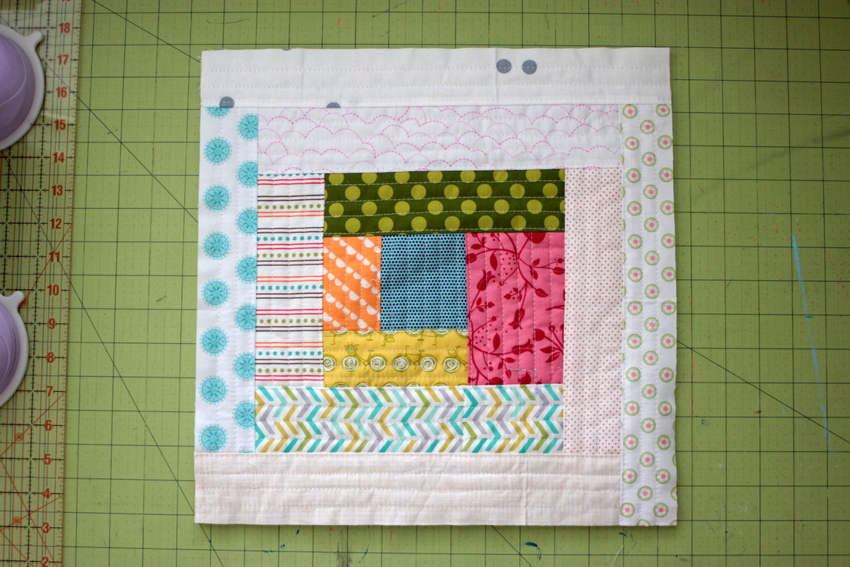 7. Square up the block.
Repeat!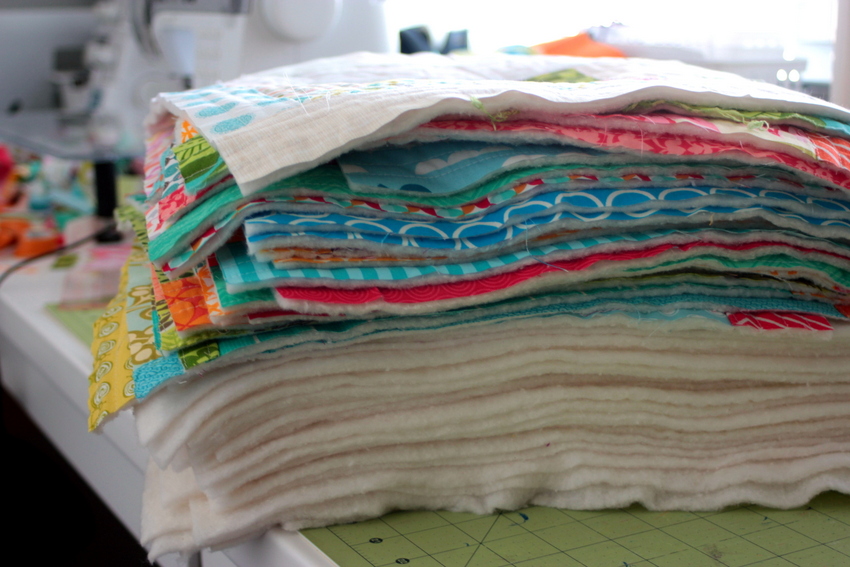 I'm doing half my blocks with the dark fabrics in the center and the low volume on the outside and the other half with the low volume in the center and the dark colors on the outside like Sew Take  Hike's tutorial. I'm half way finished!
I haven't decided yet if I'll alternate light/dark/light/dark evenly or arrange them randomly. I've still got to finish the other half of my blocks and then the arranging fun begins!
Stay tuned for more QAYG news…I hope to have this one finished up in another week or two!
{Click here to see my finished Scrappy Log Cabin QAYG}