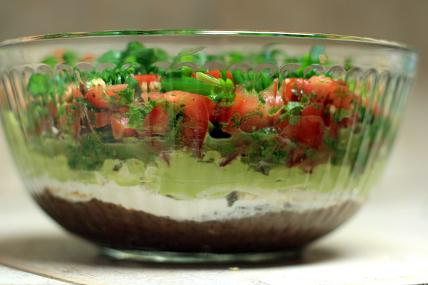 Most of my favorite recipes come from an America's Test Kitchen cookbook, and this is no exception. This Ultimate Seven-Layer Dip will knock your socks off.
Ultimate Seven-Layer Dip from Cook's Country Best Potluck Recipes
BEAN LAYER
1 – 15.5 oz. can black beans, drained but not rinsed
2 garlic cloves, minced
3/4 t. chili powder
2 t. lime juice
1/8 t. salt
Pulse black beans, garlic, lime juice, chili powder, and salt in a food processor until mixture resembles a chunky paste. Transfer to bowl.
SOUR CREAM LAYER
1 1/2 c. sour cream
2 1/2 c. pepper Jack cheese
Pulse sour cream and cheese until smooth. Layer on top of beans and sprinkle remaining 1 1/2 c. cheese.
AVOCADO LAYER
3 ripe avocados
3 T. lime juice
1/2 t. salt
Combine ingredients and mash until smooth. Layer on top of cheese.
SALSA LAYER
4 large tomatoes, cored, seeded, and chopped fine
2 jalapeno chiles, seeded and minced
3 T. chopped fresh cilantro
2 T. lime juice
6 scallions, 2 minced and 4 with green parts sliced thin (white parts discarded)
1/8 t. salt
Combine tomatoes, jalapenos, cilantro, minced scallions, and lime juice. Stir in salt. Layer on top of avocado and sprinkle sliced scallions over the top.
Let sit at room temperature 1 hour before serving. Refrigerate for up to 1 day.
Sooooo good – ENJOY!