Today we have the AMAZING Lindsay Johnson from Cafe Johnsonia with us to share her methods and madness concerning menu planning. (Visit her INDEX for the most delicious recipes.)
Kelsey asked me to tell you about my favorite recipe sources and how I go about planning and executing a menu plan.


Planning and sticking to a weekly menu is something I try to do.  I'm not always successful each week.  Things come up in the evening, etc, etc.  This is a rough guide and will give you a good idea of what I do.


Recipe Sources:


Some people read novels before they go to bed.  I read cookbooks. I'm a total cookbook nerd.  I read them every single day.  Reading recipes helps get my creative juices flowing.


My all-time favorite cookbooks are The Joy of Cooking and The Martha Stewart Living Cookbook (there is a newer edition available.)  If I had to pick two cookbooks to keep for ever and ever, they would be the two.  Don't buy too many cookbooks.  (I can't believe I'm saying this!)  Spend some cash on a few good ones that will last for a long time and contain classic recipes.  Once you master the basics, you'll feel more comfortable branching out and experimenting.  Ask friends and relatives which cookbooks they use the most.  Check cookbooks out of the library, if your library has them.  Or peruse the cooking section at your local bookstore.  You'll soon find the right go-to cookbook for you.


I also read blogs and blogs and blogs.  And more blogs.  I love food blogs.  This is not just because I have my own food blog.  But, you have to be careful when you are searching for recipes on blogs.  Choose recipes from blogs you know to be reputable.  These don't have to be blogs with big, gorgeous pictures.  Sometimes the best ones are the group blogs set up by a group of sisters or friends.  You can't go wrong with the big name food blogs either.  They wouldn't have large readerships if their recipes weren't reliable or good.  Don't hesitate to e-mail the blogger if you have questions about a recipe.  Typically they will be more than happy to help you out and would love to hear how a recipe turned out.


Some of my favorite food blogs are:


Cheeky Kitchen
Food For My Family
Delightful Delicacies
Rookie Cookie (she's no longer blogging, but her archives are awesome)
Kitchen Corners


As far as other online sources, I really like Epicurious.com and Cookinglight.com.  I use them frequently.  When I have an ingredient or an idea that seems off the beaten path, I will do a quick Google search.  Sites like Tastespotting.com and Foodgawker.com have searchable archives, which is another great way to track down specialized recipes like vegan, vegetarian, gluten-free, ethnic recipes, or rare ingredients.


Meal/Menu Planning:


I shop the local sales and that really factors into my weekly menu plans.  Our ads come in the mail on Monday and Tuesday.  I will sit down with the ads and as I look at what is on sale, I will also think about what I already have on hand.  With those things in mind, it is easier on my budget to plan our week of meals.  I already have a pretty good idea what our family eats on a regular basis.  Along with that, I know what fresh produce is in season (and a good price) and I'm able to use that to my advantage as well.


I use a three column method when I am planning our menu–We Have, We Need, Menu.  (See below.)


Here's an example:


Let's say my local ad shows carrots, potatoes, spinach, coconut milk, Parmesan, Mozzarella, olives, and maple syrup are on sale.  I jot those items down on a paper.  They are foods I know our family likes.


Next, I'll look in my cupboards to see what items I have on hand.  I write that down too.  Then I will think of ways I can incorporate what I have and what's on sale into a few menu items.  I've listed a sample list of meals in the left column.







Though I've listed 5 meals with 1 day for leftovers, i n reality, I might only make 4 meals and then we'll have leftovers for 2 meals.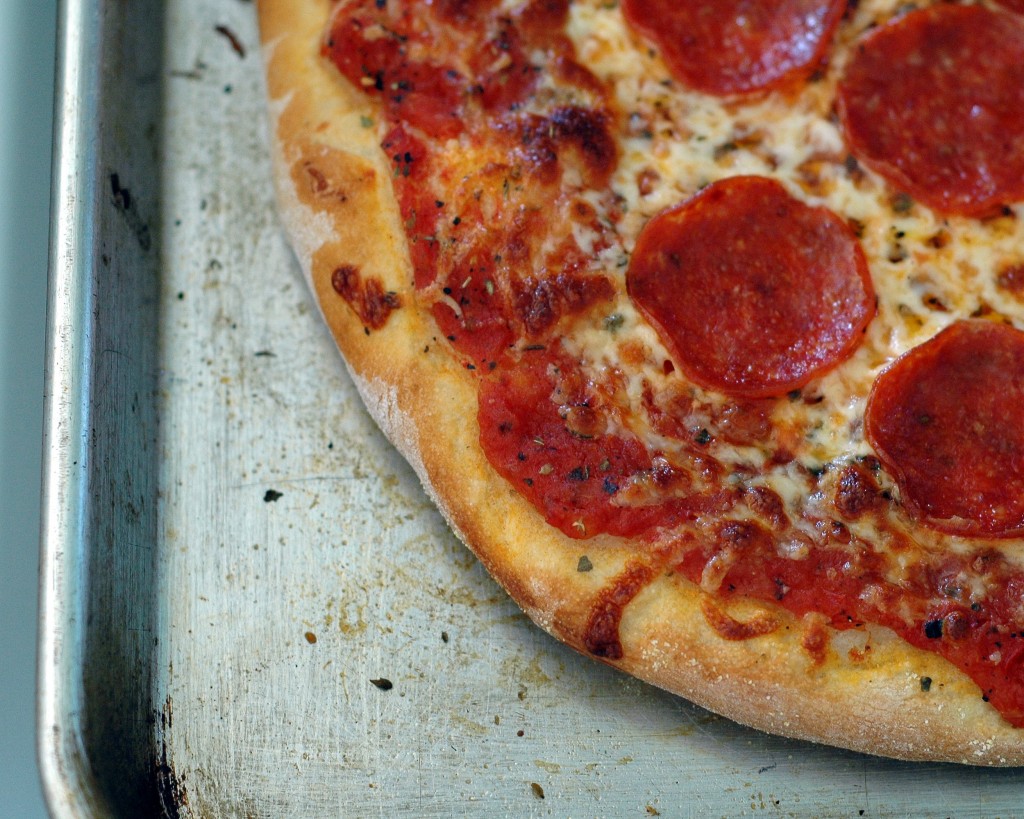 Another thing I try to do is make the recipe using ingredients that are the most perishable, first.  So in this case, I would probably make the Vegetable Curry first because I would be using carrots, potatoes, spinach, and coconut milk.  The spinach is the most perishable item on the list, so it gets made first.  And leftover spinach would go on the pizza the next night.  Leftover bottled tomatoes can be used in the chili.  Any leftover mozzarella can be frozen or used as a garnish for the chili in place of cheddar or Monterey Jack.


If certain veggies and fruits are a good price, I will buy a bunch and freeze what I can for future meals in the coming weeks.  Also, I will think of a way to make one meal turn into two or three according to what I have leftover.  I want to get the biggest bang for my buck and make sure nothing gets wasted.  If I can get by on the cheap with the majority of my ingredients, then I can afford to splurge on a few special things to make it fancier for Sunday dinner or if we have company over to dinner.


Here's another example: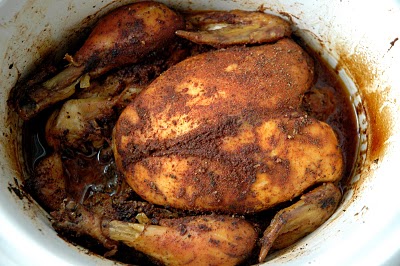 Let's say that whole chickens are on sale.  I will definitely pick up one or two.  Maybe beets and parsnips are also on sale.  I already have carrots and potatoes leftover from last week's trip when they were on sale.


Roast Chicken
Mashed Potatoes
Roasted Carrots, Beets, and Parsnips
Rolls


After my family has eaten the chicken, I will make a stock with the carcass and shred the remaining meat.  Later in the week, if I don't make a chicken soup, I will make something else that uses leftover chicken and stock.


Creamy Chicken Enchiladas will use up both stock and leftover chicken
Chicken Pot Pie (will use leftover chicken, stock, and roasted veggies)
BBQ Chicken Sandwiches with Roasted Veggie Salad (add BBQ sauce to my leftover chicken, eat it on the leftover rolls, toss the roasted veggies over some greens, and we have dinner)


If I have leftover mashed potatoes, I can make Shepherd's Pie and toss in the leftover roasted carrots with the ground beef sauce.  I could even make a chicken version of Shepherd's Pie and use the stock and leftover chicken.


Chicken Tortilla Soup is another way I could use up leftover chicken and stock.  Add a couple of cans of beans, some frozen corn, a jar of salsa and dinner is done in 10 minutes.  Serve with corn chips.


You get the idea.  Whatever I don't think we'll use, I freeze.  It is so nice to already have some cooked shredded chicken in the freezer for a night when I only have time to make a quick meal.


Keeping The Basics on Hand:


I keep my pantry and cupboards stocked with the basics and try to use them each week in our menu.  In our family, the basics are things like dried beans, rice, pasta, and other grains (oats, quinoa, millet, wheat).  I incorporate these into our weekly menu by adding fresh ingredients from the local sales.


Another example:


On sale:  spinach, kale, red peppers, onions, sour cream, cheddar, sausage


We have: cornmeal (polenta), rice, dried black beans, dried chickpeas, bottled tomatoes, potatoes


We need: fresh herbs, sale items (listed above), lemons, tortilla chips


Menu:
Brazillian black beans with sausage over rice with braised kale on the side
Sausage, peppers, and onions in a spicy tomato sauce over polenta
Chickpea, red pepper, and onion salad with lemon and herb vinaigrette
Curried Chickpeas, potatoes and spinach over rice
Black bean and cheddar nachos with peppers, sour cream and fresh herbs


Spontaneity:


There are definitely times when I don't stick to the menu plan and we end up eating some random thing I throw together.  There are also days when I don't feel like cooking.  I keep a few easy meals in mind when I shop just in case.  Our favorite go-to meal right now that is super easy is a simple marinated teriyaki tofu with sticky rice and steamed or stir-fried veggies (usually broccoli).  When tofu is on sale, I always pick up a few extra packages for those nights when I know it will come in handy.  It keeps for several weeks in the fridge, so I don't feel pressured to use it urgently.  If broccoli is on sale, I will buy a bunch just for this meal because I know my kids will eat it.


Also, this is why I allow one night for breakfast for dinner.  Whether it's waffles or Dutch baby pancakes, or oatmeal, I know it's something that's easy and my kids will like and eat it.


The Last Word:


Planning has definitely helped me make better, healthier meals for my family.  It helps me stay within my budget too.  It takes a little time to get started in a system, but once you find a system that works, it will save you time.  A families I know have a set menu for the entire month.  They always know what they are having and when.  They leave a few nights open for trying new recipes, but they like the ease of not having to worry "what's for dinner" every night or on a weekly basis.  If that's your style, go with it.  If you can only do a few days at a time, start there.  Ask friends who have a system they like and try it out.  You'll eventually find that you've adopted a system that works for your family.
Thanks so much to Lindsey for sharing her expertise! Be sure to visit Cafe Johnsonia to get to know Lindsey better.