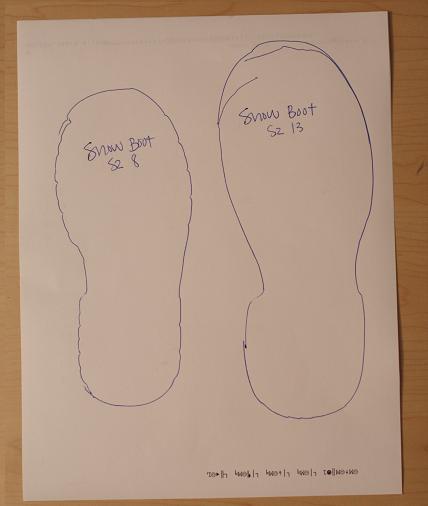 I am a pretty enthusiastic thrift shopper – I like the thrill of the hunt, the uncertainty, and reusing an item with plenty of wear left.
All winter long I looked for toddler snow boots and couldn't find a single thing and now that it's summer, they're everywhere!
One of my favorite tips is to make paper patterns for things like shoes so that you know what you already have at home. I traced the two pair of snow boots we already have and I'll keep these patterns in my purse so I can compare to what I find at thrift stores. Just writing down the size isn't good enough because sizes vary from brand to brand.
Here are some more of my favorite thrift shopping tips:
Have a list. Think long term – you probably won't find what you're looking for the very first time you go, so try to think of things you'll be needing in the near future.
Don't be afraid to haggle. If you've bought the same item before at a lower price, tell the cashier. They'll usually adjust it for you. (Be honest!) At yard sales, ask if they'll take $X for your whole handful of stuff instead of counting everything up individually.
Go early especially for yard sales. The early bird gets the worm! For thrift stores, I find that they put new stuff out all through the day so it doesn't matter as much if you're there first.
For more yard/garage sale advice, read this article I wrote a while ago.
And here are 7 more great articles with thrift shopping tips:
Thrift shopping is a great way to be environmentally friendly and save money. Happy thrifting!