Some big changes are coming soon folks. I'm going to be changing the whole face of my blog and adding some new things like Video Tute Tuesday! Every Tuesday I'll post a complete video tutorial for a handmade project.
Subscribe to my YouTube channel RIGHT NOW to be notified of new video tutorials. They're gonna be good. And feel free to re-post this video on your own blog. I'll love you forever…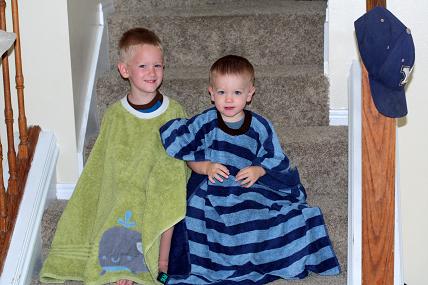 To kick off my new series, we have a video tutorial on how to make a beach towel pullover, one of my most brilliant creations. Beach towel pullovers are amazing for little kids like my Gus who can't hold a towel on himself but fusses because he's wet and cold. Brilliant. Watch. You'll see. (This was our first one so I promise they'll get better over time and I'll act less like an idiot…)
Whaddaya think? Please give me feedback and go make a beach towel pullover before summer is over!