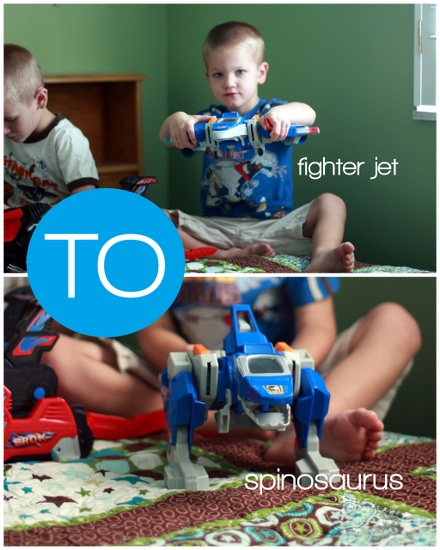 We got to try out the new VTech Switch & Go Dino 2-in-1 transformer toys and they're a hit at our house. My boys talk about them when we go out too so we have a handful of neighborhood kids constantly asking if they can come play so they can have some time with these cool toys. It's a little more than I bargained for…
But I get it. A 2-in-1 dinosaur/vehicle toy that has tons of moving parts, sound effects, and shoots things into space? Why wouldn't the kids go crazy?!?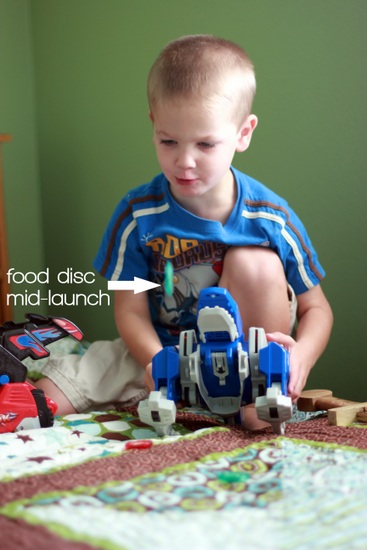 Gus has Span the Spinosaurus above, a spinosaurus by day and fighter jet by night. Span
Easily transforms from a dino to a vehicle and back again with just a few simple steps
Features over 70 wild sounds and phrases
Includes an LCD screen plays cool dinosaur and pilot animations AND a talk button plays fun phrases and dino facts
Includes baby dino, cage, rescue lift, and four food discs
Has realistic sounds and super cool graphics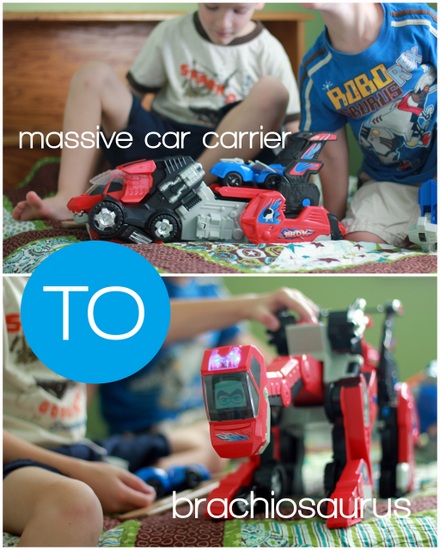 And Brok is the latest overall favorite toy in our house which means he's always getting fought over. Fighting is apparently the true sign of a great toy…
This Switch & Go treasure is an enormous car carrier turned brachiosaurus. It's a big toy which really means that they both can play at the same time.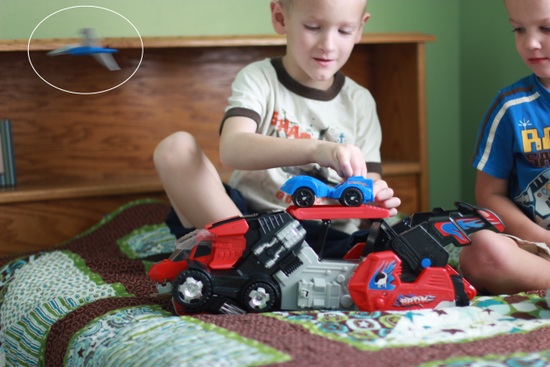 The car carrier has a tow bed and a little road ramp that hangs off the back to carry around the little blue shooter car. That little red tow bed can lay down low in the car for transportation purposes or be launched up to attack mode by pushing down on the spoiler…Brok can carry the little race car OR others in the Switch & Go set – Sliver, T-Don, Tonn, or Horns.
The blue racecar launches a little Pterodactyl with a simple button push. It's super simple to load and fire and it's one of my boys' favorite things.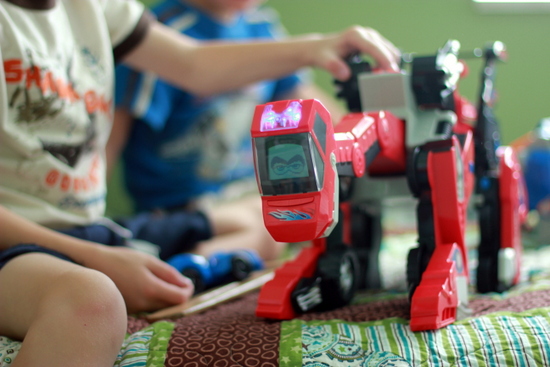 In Dino Mode, Brok is a fierce Brachiosaurus with flashing lights on his head and a motorized, moving neck plus over 80 wild sounds, dino facts and phrases. So cool!
We love that the Switch & Go Dinos come in lots of colors and combinations so finding your child's favorite dinosaur/car combo is easy. The sound effects are lots of fun and the moving parts are the best. These transformer toys are perfect for toddlers and they have been a huge hit with my little test drivers!
To keep up with all the hot new releases from VTech, check out the website and Like the Facebook page!
I participated in a campaign on behalf of Mom Central Consulting for VTech. I received VTech Switch & Go Dinos product samples to facilitate my review.