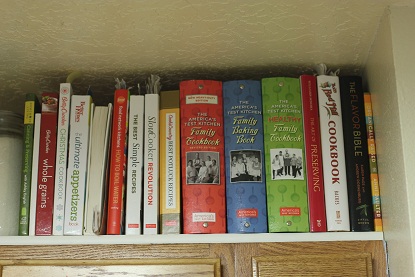 I plan our meals for the coming week on Sunday night. Sometimes I cart an armful of cookbooks up to my bedroom and do it in bed. It's a task I enjoy and one that always leaves my mouth watering and my stomach wanting. Not the best bedtime activity I suppose…
Most of my recipes come from one of my 5 America's Test Kitchen cookbooks. The others come from miscellaneous cookbooks, All Recipes, Pioneer Woman, my cooking club/book club, and some other random blogs.
I love new recipes, and I wrote about my recipe organization ideas a few weeks ago.
Anyway, I plan out a week at a time on Sunday evenings and do my week's worth of grocery shopping on Monday morning.
I've started a master list of meal ideas that are always winners, which sometimes makes coming up with ideas easier, but I really like to try new recipes, so I usually do one or two each week. In an ambitious week…
I don't always plan all the side dishes/veggies, So here's what's on the menu for main dishes this week:
How do you plan your menu???