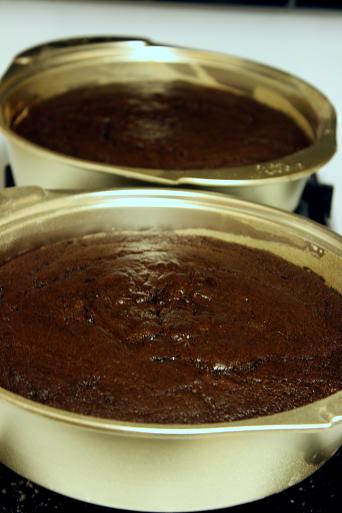 I recently got to try out Wilton's brand new line of premium bakeware called the "UltraGold" collection, so I made a Devil's Food Cake with peanut butter frosting from The America's Test Kitchen Baking book. (my FAVORITE cookbook in the world, by the way… I got mine at Costco.) I'll be posting the recipe soon.
This was my first layer cake experiment, and with the help of the UltraGold bakeware, it went very well. I used 2 of the 8″ round aluminum cake pans so not only was the recipe perfect, but the bakeware gave me the best possible result.
UltraGold bakeware cake pans are the best I've used because of the following features:
1. Aluminum. I have looked long and hard for aluminum bakeware and it's not only expensive, but also nearly impossible to find! (Every time my mom comes to visit she makes at least 10 comments about how I've got to get rid of my glass bakeware and get some good aluminum stuff! She's going to be so pleased.) Wilton sells a great selection of aluminum bakeware at craft stores and I haven't been able to find it anywhere else.
Aluminum is strong and provides even heating for excellent taste and shape every time, and it won't rust which is a problem I have with my non-Wilton pans…
2. Scratch Resistant. Each pan is double anondized so these pans will stay looking great for a long time.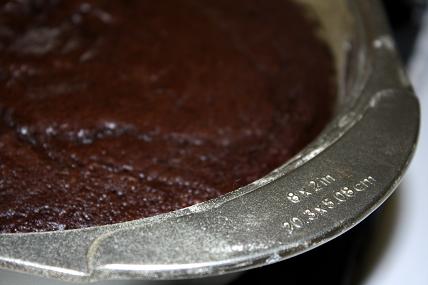 3. Wide handles with labels. Each pan has extra wide handles so you can easily grab onto it with only one hand. This is a great feature for me because I almost always Gus on my hip when I'm in the kitchen.
Each pan also has the size in inches and centimeters stamped on each handle. I am forever getting out my measuring tape to see what size my pans are, so this feature is so smart!
4. Variety of sizes. The UltraGold collection is available in
9×13 and 11×15 sheet cake
8″, 10″, and 12″ round
8″ and 10″ square
11×17 jelly roll
I have a whole stack of recipes I can't wait to try with this new collection!
What is your favorite kind of bakeware???
{The Wilton UltraGold bakeware was provided to Vanilla Joy for review purposes.}