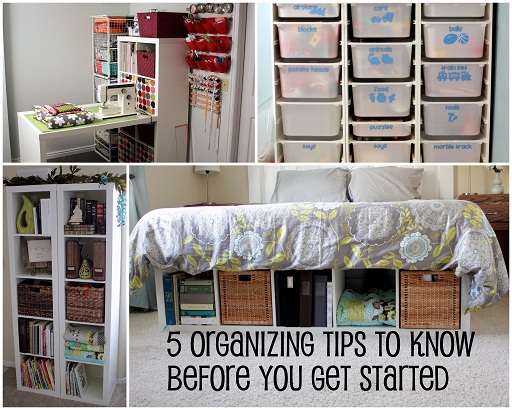 I've been going crazy getting my life organized this winter because…well, my life/stuff was driving me crazy. CRAZY!
Welcoming another little body into our home has made me realize how much clutter we have accumulated in the last 5 years and how little usable storage furniture we had to work with.
My biggest disaster area was the office. Of course.
So I took care of it, but not before I knocked a few other problem areas out and made my life and home a whole lot more functional and organized. Each area I organized taught me an important organizational lesson that I needed to have under my belt before tackling the office.
BEDROOM STORAGE
Our bedroom is the domestic dumping ground. It's where I throw stuff when we have short-notice visitors, it's where the laundry accumulates, it's where all the outgrown clothes get pitched, and on and on.
LESSON #1: Design the storage to fit the stuff.
Take all the stuff that doesn't have a home and find a solution for it because it won't work the other way around.
We built a platform for our bed high enough to rest on top of a sideways bookshelf and also fit 9 – 18 gallon tubs underneath. Now instead of piles of clutter, we have the mess neatly stored under our bed and in the bookshelf.
CLOSET STORAGE
Again, our closet was a nightmare. Think of it as the back-up dumping ground. Horrendous!
LESSON #2: Utilize all possible space because the space will get filled with either a mess or an organizational solution. You choose!
We got some wire baskets to store more seasonal stuff, linens, kids clothes/shoes, and we still have a handful of baskets waiting to be filled.
TOY STORAGE
Toys – another potential nightmare! Our old solution was to stack plastic bins in the closet, but they would take everything out to get to the bin on the bottom and that's no solution, that's a huge mess!
LESSON #3: Use vertical space.
Kids have to have storage they can use. A tall column of drawers are perfect – each bin is independent of all others and all are at kid level.
LESSON #4: Label EVERYTHING!
Labeling looks nice and it also saves you time. You don't have to open every bin or box to find what you're looking for, you know exactly where everything is. Use pictures to label things for kids so even pre-readers know how to clean up and put away.
LIVING ROOM STORAGE
We had zero storage in our living room and with all the books, quilts, toys, mail, etc. floating around, we needed something desperately and we needed it to look nice.
LESSON #5: Organization can/should be functional and beautiful.
Bookshelves aren't just for books! Shelves are shelves are shelves and I need lots of them everywhere in my house to keep our clutter from taking over.
Now. With my new found storage know-how, I was ready to tackle my office.
My craft of choice and the reason I need an office in the first place is sewing. Sewing, quilting, fabric, I love it all. It's a messy and supply intensive hobby, and I finally got it all under control.
I took all my stuff into the living room, organized it, and identified specific solutions for my stuff. Here's what I came up with:
Large Bookshelf for all my big/awkward stuff – scrapbooking paper (in plastic magazine files), AccuQuilt, paper cutters and rulers, work-in-progress fabric scraps, knitting needles, and spray paints/glues/adhesives.
Wire Baskets for fabric. Fabric was one of the biggest problems – how to store so that it's easily accessible?!? Drawers are the answer and isn't it a beautiful thing?
Wall Storage for small stuff – scissors, thread, safety pins, markers, needles, sewing notions, etc.
Closet Storage for medium sized stuff – punches, card making materials, paints, frames, felt, back up sewing supplies, beads, yarn, etc. We built these shelves in the closet and spaced them out to fit 3 of the small shoe boxes and 2 of the larger bins.
My home feels like a whole new place with all of this organization! Our solutions this time around have stuck and our clutter is staying managed. And best of all, after this Winter Organization I have regained a sense of control and am looking forward to Spring Cleaning!
All posts in the BlogHer Winter Home Projects program are 100% editorial content presented by a participating sponsor. Our advertisers do not produce the content. This post is made possible by Home Depot and BlogHer.