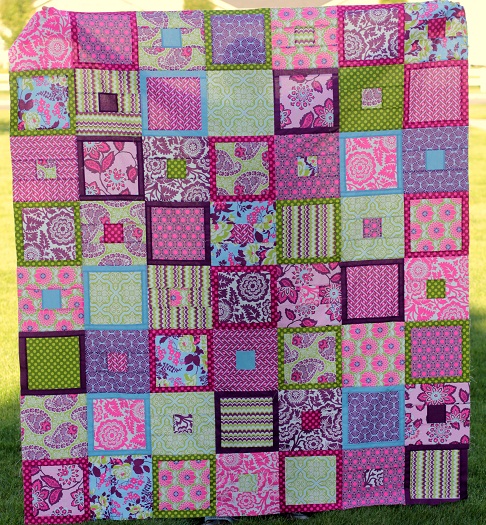 Remember this quilt? I don't have a name for it yet, I'm horrible at naming things…the fabric is Joel Dewberry's Heirloom in Sapphire.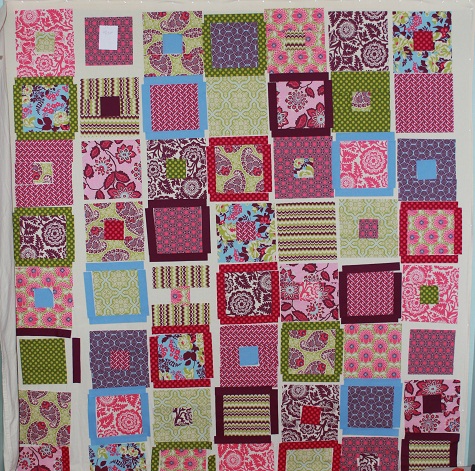 This was my first go at designing on the wall, and I'm sold on that method all the way. I hung up a spare king sized flannel sheet on the wall and stuck all my pieces up there until everything was just how I wanted it. Designing on the wall (especially when pregnant, as I was then) is so brilliant! Not only is it easier to move things around but you can really see what it looks like. The floor will do, but the wall is fantastic!
Some quilters buy a piece of flannel specifically for their design wall, but I figure I can use this sheet until we need it for our bed. Saves me money and storage space…
I think I am so happy with how this quilt turned out because I could really see it while I was designing it. That and starting out with the EQ7 software…
And for the back I'm sewing all my scraps together to have a wonky strip.
Can I just say…I'm in love with wonky. I love it so much.
And I was super stressed out about it to begin with. I just didn't get how you could just start sewing scraps together, but it works! And it's so fun and liberating! You just sew two pieces together and trim off the excess and then use the scrap again somewhere else! Then straighten up the edges at the end.
This is going to be my most favorite quilt back ever.
And I'm already planning a wonky quilt with my Michael Miller Citron Gray scraps. That's going to be amazing.
Do you love wonky? Hate it? Are intimidated by it???