Baby Giveaway #3 – Bright Starts "By Your Side" Infant Seat
THE PRIZE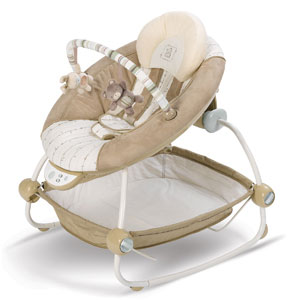 Bright Starts is giving away the By Your Side infant seat ($70) to one Vanilla Joy reader!
MY REVIEW
Okay folks. If you plan on having more than one child, I think you're going to want this infant seat. It has been a total LIFESAVER in our house the last 4 weeks. Let me tell you why.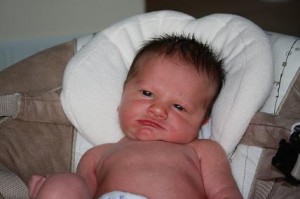 1. 4 different reclining levels. We have kept it at the lowest level which is perfect for a floppy-headed newborn. Our baby has slept in this seat almost every night since we've been home from the hospital because it helps his reflux problem, which many babies have. My pediatrician said that sleeping a baby in a chair like this (or car seat) is not only great for reflux but also reduces the risk of SIDS. As baby gets older, you can sit him up more with the other levels.
2. Removable music/vibration console. I want to bake a pie for the person who thought of this feature because it is a brilliant idea that has saved my son from lots of time-outs. My 2 year old is a textbook button pusher. He CANNOT resist buttons, so he would CONSTANTLY be pushing the buttons that power the vibrating and music. But, the whole thing comes out! When my 2 year old is around, I put it on top of the microwave and we don't have to worry about it. After he goes to bed, baby can enjoy some uninterrupted jiggling to the music.
3. Seat height. Having baby at seat height keeps him easily accessible to me on the couch and less accessible to big brother. And he can see what's going on!
4. Music and vibration. There are 3 different white noise sounds (magic for our baby) and also 10 different melodies that cycle for 20 minutes of continuous play. And the whole thing vibrates if you want as well.
5. Under seat storage area. I love this feature because I can keep all the diaper changing stuff right there and not have it strewn about the living room. Also a great place for burp cloths, toys, the remote, and much more.
Of all the baby products out there (especially infant seats), this is one that will really make your life easier as a new mom, especially if you're having a second or third (or fourth or fifth…) child. The colors are neutral so it is visually unobtrusive and the fabric is soft and plush, perfect for baby's skin. We use this seat every day and all through the night – it is fabulous.
Thanks, Bright Starts!
GIVEAWAY RULES

Visit ByYourSideSeat.com
Come back here and tell me why you should win before midnight Thursday, June 25.
A winner will be selected and announced in a new post on Friday.
Only one comment per person unless you earn extra entries.
Giveaway open only to residents of the continental United States…sorry.
EARN EXTRA ENTRIES
You may earn 1 extra entry each for doing the following (make a separate comment for each thing you do):
Follow me on Twitter
Tweet about this contest with link back here (copy and paste http://www.vanillajoy.com right into the text box)
Subscribe to my feed
Sign up for my newsletter
Add my button to your sidebar
Comment on any non-contest post (must contribute to the conversation)
Facebook about the contest
GOOD LUCK and THANKS, Bright Starts!