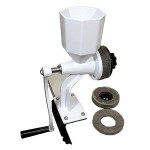 The winner of the Wonder Junior is Robin Ingram! She said, "I would like to have this because it is good for food storage/emergency preparedness, especially in situations of power loss. Also, I like that it is a smaller mill. Seems easy for daily grinding. I have been trying to make my own bread, and would like to start making use of the hard wheat that I have gotten from the cannery. This would be a great addition to my emergency preparedness in my home."
Congratulations Robin! Send an email to kelsey[at]vanillajoy[dot]com with your address to claim your prize.
THE PRIZE
One reader will win the WonderMill Wonder Junior Hand Grain Mill ($220).
MY REVIEW
Since reading Eat This, Not That!, Organically Raised, and a handful of other whole grain cook books, I have realized how important it is, especially for my kids, to incorporate more whole grains into our diet. The only way I can do that is to replace my white flour with whole wheat, grind it myself, and use it in my every day cooking.
I thought I would use a grain mill mostly for wheat, but since I got a WonderMill Wonder Junior, I use it all the time for little things like oatmeal and other fruit and grain baby cereals, pancakes, and whatever else I'm baking. I love to grind up 1/2 c. oatmeal or millet or flax seed and throw it into my sweet breads, muffins, or rolls.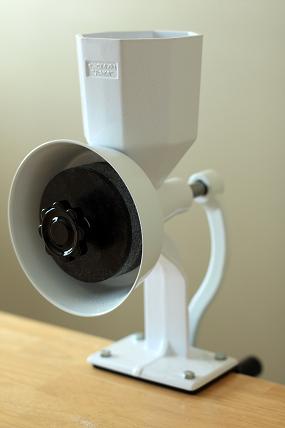 The great thing about the WonderMill Wonder Junior is that you can set it up in your pantry or kitchen and leave it there for easy access. If it's in your kitchen, you'll use it, and that means you'll be eating healthier.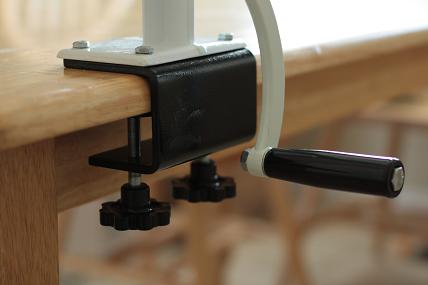 The Wonder Junior is a heavy duty machine with a one-piece body made of all metal parts and a large hopper that holds over 1 quart. The dual clamp is wide and strong and will securely hold to surfaces up to 2 inches thick. There are pads on the underside of the clamp and a flat surface on top so you can be sure the clamp won't scratch your counter tops, table, or other work surface.
The handle is 10 inches long and very easy to turn, so you can put your kids to work too!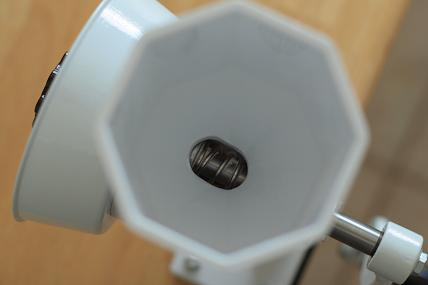 The hopper is octagonal in shape which makes it easier to fill without spilling. It also has a dual feed auger which means the grains pass more smoothly from the hopper through the grinding stones.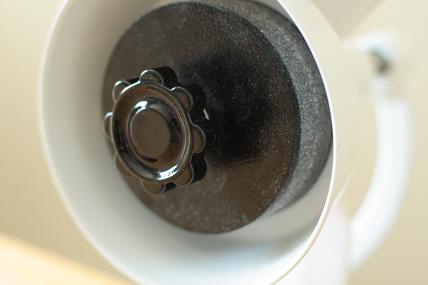 The standard Wonder Junior comes with stone grinding burrs that are meant for dry grains, seeds, corn, beans, etc. And the knob on the front of the grinding stones is for easy texture adjustment. You can adjust the tightness of the stones to get really fine flour,  course cracked grains, or anything in between.
Recently I spoke to the owner of a local home preparedness store about the Wonder Junior and a lower quality hand grain mill and she said the thing that makes the Wonder Junior the best grinder available is how fine it grinds and how quickly. The grinding stones are larger than other brands and the handle is longer meaning you get more results for your effort.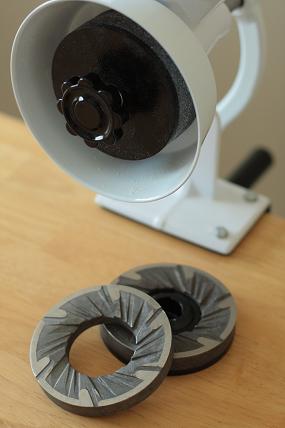 Also available for this hand grain mill are stainless steel burrs for grinding dry grains plus oily foods like peanuts, soybeans, sunflower seeds, poppy seeds, coffee beans, etc, so you can make your own completely natural nut butters.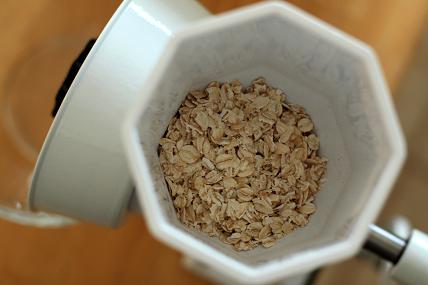 This morning I put 1/2 c. oatmeal into the Wonder Junior for Gus's breakfast cereal. After about 3 minutes of turning, I had a fine flour to cook and make into oatmeal cereal.
That's definitely slower than pouring it from a box or even using an electric mill, but it's more convenient for small batches and is a good few minutes of arm workout in the morning.  And if the power ever goes out, you can still make breads and cereals and whatever else you'd like!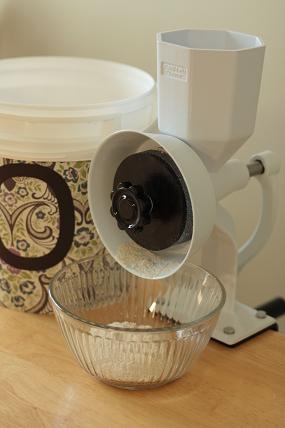 There are two main reasons I love having a Wonder Junior:
Everyday small batch use
Long term emergency preparedness
So far I love the Wonder Junior because I use it in my regular food preparation, but if the power were ever to go out for even a few days, a Wonder Junior would mean I could still feed my family things that we're used to eating.
My husband and I have really been focusing on getting our family prepared for all kinds of emergencies or natural disasters, and a hand grain mill is one of the must-haves of emergency preparedness.
If you're interested in learning more about personal and household emergency preparedness, check out The Preparedness Pro. Kellene Bishop is the author of that blog and also teaches classes here in Utah. She has webinars for people out of this area that are very informative and helpful in starting and continuing household emergency preparation.
Learn more about food storage at FoodStorageMadeEasy.net – they have tons of great information on how to get started with food storage, and they are an authorized dealer of the Wondermill Wonder Junior.
The Wonder Junior hand grain mill is an investment, but it's the highest quality hand mill and will help you be more prepared for the future and eat healthier today.
Thanks Wonder Mill!
GIVEAWAY RULES
Visit TheWonderMill.com to find an authorized dealer in your area.
Make a comment on this post telling me why you'd like to win before midnight Monday, August 23.
A winner will be selected and announced at the top of this post on Tuesday.
Only one comment per person unless you earn extra entries.
Giveaway open only to residents of the continental United States…sorry.
Winners must email me to claim their prize within 5 days.
EARN EXTRA ENTRIES
You may earn 1 extra entry each for doing the following (make a separate comment for each thing you do):
Facebook about the contest with a link back here
Subscribe to my feed
Sign up for my newsletter
Add my button to your sidebar
Comment on any non-contest post (must contribute to the conversation)
GOOD LUCK and THANKS!
{This product was provided to Vanilla Joy for review purposes.}