by guest author Keri Garcia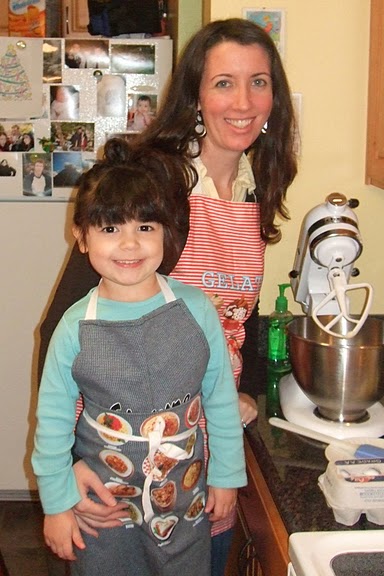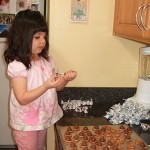 This Christmas I'm really going to do goodie plates. I have always planned to in the past, but this year, I'm really doing it. And I'll need all the help I can get so I'm enlisting the aid of my 3-year old, who loves to help me in the kitchen. We'll be making a treat that is perfect for little helping hands and requires only 3 simple ingredients:
mini pretzels
milk chocolate Hershey Kisses
M&Ms (mint or peanut butter)
Preheat your oven to 195°. While you lay out as many pretzels as you can fit on a baking sheet, your little helper can unwrap just as many Hershey Kisses. Place the Kisses on the center of the pretzel and warm in the preheated oven for 10 minutes.
When you remove the pretzels, the Kisses should be warm and soft, but not dripping through the pretzel.
While they're on the baking sheet, press one M&M onto the top of the Kiss. Your little one can help with this too, but watch out for the warm baking sheet. I have only tried these with mint M&Ms, but my husband suggested peanut butter M&Ms; he has impeccable taste.
Let the goodies cool until the Kisses are firm again. I usually leave them in the garage for 20 minutes or so. They package well in cellophane treat bags and are SO delicious.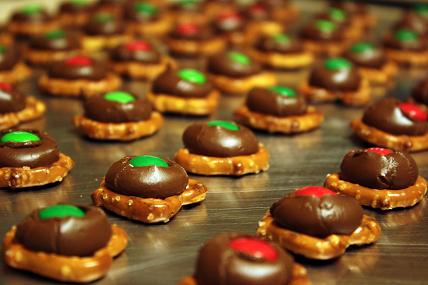 These delicious treats are perfect for your Christmas goodie plates – Merry Christmas!