It's Review Friday! We've got Robeez and Karen Neuburger and some dinnerware coming up a little bit later this year…
ROBEEZ SOFT SOLE SHOES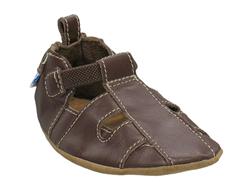 Robeez recently sent me this pair of baby boy shoes to review, and this was my first experience with the soft leather soles. They definitely are not for walking in gravel, but I really like them because they're so comfortable and loose and natural, which is just what a new walker needs.
We drove the 850 miles from Utah to Oregon last month to visit family and these Robez were perfect because they were not restrictive or tight on his feet for that long drive. I felt just fine leaving them on the whole time in the car because they breathe and move with his foot.
The leather soles make for great indoor shoes and are a great transition shoe. I don't put shoes on my kids until they can walk and so they're not used to wearing something rigid on their feet. Robeez soft sole shoes are the perfect transition shoe because they're so light weight and comfortable. The transition was hard for Elliot but Gus hasn't had a problem at all because his first shoes have been Robeez.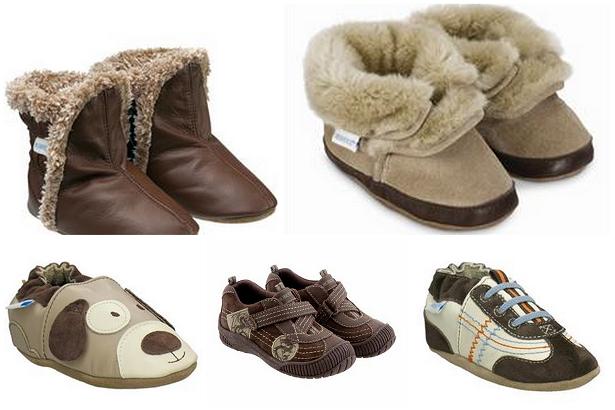 These are my most recent favorites – love the boots and can you tell I have a thing for brown? I love brown…our Robeez are getting lots of miles this summer!
KAREN NEUBURGER PAJAMAS

Since I'm in them half the day, I'm a big pajama fan. I really love regular old cotton PJs and nothing beats Karen Neuburger's baby soft cotton. I don't know how their cotton is softer than others, but it's sooo soft it's almost silky!
Karen Neubuger pajamas come in lots of different styles and prints that are super cute for all ages – matching tops and bottoms, separates, night gowns, spa wear, intimates, etc. I particularly love the Eden's Garden 3/4 sleeve night gown. That would be dangerous at my house, especially when I'm pregnant! I don't know that I'd ever find the motivation to wear anything else…
Anyway, I think a great splurge is a nice pair of pajamas cause at the end of the day, comfort is king.
Thanks to Robeez and Karen Neuburger!
{These products were provided to Vanilla Joy for review purposes.}