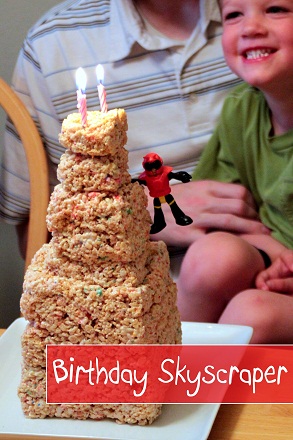 Gus turned three last week and chose a rice crispie treat skyscraper for his "birthday cake." I'm going to really push this selection in future years because it took about 15 minutes to throw together. That's my kind of birthday cake!
This was the only superhero I could find on short notice. All others were hidden away in secret lairs known only to themselves. Hopefully for our next birthday we can have a few more heroes around…
If you are going to attempt this awesome birthday cake substitution, a word of advice:
let the treats set up really good before cutting and building – mine were still soft and as you can see, the tower is kind of saggy
make it bigger and taller!
I made three batches of rice crispie treats and I could have used one more. Quadruple the recipe and you'll have a skyscraper not to be beat.
Happy 3rd, Gus!